Gary Giddins on Comedy, Film, Music, and Books
'A critic,' Philip Larkin once declared, 'is a man who likes some things and dislikes others, and finds reasons for doing so and for trying to persuade other people to do so.' Gary Giddins has been doing this for many years. In several collections of jazz journalism (including the recent Weather Bird) Gary Giddins has conveyed his enthusiasm for and devotion to the music and its practitioners. This latest book Natural Selection includes pieces on jazz, but also illuminating essays on silent movies, film noir, TV shows, DVD and CD releases, Norman Mailer, Ralph Ellison, Classics Illustrated, Friedrich Durrenmatt and the Jewish novelist Soma Morgenstern.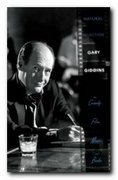 Giddins' firm conviction is that 'jazz and film have much in common, beyond parallel births, changing technologies, and competing bids as America's pre-eminent cultural love child. They are resolutely manipulative arts. Music continuously mines emotional responses; movies are structured around emotional releases, whether musical, comic, tear-jerking, shocking, pornographic, or suspenseful. Musical works and movies usually exist in concise units of time, their effectiveness dependent on tempo, rhythm, contrast, style, and interaction'.
He proceeds to apply this apercu to (among others) Charlie Chaplin and Buster Keaton, Harold Lloyd, Jack Benny, Bob Hope, Jerry Lewis and the Marx Brothers. Chaplin he suggests 'ruined numerous comedians who wanted our tears but didn't possess his equilibrium (Jerry Lewis, Jackie Gleason, Steve Martin, Robin Williams, and Billy Crystal for starters'). The Marx Brothers 'were grown-ups pretending to be children, pretending to be grown-ups.'
Jerry Lewis ('Idiot Semi-Savant') might be adored by the French, but they are mercifully unaware of 'the sanctimonious talking head who sapped the affection of a generation with horrific television appearances.' Bob Hope, a comic movie actor to be taken seriously, became dated as a glib and increasingly unfunny comedian, 'increasingly sanctified as the rich, conformist, golfing buddy of every White House duffer.' Jack Benny (not widely known in Europe, but a household name in America) 'may be the only great comedian in history who isn't associated with a single witticism'.
Various iconic screen stars receive their succinct dues. Greta Garbo 'reminds us that the cinema is the ultimate expression of voyeurism: her close-ups are her money shots'. A young Marlon Brando 'gave American actors new modes of being racked with ambiguities'. Of the latter-day Brando, Giddins asks: 'Excepting Orson Welles, has any other actor cloistered himself in so much fat?'
Bing Crosby (Giddins is his biographer) 'is the most conspicuously neglected of the Golden Age of Hollywood stars'. So far, so good, but the critical faculty seems alarmingly absent from Giddins's claim that Doris Day ('Blond and Beaming'), was 'The coolest and sexiest female singer to achieve movie-musical stardom'. Moreover, many of the film/DVD reviews collected here are bogged down in often tedious technical detail.
Not surprisingly, Giddins is at his considerable best in jazz reviews – which include refreshing reassessments of Glenn Miller, and Billie Holiday. Miller has long been dismissed by critics as 'a humourless purveyor of diluted swing, banal novelties and saccharine vocals' but is now being celebrated as the creator of 'a sound that clings remorselessly to the collective memory.'
Both Miller (and Fats Waller) 'humble critical stereotypes and show ways that jazz and pop once enriched each other, and might still'. But reviewing The New Grove Dictionary of American Music, Giddins finds it almost totally worthless, with entries on jazz – 'which one might argue is the essence of American music' – only found after much searching.
Elsewhere, he suggests that 'there is a correct way to sing Cole Porter, much as there is a correct way to act Shakespeare' and commends Fred Astaire, Frank Sinatra, Rosemary Clooney and Ella Fitzgerald as 'accomplished Porterphiles'. Giddins confesses to be a life-long admirer of Duke Ellington. 'People often describe their first time with Duke Ellington in terms of losing their virginity, and for me it seemed like the next best thing'.
In an excellent piece on 'Jazz for the Eyes' (The Sound of Jazz/Jazz on a Summer's Day), Giddins writes of Lester Young's single-chorus, 39-second tenor solo on the TV (not studio) version of Fine and Mellow, that it is 'so sublimely constructed that after you've heard it a couple of times, it becomes part of your nervous system, like the motor skills required to ride a bicycle'. As for the vocalist on this number, Billie Holliday: 'if it is possible for two people to make love while one partner is playing the tenor saxophone 10 feet away from the other, that is what Young and Holliday were doing.' And 'Billie's pantomime of pure pleasure embodied a sensual appreciation of the music in a way no actor has ever succeeded in doing'.
Jazz on a Summer's Day also had its share of 'indelible jazz images: Anita O'Day 'in a feathered hat and black sheath dress with white fringes, thrusting her glottis at Sweet Georgia Brown'; trombonist Jack Teagarden 'grinning as though he'd crashed an unexpected party while Chuck Berry rocks Sweet Little Sixteen', and Louis Armstrong recounting his unlikely answer to the Pope, when asked if he had children – 'No, Daddy, but we're still wailing'.
Giddins is particularly mischievous at posing and then answering questions. One example must suffice. In a review of the movie White Palace, Giddins ponders the prevalence of oral sex in recent films and asks: 'What's with all these blowjobs?' His answer: 'They represent Hollywood's latest code for breaking the ice, for reaching out and touching someone, for initiating a sincere and meaningful relationship. No more kissing on the mouth, no more 'What was your major?' Just cut to the fly, followed by a shot of an actor faking instantaneous ecstasy.' Partly autobiographical, Natural Selection is also an artful work of 'intelligent design'. Giddins persuades us to revisit some of the movies and books, and all of the jazz performances he so obviously enjoyed reviewing – and sharing.
© John White 2006

Buy the book at Amazon UK

Buy the book at Amazon US
---
Gary Giddins, Natural Selection: Gary Giddins on Comedy, Film, Music, & Books, Oxford: Oxford University Press, 2006, pp.432 , ISBN: 019517951X
---
More on music
More on media
More on lifestyle
---