spellings, hyphens, capitals, and presentation of terms
Unlike a conventional dictionary, the New Oxford Spelling Dictionary lists words without giving their definitions. So – you might well ask – if there are no explanations of meanings, what information does such a book contain? Quite a lot, as it turns out. For instance, it shows distinctions between words which might easily be confused – as in hare/hair – and it also indicates grammatical parts of speech – as in double fault used as a noun and double-fault used as a verb.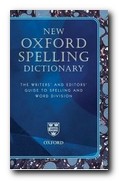 It also makes firm recommendations where there are variants in possible spellings (use judgement), shows where capitals are required in names, gives American spellings, and shows where logical word breaks occur for hyphenation and compounds. Entries run from aa (lava) and Aachen (which used to be Aix-la-Chapelle) to zymotic and zymurgy. This particular guidance makes it an ideal reference tool for those working with printed or word-processed text.
The reference data is based on the reputable scholarship of the Oxford Dictionary of English. It contains over 110,000 words and names, and in the latest edition includes a large number of compound words as well as very basic information about people and places. So, for instance, Enver Hoxha is the Albanian prime minister, and Santa Catarina is a Brazilian state.
A typical entry on proper nouns shows the variants on a personal name, with the pipe (these things – || -) showing the word breaks.
Kath|er|ine also
Cath|ar|ine,
Cath|er|ine,
Cath|ryn,
Kath|ar|ine,
Kath|ryn
And the same presentation of typical word is rendered thus:
tar|tar + s
(deposit on teeth etc.;
violent-tempered person;
in 'cream of tartar'.
‡ tartare, ta-ta)
This last detail is an injunction that the term should not be confused with tartare or goodbye.
Of course you still need some idea of how a word is spelled (or spelt) in order to look it up. But this dictionary makes the job less distracting than using a normal dictionary, because it eliminates all that interesting stuff. Less may not be more, but it's certainly faster.
This will be of most interest to authors, editors, proofreaders or typesetters, for whom it provides an ideal way to ensure the best spelling practice working on any sort of text – newspapers, magazines, reports, theses, or even websites. It has also been produced to team up neatly with the New Oxford Dictionary for Writers and Editors and New Hart's Rules to form an ideal reference set.
© Roy Johnson 2005

  Buy the book at Amazon UK

  Buy the book at Amazon US
---
New Oxford Spelling Dictionary, Oxford: Oxford University Press, 2005, pp.596, ISBN: 0198608810
---
More on dictionaries
More on language
More on journalism
More on creative writing
More on writing skills
More on publishing
---