poetic meditations on illness and consciousness
On Being Ill (recently re-issued) is a timely reminder that not only was Virginia Woolf a great novelist and writer of short stories, she was also an essayist of amazing stylishness and wit. Her models were the classical essayists of the eighteenth and early nineteenth century – Addison, Steele, Hazlitt, and Lamb – all of whom she had read during her literary apprenticeship, which took place in the library of her father, Sir Leslie Stephen.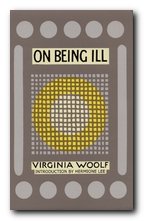 It is worth remembering that Woolf was largely self-educated, didn't attend school, and certainly did not go to university. Even so, she knew French, Greek, and Latin, and was intimately acquainted with the canon of English Literature to an extent which would give today's undergraduates (and tutors) occasion to blush.
On Being Ill starts from the simple but interesting observation that although illness is a common, almost universal experience, it is surprisingly absent from literature as a topic of interest. This is rather like her similar observation about the absence of women in the annals of literature which led to her epoch-making study A Room of One's Own. From this starting point she then spins out an extraordinary display of reflections on a series of related topics including solitude, reading, and language. And, as Hermione Lee observes in her excellent introduction to this edition, she also throws in 'dentists, American literature, electricity, an organ grinder and a giant tortoise' plus lots, lots more.
Much of her reflections are conveyed in long, rococo sentences in which disparate elements are yoked together by her associative thought processes and her majestic command of English. Musing on the fact that illness renders people horizontal, giving them the unusual opportunity to look up into the sky, she observes:
Now, lying recumbent, staring straight up, the sky is discovered to be something so different from this that really it is a little shocking. This then has been going on all the time without our knowing it!—this incessant making up of shapes and casting them down, this buffeting of clouds together, and drawing vast trains of ships and wagons from North to South, this incessant ringing up and down of curtains of light and shade, this interminable experiment with gold shafts and blue shadows, with veiling the sun and unveiling it, with making rock ramparts and wafting them away—this endless activity, with the waste of Heaven knows how many million horse power of energy, has been left to work its will year in year out. The fact seems to call for comment and indeed for censure. Ought not some one to write to The Times? Use should be made of it. One should not let this gigantic cinema play perpetually to an empty house.
The style is deliberately playful, the attitude arch, and yet those two references, to 'horse power' and 'cinema' show how acutely aware she was of the technology and media which were shaping the twentieth century.
The essay is accompanied in this very attractive new edition by Notes from Sick Rooms, written by her mother Julia Stephen in 1883. The juxtaposition of the two texts is very telling. It is usually assumed that the major literary influence on Virginia was her father, the biographer (and explorer and editor). But you can certainly see where the daughter inherited the fancifulness and lightness of touch in her mother's essay on the annoying effect of crumbs in the bed of a sick person.
Among the number of small evils which haunt illness, the greatest, in the misery it can cause, though the smallest in size, is crumbs. The origin of most things has been decided on, but the origin of crumbs in bed has never excited sufficient attention among the scientific world, though it is a problem which has tormented many a weary sufferer.
The inflation ('evil') and comic hyperbole were alive and well in her daughter's work, written forty-three years later.
The essay even has an interesting history. It was first published by T.S.Eliot in his magazine The Criterion in 1926, alongside contributions from Aldous Huxley, Gertrude Stein, Jean Cocteau, and D.H.Lawrence's The Woman Who Rode Away. Then it was republished as a single volume by the Hogarth Press in 1930. This new edition reproduces the original with its idiosyncratic capitalisation, and is nicely illustrated with chapter dividers and inside covers by Vanessa Bell. Both essays have scholarly introductions, and the book even has an afterword on the relationship between narrative and medicine.

Buy the book at Amazon UK

Buy the book at Amazon US
© Roy Johnson 2013
---
Virginia Woolf, On Being Ill. Massachusetts: Paris Press, 2012, pp.122, ISBN: 1930464134
---
More on Virginia Woolf
Virginia Woolf – web links
Virginia Woolf – greatest works
Virginia Woolf – criticism
More on the Bloomsbury Group
---