best-selling guide to sharpening your writing style
William Zinsser is professional journalist (former writer and editor on the New York Herald Tribune) who manages to express a love of writing and an appreciation of good style without ever dragging readers into the swamps of grammatical nit-picking and rule-governed instruction. In On Writing Well he expresses himself in an urbane and conversational style typical of popular magazines. This is a reassuring approach for those who want a guided tour of writing issues, held by the hand of someone experienced in the craft. It's rather like having a writing coach at your shoulder as he talks you through what writers think and the decisions they make.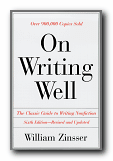 He's particularly alert to the fear of those who lack confidence. The first part of the book is taken up with his principal recommendations. These are to cultivate brevity and clarity, and to omit any form of 'clutter'. He has some wonderful examples of equivocation, ambiguity, and deliberate obfuscation drawn from American public life – including such gems from Alexander Haigh as "at this juncture of maturization" [that is 'now'] and "We must push this to a lower decibel of public fixation. I don't think there's much of a learning curve to be achieved in this area of content."
He then covers the means by which this clarity is to be achieved. It involves, logically enough, choosing your words carefully, and developing a unity of approach and subject matter.
The third part of the book deals with different forms of writing – such as reportage, interviews, and travel writing. It also covers scientific writing, business and even sports. These chapters are aimed at aspiring journalists, but there's much to be learned from such details as his sharp-eyed analysis of the travel cliché: 'villages nestling' and 'byways half-forgotten':
Half the sights seen in a day's sightseeing are quaint, especially windmills and covered bridges
The latter part of the book relaxes into its real subject – journalism – on which Zinsser speaks with feeling about its craft and techniques. In fact he ends by giving a paragraph-by-paragraph account of writing a travel article, explaining the subject options, the choice of vocabulary, and the strategies of approach which he tried and rejected. There's a certain amount of patting himself on the back after-the-event in this, but aspiring writers might find it interesting to be taken through the generation of a piece of work in this way.
At its best, this approach will make readers sensitive to the effects they produce, and at its weakest it's like a well-written guidebook on 'How to Write Stories for Magazines'. But on balance, more people are likely to improve their writing by becoming conscious of rhythm and structure than are likely to fall into the abyss of verbal entertainment which fails.
© Roy Johnson 2006

  Buy the book at Amazon UK

  Buy the book at Amazon US
---
William Zinsser, On Writing Well: The Classic Guide to Writing Nonfiction (6th edn), New York: Harper, 2006, pp.336, ISBN: 141775057X
---
More on writing skills
More on language
More on dictionaries
---