tutorial, commentary, study resources, plot, and web links
Professor Fargo first appeared in The Galaxy magazine for August 1874. Its next appearance in book form was in the collection of stories Travelling Companions published in New York by Boni and Liveright in 1919.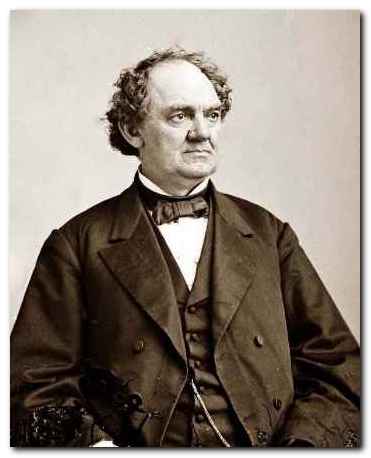 Phineas Taylor Barnum 1810-1891
---
Professor Fargo – critical commentary
The story seems to combine elements of comic burlesque with a savage criticism of the shabby fraudulence in the 'spiritual' showman – something which would surface again in the character of Selah Tarrant in The Bostonians (1886). Its subject appears to be aimed at the market for popular fiction for which James was writing around this time, but there are two issues worthy of note in artistic terms.
The first of these is that all three male characters in the story do the same thing: they attempt to persuade their audiences with the power of rhetoric. The narrator is a travelling salesman whose livelihood rests on persuading other people to purchase the goods he sells – which remain unspecified. The Colonel claims to have 'inventions' and mathematical formulae which he thinks will be of great benefit to society. Perhaps because he doesn't follow the conventional method of writing down his ideas, he is forced to describe them orally. But nobody in the audiences can understand what he is talking about, and his 'inventions' have all failed – which has led him to be dependent upon the Professor.
The Professor himself is an out-and-out fraud. He claims he can communicate with people who are dead, and that he has special powers of 'spiritual' and personal 'magnetism' which he singularly fails to demonstrate during his performances. However, the second detail worthy of note is that the Professor does eventually wield some sort of personal persuasiveness on Miss Gifford – who abandons her own father and takes up with the florid mountebank Fargo.
This sudden reversal of allegiance is not unlike that demonstrated by the young girl in James's story Adina written earlier in the same year. Adina is engaged to marry a somewhat unattractive classical scholar, but she suddenly elopes with a handsome young Italian man to whom she has hardly even spoken. The common element of lack of speech is perhaps telling. James obviously believed that some people were susceptible to being attracted by sheer animal magnetism, even if they did leave behind them a distinct trace of 'Frailty, thy name is woman'.
---
Professor Fargo – study resources

The Complete Works of Henry James – Kindle edition – Amazon UK

The Complete Works of Henry James – Kindle edition – Amazon US

Complete Stories 1874—1884 – Library of America – Amazon UK

Complete Stories 1874—1884 – Library of America – Amazon US

The Cambridge Companion to Henry James – Amazon UK

Henry James at Wikipedia – biographical notes, links

Henry James at Mantex – tutorials, biography, study resources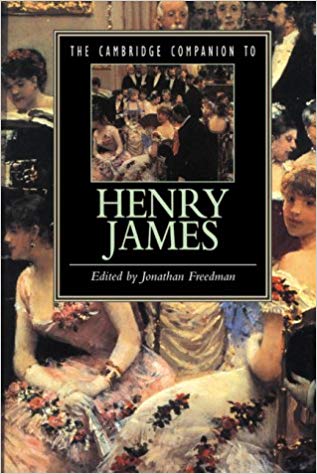 ---
Professor Fargo – plot summary
Part I. An un-named narrator decides to wait for three days in a sleepy little American town for a business contact to return. In the town hall he encounters Professor Fargo, who is preparing the evening's demonstration of spiritualism and mental magnetism. They exchange opinions regarding spiritualism – the narrator being firmly sceptical. Later the same day he sees the Professor again, engaged with a pretty deaf-mute girl in the public cemetery.
Part II. The narrator attends the evening show. The Professor's performance is poor and without any results. Then his partner Colonel Gifford presents a new mathematical method, which nobody in the audience understands. Then his daughter the deaf-mute girl presents miracles of multiplication on a blackboard.
Next day the narrator meets all three performers at breakfast at the inn where they are all staying. He compliments the Colonel on his mathematical theories. The sombre Colonel reveals that he does not subscribe to the Professor's quack claims. He himself has practical inventions which he hopes will benefit society; he has lost his wife; and he resents being dependent on the Professor, who he thinks a vulgar fraud. Because all the Colonel's experiments have so far failed, the Professor has persuaded him to feature his gifted daughter in their act.
Later the same day, the Colonel unburdens himself further to the narrator. The Professor drinks heavily and treats visitors at the inn to his philosophy of 'spiritual magnetism'. The Colonel then denounces these claims publicly, following which the Professor proposes to prove his powers with a practical demonstration.
Part III. Six weeks later the narrator sees another of their performances in New York. Their fortunes have sunk even lower than before. The Colonel has let the Professor off his challenge (because it was made whilst drunk). Whilst out walking with the narrator, the Colonel has a sudden inspiration for a major new idea. But when they arrive at the Colonel's lodging they find the Professor is there: he offers the narrator a free ticket for the evening's performance.
However, there is no audience at all, and when the manager demands rent for the hall, the Professor is unable to pay. The narrator offers to pay the Colonel's half of the bill. The Professor proposes to form a new act featuring the girl – but the Colonel indignantly refuses. However, when faced by a choice of loyalties, the girl goes off with the Professor. The Colonel is completely crushed by this outcome, and is placed in an asylum, where he continues his meaningless mathematical 'experiments'.
---
Principal characters
| | |
| --- | --- |
| I | the un-named narrator, a commercial traveller |
| Professor Fargo | a fat and florid showman |
| Colonel Gifford | a 'mathematician and inventor, his partner |
| Miss Gifford | a poor but pretty young deaf mute girl, his daughter |
---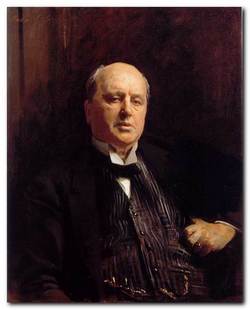 Henry James – portrait by John Singer Sargeant
---
Further reading
Biographical

Theodora Bosanquet, Henry James at Work, University of Michigan Press, 2007.

F.W. Dupee, Henry James: Autobiography, Princeton University Press, 1983.

Leon Edel, Henry James: A Life, HarperCollins, 1985.

Philip Horne (ed), Henry James: A Life in Letters, Viking/Allen Lane, 1999.

Henry James, The Letters of Henry James, Adamant Media Corporation, 2001.

Fred Kaplan, Henry James: The Imagination of Genius, Johns Hopkins University Press, 1999

F.O. Matthieson (ed), The Notebooks of Henry James, Oxford University Press, 1988.
Critical commentary

Elizabeth Allen, A Woman's Place in the Novels of Henry James London: Macmillan Press, 1983.

Ian F.A. Bell, Henry James and the Past, London: Palgrave Macmillan, 1993.

Millicent Bell, Meaning in Henry James, Cambridge (MA): Harvard University Press, 1993.

Harold Bloom (ed), Modern Critical Views: Henry James, Chelsea House Publishers, 1991.

Kirstin Boudreau, Henry James's Narrative Technique, Macmillan, 2010.

J. Donald Crowley and Richard A. Hocks (eds), The Wings of the Dove, New York: W.W. Norton and Company, 1978.

Victoria Coulson, Henry James, Women and Realism, Cambridge University Press, 2009.

Daniel Mark Fogel, A Companion to Henry James Studies, Greenwood Press, 1993.

Virginia C. Fowler, Henry James's American Girl: The Embroidery on the Canvas, Madison (Wis): University of Wisconsin Press, 1984.

Jonathan Freedman, The Cambridge Companion to Henry James, Cambridge University Press, 1998.

Judith Fryer, The Faces of Eve: Women in the Nineteenth Century American Novel, Oxford: Oxford University Press, 1976

Roger Gard (ed), Henry James: The Critical Heritage, London: Routledge, 1968.

Tessa Hadley, Henry James and the Imagination of Pleasure, Cambridge University Press, 2009.

Barbara Hardy, Henry James: The Later Writing (Writers & Their Work), Northcote House Publishers, 1996.

Richard A. Hocks, Henry James: A study of the short fiction, New York: Twayne Publishers, 1990.

Donatella Izzo, Portraying the Lady: Technologies of Gender in the Short Stories of Henry James, University of Nebraska Press, 2002.

Colin Meissner, Henry James and the Language of Experience, Cambridge University Press, 2009

John Pearson (ed), The Prefaces of Henry James, Pennsylvania State University Press, 1993.

Richard Poirer, The Comic Sense of Henry James, Oxford: Oxford University Press, 1967.

Hugh Stevens, Henry James and Sexuality, Cambridge University Press, 1998.

Merle A. Williams, Henry James and the Philosophical Novel, Cambridge University Press, 1993.

Judith Woolf, Henry James: The Major Novels, Cambridge University Press, 1991.

Ruth Yeazell (ed), Henry James: A Collection of Critical Essays, Longmans, 1994.
---
Other works by Henry James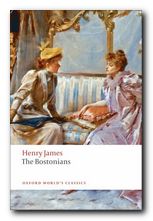 The Bostonians (1886) is a novel about the early feminist movement. The heroine Verena Tarrant is an 'inspirational speaker' who is taken under the wing of Olive Chancellor, a man-hating suffragette and radical feminist. Trying to pull her in the opposite direction is Basil Ransom, a vigorous young man from the South to whom Verena becomes more and more attracted. The dramatic contest to possess her is played out with some witty and often rather sardonic touches, and as usual James keeps the reader guessing about the outcome until the very last page.

Buy the book at Amazon UK


Buy the book at Amazon US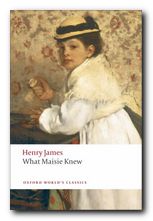 What Masie Knew (1897) A young girl is caught between parents who are in the middle of personal conflict, adultery, and divorce. Can she survive without becoming corrupted? It's touch and go – and not made easier for the reader by the attentions of an older man who decides to 'look after' her. This comes from the beginning of James's 'Late Phase', so be prepared for longer and longer sentences. In fact it's said that whilst composing this novel, James switched from writing longhand to using dictation – and it shows if you look carefully enough – part way through the book.


Buy the book at Amazon UK


Buy the book at Amazon US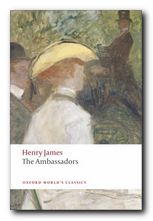 The Ambassadors (1903) Lambert Strether is sent from America to Paris to recall Chadwick Newsome, a young man who is reported to be compromising himself by an entanglement with a wicked woman. However, Strether's mission fails when he is seduced by the social pleasures of the European capital, and he takes Newsome's side. So a second ambassador is dispatched in the form of the more determined Sarah Pocock. She delivers an ultimatum which is resisted by the two young men, but then an accident reveals unpleasant truths to Strether, who is faced by a test of loyalty between old Europe and the new USA. This edition presents the latest scholarship on James and includes an introduction, notes, selected criticism, a text summary and a chronology of James's life and times.


Buy the book at Amazon UK


Buy the book at Amazon US
---
Henry James – web links
Henry James at Mantex
Biographical notes, study guides, tutorials on the Complete Tales, book reviews. bibliographies, and web links.
The Complete Works
Sixty books in one 13.5 MB Kindle eBook download for £1.92 at Amazon.co.uk. The complete novels, stories, travel writing, and prefaces. Also includes his autobiographies, plays, and literary criticism – with illustrations.
The Ladder – a Henry James website
A collection of eTexts of the tales, novels, plays, and prefaces – with links to available free eTexts at Project Gutenberg and elsewhere.
A Hyper-Concordance to the Works
Japanese-based online research tool that locates the use of any word or phrase in context. Find that illusive quotable phrase.
The Henry James Resource Center
A web site with biography, bibliographies, adaptations, archival resources, suggested reading, and recent scholarship.
Online Books Page
A collection of online texts, including novels, stories, travel writing, literary criticism, and letters.
Henry James at Project Gutenberg
A major collection of eTexts, available in a variety of eBook formats.
The Complete Letters
Archive of the complete correspondence (1855-1878) work in progress – published by the University of Nebraska Press.
The Scholar's Guide to Web Sites
An old-fashioned but major jumpstation – a website of websites and resouces.
Henry James – The Complete Tales
Tutorials on the complete collection of over one hundred tales, novellas, and short stories.
© Roy Johnson 2013
---
More tales by James
More on literature
More on the novella
More on literary studies
More on short stories
---