tutorial, commentary, study resources, and web links
Roman Fever (1934) is one of the most famous and frequently reprinted of Edith Wharton's short stories. It first appeared in her collection of stories The World Over which was published in 1936.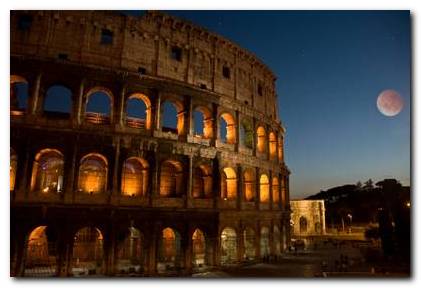 The Colosseum in moonlight
---
Roman Fever – critical comments
Daisy Miller
This story offers a satirical version of the theme treated by Henry James in his famous novella Daisy Miller. James's heroine Daisy incautiously ventures out into the Colosseum at night, catches fever, and later dies. His story is one of unfulfilled promise and a life tragically foreshortened.
Edith Wharton's use of the same scenario is lighter, more satirical, and it has a positive outcome in the creation of Barbara – who is mentioned but never appears in the story. Edith Wharton was a close friend of Henry James and knew his work well. In fact their literary styles are vaguely similar – though James focuses more intensely on the psychological complexities between his characters.
The Colosseum at Night
This image and mise en scene combines two cultural elements which contemporary readers might find puzzling. In the nineteenth century, European locations such as Paris, Rome, and Athens – anywhere south of the English Channel – represented places of general permissiveness and sexual license to visitors from Anglo-Saxon cultures. This included upper-class tourists from both Britain and America.
There was a great deal of what we would now call 'sexual tourism' which went along with the Grand Tour – and the levels of permissiveness increased the further south and east the journey progressed. Other works playing with the same theme include Henry James's The Wings of the Dove (1902) and E.M. Forster's A Room with a View (1905).
At the same time, female tourists on this journey would be expected to maintain the sort of standards which obtained in London and New York. Unmarried women would be chaperoned on all occasions, and certainly not allowed out late at night.
However, the excuse of seeing the Colosseum at night might give a single man and woman an excuse to be alone together – unsupervised. Hence the details mentioned in the story that special arrangements could be made to make the building accessible after its formal closing hours. Alida Slade reminds Grace that –
"It wasn't easy to get in, after the gates were locked for the night. Far from easy. Still, in those days it could be managed, it was managed, often. Lovers met there who couldn't meet elsewhere. You know that?"
Grace Ainsley met Alida's fiancé Delphin Slade that night, and they had a sexual liaison that led to pregnancy. Her indisposition at the time was described as an 'illness', and within two months she was married to Horace Ainsley – just in time for the child (Barbara) to be passed off as a natural product of that union.
Parallels
The architecture of the story is underpinned by a number of very subtle parallels. Alida and Grace originally met each other in Rome many years ago, on a night with a full moon, as the night of the story is to be and as was the night of Grace's meeting with Delphin.
The two women have daughters Jenny and Barbara who are also friends. They have gone off with Italian aviators and will probably fly back by moonlight. In other words, the daughters are doing the modern equivalent of what their mothers did. Moreover, the daughters too seem to be in competition for the same man – the aviator who is a Marchese, the Campolieri boy who is 'one of the best matches in Rome'.
The parallels even reach further back in family history. For when Grace Ansley's great aunt was in Rome many years before, she was also in competition with her sister for the love of the same man, and sent her out on a night-time expedition for a flower – which resulted in the girl's death.
---
Roman Fever – study resources

Roman Fever – Capuchin Classics – Amazon UK

Roman Fever – Capuchin Classics – Amazon US

Roman fever – New York Review Books – Amazon UK

Roman fever – New York Review Books – Amazon US

Edith Wharton Collected Stories – Norton Critical Editions – Amazon UK

Edith Wharton Collected Stories – Norton Critical Editions – Amazon US

Roman Fever – eBook at About.com

Roman Fever – free audioBook – Amazon UK

Roman Fever (and other stories) – Virago edition – Amazon UK

Roman Fever (and other stories) – Virago edition – Amazon US

A Historical Guide to Edith Wharton – Amazon UK

The Cambridge Introduction to Edith Wharton – Amazon UK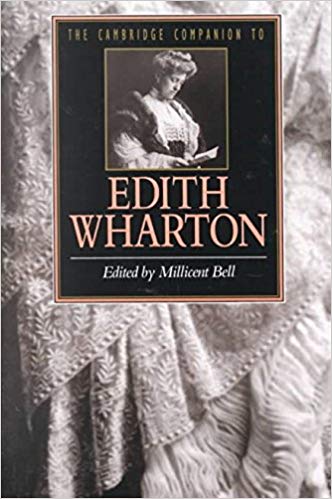 ---
Roman Fever – plot summary
Part I
Alida Slade and Grace Ansley, two middle-aged upper-class American women are sitting on the restaurant terrace of their hotel overlooking Rome after lunch. They have known each other for many years, and their daughters (who are also friends) have gone out for the afternoon.
The two women compare their own youthful experiences of Rome with those possible for young women of their daughters' generation. They are ostensibly full of sympathetic understanding for each other, but actually there is an understated competition between them in matronly feeling and virtue.
Part II
A great deal of their concern centres upon the traditional worry of catching fever in Rome as a result of incautious excursions in public after sunset. Alida Slade suddenly recalls that Grace Ansley once caught a severe chill in such circumstances many years before.
Furthermore, she knows that Grace went out to meet Delphin Slade in the Colosseum at night, even though he had just become engaged to Alida herself. She even remembers the exact words of the letter inviting Grace to meet him there – because as she suddenly decides to reveal, she wrote the letter herself.
It is clear that the two women were in competition for the same man. Alida claims that she wrote the letter as a sort of joke – so that Grace would turn up at the Colosseum and be left wandering around alone late at night, waiting for somebody who wouldn't turn up.
But Grace reveals that she replied to the letter and she did meet Delphin Slade, and they did visit the Colosseum by night. The two women are forced to acknowledge the full scale of rivalry and animosity between them.
They then revert to a form of competitive and patronising sympathy for each other. But Grace plays her trump card by obliquely revealing that her daughter Barbara was the product of this one night's romantic liaison.
---
Principal characters
| | |
| --- | --- |
| Mrs Grace Ansley | a middle-aged American woman |
| Horace Ansley | her husband |
| Barbara | her daughter |
| Mrs Alida Slade | a middle-aged American woman, and long term friend |
| Mr Delphin Slade | Alida's husband, a corporation lawyer |
| Jenny | Alida's daughter |
---
Video documentary
---
Further reading
Louis Auchincloss, Edith Wharton: A Woman of her Time, New York: Viking, 1971,
Elizabeth Ammons, Edith Wharton's Argument with America, Georgia: University of Georgia Press, 1982, pp.222. ISBN: 0820305138
Janet Beer, Edith Wharton (Writers & Their Work), New York: Northcote House, 2001, pp.99, ISBN: 0746308981
Millicent Bell (ed), The Cambridge Companion to Edith Wharton, Cambridge: Cambridge University Press, 1995, pp.232, ISBN: 0521485134
Alfred Bendixen and Annette Zilversmit (eds), Edith Wharton: New Critical Essays, New York: Garland, 1992, pp.329, ISBN: 0824078489
Eleanor Dwight, Edith Wharton: An Extraordinary Life, New York: Harry N. Abrams, 1994, ISBN: 0810927950
Gloria C. Erlich, The Sexual Education of Edith Wharton, California: University of California Press, 1992, pp.223, ISBN: 0520075838
Susan Goodman, Edith Wharton's Women: Friends and Rivals, UPNE, 1990, pp.220, ISBN: 0874515246
Irving Howe, (ed), Edith Wharton: A collection of Critical Essays, London: University of North Carolina Press, 1986,
Jennie A. Kassanoff, Edith Wharton and the Politics of Race, Cambridge: Cambridge University Press, 2004, pp.240, ISBN: 0521830893
Hermione Lee, Edith Wharton, London: Vintage, new edition 2008, pp.864, ISBN: 0099763516
R.W.B. Lewis, Edith Wharton: A Biography, New York: Harper and Rowe, 1975, pp.592, ISBN: 0880640200
James W. Tuttleton (ed), Edith Wharton: The Contemporary Reviews, Cambridge: Cambridge University Press, 1992, pp.586, ISBN: 0521383196
Candace Waid, Edith Wharton's Letters from the Underworld, London: University of North Carolina Press, 1991,
Sarah Bird Wright, Edith Wharton A to Z: The Essential Reference to Her Life and Work, Fact on File, 1998, pp.352, ISBN: 0816034818
Cynthia Griffin Wolff, A Feast of Words: The Triumph of Edith Wharton, New York: Perseus Books, second edition 1994, pp.512, ISBN: 0201409186
---
Other works by Edith Wharton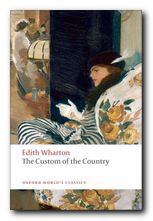 The Custom of the Country (1913) is Edith Wharton's satiric anatomy of American society in the first decade of the twentieth century. It follows the career of Undine Spragg, recently arrived in New York from the midwest and determined to conquer high society. Glamorous, selfish, mercenary and manipulative, her principal assets are her striking beauty, her tenacity, and her father's money. With her sights set on an advantageous marriage, Undine pursues her schemes in a world of shifting values, where triumph is swiftly followed by disillusion. This is a study of modern ambition and materialism written a hundred years before its time.


Buy the book from Amazon UK


Buy the book from Amazon US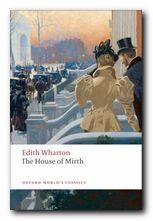 The House of Mirth (1905) is the story of Lily Bart, who is beautiful, poor, and still unmarried at twenty-nine. In her search for a husband with money and position she betrays her own heart and sows the seeds of the tragedy that finally overwhelms her. The book is a disturbing analysis of the stifling limitations imposed upon women of Wharton's generation. In telling the story of Lily Bart, who must marry to survive, Wharton recasts the age-old themes of family, marriage, and money in ways that transform the traditional novel of manners into an arresting modern document of cultural anthropology.


Buy the book from Amazon UK


Buy the book from Amazon US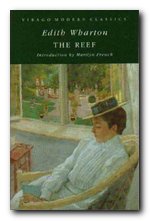 The Reef deals with three topics with which Edith Wharton herself was intimately acquainted at the period of its composition – unhappy marriage, divorce, and the discovery of sensual pleasures. The setting is a country chateau in France where diplomat George Darrow has arrived from America, hoping to marry the beautiful widow Anna Leith. But a young woman employed as governess to Anna's daughter proves to be someone he met briefly in the past and has fallen in love with him. She also becomes engaged to Anna's stepson. The result is a quadrangle of tensions and suspicions about who knows what about whom. And the outcome is not what you might imagine.


Buy the book from Amazon UK


Buy the book from Amazon US
---
Edith Wharton – web links

Edith Wharton at Mantex
Biographical notes, study guides to the major novels, tutorials on the shorter fiction, bibliographies, critiques of the shorter fiction, and web links.

The Short Stories of Edith Wharton
This is an old-fashioned but excellently detailed site listing the publication details of all Edith Wharton's eighty-six short stories – with links to digital versions available free on line.

Edith Wharton at Gutenberg
Free eTexts of the major novels and collections of stories in a variety of digital formats – also includes travel writing and interior design.

Edith Wharton at Wikipedia
Full details of novels, stories, and travel writing, adaptations for television and the cinema, plus web links to related sites.

The Edith Wharton Society
Old but comprehensive collection of free eTexts of the major novels, stories, and travel writing, linking archives at University of Virginia and Washington State University.

The Mount: Edith Wharton's Home
Aggressively commercial site devoted to exploiting The Mount – the house and estate designed by Edith Wharton. Plan your wedding reception here.

Edith Wharton at Fantastic Fiction
A compilation which purports to be a complete bibliography, arranged as novels, collections, non-fiction, anthologies, short stories, letters, and commentaries – but is largely links to book-selling sites, which however contain some hidden gems.

Edith Wharton's manuscripts
Archive of Wharton holdings at the Beinecke Rare Book and Manuscript Library
© Roy Johnson 2012
---
Edith Wharton – short stories
More on Edith Wharton
More on short stories
---