national icon of the young 'doomed' poet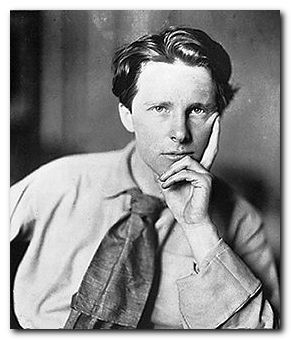 Rupert Brooke (1887—1915) was only ever on the fringe of the Bloomsbury Group – but he was well acquainted with its central figures, such as Virginia Woolf and Lytton Strachey. He was born in Rugby in Warwickshire, where his father taught classics and was a housemaster at the famous public school. He himself attended the school, along with Duncan Grant. The boy soon grew into a man whose handsome figure transfixed admirers of both sexes. He was almost six foot tall, academically clever, and good at sports – representing the school in cricket and rugby. He was also highly creative: he wrote verse throughout his childhood, having gained a love of poetry from reading Browning.
In 1906 he won a scholarship to King's College at Cambridge University, and whilst there he became a member of the Apostles, a semi-secret debating society whose other members included Bertrand Russell, E.M.Forster, Lytton Strachey, Leonard Woolf, and John Maynard Keynes. He helped to found the Marlowe Society drama club, acted in plays, and wrote poetry.
In 1910 his father died suddenly, and Brooke was for a short time in Rugby a deputy housemaster. Thereafter he lived on an allowance from his mother. His first intimate relationship is thought to have been with Denham Russell-Smith, the younger brother of one of his close friends at Rugby.
In 1911 Brooke published his first collection of verse, Poems, and his work was featured in the periodical Georgian Poetry, edited by his friend, Sir Edward Marsh. Over the next twenty years, the book sold almost 100 000 copies. He became famous and popular in both literary and political circles.
He was a leader of a group of young 'Neo-pagans', who slept outdoors, embraced a religion of nature, and took up vegetarianism. Astonishing though it might seem, at one time Virginia Woolf joined them in Grantchester to swim naked at midnight in Byron's Pool where Lord Byron used to bathe whilst a student at Cambridge. Other Neo-Pagan hangers-on included Augustus John, then in his heyday of wandering gypsy-Bohemian. Virginia Woolf wrote of this phase in a memoir:
Under his influence the country near Cambridge was full of young men and women walking barefoot, sharing his passion for bathing and fish diet, disdaining book learning, and proclaiming that there was something deep and wonderful in the man who brought the milk and in the woman who watched the cows.
In 1911 Brooke was secretly engaged to Noel Olivier, five years his junior. The affair was for all participants frustrating and subsequently Brooke had an affair with the actress Cathleen Nesbitt. Overworked and emotionally empty, Brooke suffered a nervous breakdown.
In the spring of 1912, Brooke and Ka Cox went to Germany, where in a mood of homesickness he wrote a poem about his home 'The Old Vicarage, Grantchester', which is among his most admired poems.
Oh, is the water sweet and cool,
Gentle and brown, above the pool?
And laughs the immortal river still
Under the mill, under the mill?
Say, is there Beauty yet to find?
And Certainty? and Quiet kind?
Deep meadows yet, for to forget
The lies, and truths, and pain?… oh! yet
Stands the Church clock at ten to three?
And is there honey still for tea?
It is interesting to note that Brooke's method of poetic composition was to first of all assemble a list of pairs of rhyming words, and then fill in the lines which preceded them. The Old Vicarage is now occupied by the Cambridge physicist Mary Archer and her husband Jeffrey, the 'novelist', former politician, and ex-jailbird.
The group of five sonnets called 1914 that Rupert Brooke wrote in December 1914 and finished in January 1915 became, within a few months, some of the most praised and widely read poems of their day. They glorified England and the idea of dying for England.
IF I should die, think only this of me:
That there's some corner of a foreign field
That is for ever England. There shall be
In that rich earth a richer dust concealed;
A dust whom England bore, shaped, made aware,
Gave, once, her flowers to love, her ways to roam,
A body of England's, breathing English air,
Washed by the rivers, blest by suns of home.
In fact, he never saw active service.
His poetry gained many enthusiasts and he was taken up by Edward Marsh, who brought him to the attention of Winston Churchill, who was at that time First Lord of the Admiralty. Through these connections he was commissioned into the Royal Naval Volunteer Reserve as a temporary Sub-Lieutenant shortly after his 27th birthday and took part in the Royal Naval Division's Antwerp expedition in October 1914.
He sailed with the British Mediterranean Expeditionary Force on 28 February 1915 but developed sepsis from an infected mosquito bite. He died on 23 April 1915 off the island of Lemnos in the Aegean on his way to a battle at Gallipoli. As the expeditionary force had orders to depart immediately, he was buried at in an olive grove on the island of Skyros, Greece.
---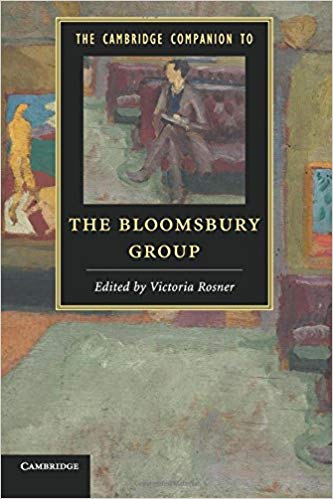 ---
Bloomsbury Group – web links

Hogarth Press first editions
Annotated gallery of original first edition book jacket covers from the Hogarth Press, featuring designs by Vanessa Bell, Roger Fry, and others.

The Omega Workshops
A brief history of Roger Fry's experimental Omega Workshops, which had a lasting influence on interior design in post First World War Britain.

The Bloomsbury Group and War
An essay on the largely pacifist and internationalist stance taken by Bloomsbury Group members towards the First World War.

Tate Gallery Archive Journeys: Bloomsbury
Mini web site featuring photos, paintings, a timeline, sub-sections on the Omega Workshops, Roger Fry, and Duncan Grant, and biographical notes.

Bloomsbury: Books, Art and Design
Exhibition of paintings, designs, and ceramics at Toronto University featuring Hogarth Press, Vanessa Bell, Dora Carrington, Quentin Bell, and Stephen Tomlin.

Blogging Woolf
A rich enthusiast site featuring news of events, exhibitions, new book reviews, relevant links, study resources, and anything related to Bloomsbury and Virginia Woolf

Hyper-Concordance to Virginia Woolf
Search the texts of all Woolf's major works, and track down phrases, quotes, and even individual words in their original context.

A Mrs Dalloway Walk in London
An annotated description of Clarissa Dalloway's walk from Westminster to Regent's Park, with historical updates and a bibliography.

Women's History Walk in Bloomsbury
Annotated tour of literary and political homes in Bloomsbury, including Gordon Square, University College, Bedford Square, Doughty Street, and Tavistock Square.

Virginia Woolf Society of Great Britain
News of events, regular bulletins, study materials, publications, and related links. Largely the work of Virginia Woolf specialist Stuart N. Clarke.

BBC Audio Essay – A Eulogy to Words
A charming sound recording of a BBC radio talk broadcast in 1937 – accompanied by a slideshow of photographs of Virginia Woolf.

A Family Photograph Albumn
Leslie Stephens' collection of family photographs which became known as the Mausoleum Book, collected at Smith College – Massachusetts.

Bloomsbury at Duke University
A collection of book jacket covers, Fry's Twelve Woodcuts, Strachey's 'Elizabeth and Essex'.
© Roy Johnson 2000-2014
---
More on biography
More on the Bloomsbury Group
Twentieth century literature
---