how to maximise page rankings with search engines
I bought this book on search engine optimisation (SEO) because I trust Peter Kent's work. His best-selling 2000 work Poor Richard's Web Site was well-written, clear and friendly advice, and he spells out technology in a way which is easy to understand. He starts out here by explaining how search engines do their work, then provides a quick overview of how to optimise pages. This is an intelligent approach, because the details of SEO can become quite complex, and people fixing their own sites rather than paying an SEO agency will want to get on quickly with the job.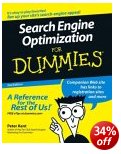 The process is one of gradual adjustment and refinement. It involves choosing the best keywords, creating good content, making submissions to the SEs, and generating incoming links. Each of these topics is then explained in greater detail. He always offers suggestions of free software and services where possible, and the resources mentioned are all listed at the book's own web site. The only paid-for software he recommends is WordTracker which helps you to identify the most appropriate keywords for your site.
Most of the advice is perfectly straightforward and easy to follow – though it requires a great deal of your patience and time. It involves giving pages accurate descriptive titles, creating content which matches the description of what's on offer, and avoiding tricks and anything which tries to put one over on the search engines
On the use of frames he is quite unequivocal. Don't do it! But just in case you have done so, and can't really change your site, he shows you how to eliminate the worst problems. The same is true for dynamic pages generated from databases, and for cookie-based navigation systems.
But then just to prove that he's not being unnecessarily stuffy, he does have a chapter on how to trick the search engines – albeit after listing several reasons why you should not use them. These include stuffing keywords, making text and links hidden on the page, duplicating pages, making doorway pages, plus tricks with redirects and cloaking.
Next he deals with the business of submitting your site to the search engines – putting a lot of his emphasis on creating a sitemap. Once again he gives lots of convincing reasons why you should use the free submission systems and avoid the paid-for services.
He explains the way the system of page ranking works and why it is important that the pages of a site contain as many links as possible. This leads naturally to the difficult business of finding people who will link to your site. We get several link-swap offers a day on this site, but most of them turn out to be from what are called link farms – which search engines don't like.
By the time he reaches the shopping directories he has to admit that all this link-building and site-promotion is a labour-intensive business. So there's a section on how to get other people to do it for you!
© Roy Johnson 2010

  Buy the book at Amazon UK

  Buy the book at Amazon US
---
Peter Kent, Search Engine Optimization for Dummies, Indianapolis: Indiana, Wiley, 4th edition, 2010, pp.382, ISBN: 0470881046
---
More on eCommerce
More on media
More on publishing
More on technology
---