practical guide to getting started in eCommerce
If you want to develop small business websites using eCommerce, this is an overview of all the things you will need to take into account. Sean McManus starts out by pointing to the new approaches required when doing business electronically. Your customers will expect instant responses; web sites must deliver up-to-date and accurate information; you need to make yourself and your products and services easily accessible. He doesn't go into much technical detail – which is probably a good thing, given that so much is available elsewhere.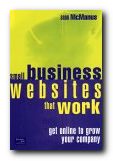 Instead, he provides a strategy overview punctuated by thumbnail case studies. It's a list of Good Ideas for maximising the relationship between you and your customers – actual and potential. Planning a site and creating the content; integrating the site with your business; and the advantages and disadvantages of trying to do it all yourself.
He puts a lot of store on learning from good examples, and there are detailed analyses of well designed ecommerce sites – pointing out how and why they are successful.
He points out free content and tools where they are available, covers the important details of domain names and hosting, and offers a checklist of what he calls the 'sixteen crimes of Web design'. These include pointless animations and splash screens, cliched graphics, 'under construction' notices, and poor layout.
There's not as much on affiliate programs and credit card handling as I would have expected, but he makes up for this with plenty on site promotion and search engine optimisation.
This will make a good primer for anybody who wants to make a serious bid in the world of eCommerce within the limited budget of a small enterprise. You will probably need additional help with the details, but this offers you an excellent overview.
© Roy Johnson 2003

  Buy the book at Amazon UK

  Buy the book at Amazon US
---
Sean McManus, Small Business Websites that Work, London: Prentice Hall, 2001, pp.202, ISBN: 0273654861
---
More on eCommerce
More on media
More on publishing
More on technology
---