how to refine your writing style
This is a twenty year old book already in its sixth edition, and the author admits that it's still 'evolving', which is a good sign that serious thought is going into its composition. Style ten lessons in clarity and grace is based on a course Joseph Williams teaches at the University of Chicago. His approach is based on two principles – that 'it's good to write clearly, and anyone can' – and the second part of the proposition is what he's teaching here. His approach is to draw attention to the finer issues of clarity in prose, and to show how language can be used with subtelty to effect it.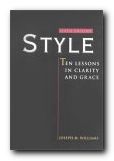 His ten seperate chapters deal with each of these issues in turn, and his own prose style is engaging and friendly – which both proves his point and shows that he knows what he is talking about. He starts with a brief and amusing guide to bad prose and what creates it, and he ends with the most celebrated advice on creating effective prose – that good writing is about 'rewriting'. His general advice is that improvement can be made – if you go slowly. So what then are his ten 'lessons'?
Write with readers in mind
Write clearly
Write concretely
Write in an active mode
Put the subject at start of sentence
Put rhetoric at end of sentence
Edit, edit, edit; and cut, cut, cut
Get the verb in the main clause
Create structure
Write ethically
It's pitched at a fairly sophisticated level, suitable for intermediate to advanced users. Williams assumes that readers know the basics of what is right and wrong, but want to improve in matters of clarity and elegance. He makes an interesting and useful distinction between three types of correctness – and offers different levels of response to them.
There are are exercises in each chapter with suggested answers, which I think makes this a text which might be more popular with tutors than with the students for whom it was presumably written. You've got to put up with a lot of grappling with 'nominalizations', 'resumptive modifiers', and elimination of the passive voice, as well as the same examples worked over and over until they're right.
There's a particularly good chapter on deleting redundant expressions, writing more concisely, and eliminating 'metadiscourse' [signposting or 'writing about writing']. He gives one example where a fifty word statement is edited down to a sentence of six. His advice includes one point I write on something like fifty percent of all student essays: 'Put the subject at the start of the sentence, and follow it as soon as possible with the verb'.
Towards the end of the book he tries to 'teach the unteachable' – elegance and 'good style'. This section requires quite a sophisticated level of literary experience, and strangely enough he ends on punctuation – but pitched at quite an advanced level.
This isn't a book for beginners. It's for people who want to improve their existing writing skills, who want to rid themselves of officialese and cloudy abstraction and garbled syntax so as to produce writing which is clear and efficient. If you follow his advice, read carefully what he's got to say, and complete the exercises, I think you'll find it money well spent.
© Roy Johnson 2000

  Buy the book at Amazon UK

  Buy the book at Amazon US
---
Joseph Williams, Style: ten lessons in clarity and grace, New York: Addison Wesley, (6th edn) 1999, pp.309, ISBN: 0321024087
---
More on language
More on literary studies
More on writing skills
More on grammar
---