tutorial, commentary, study resources, and web links
A Round of Visits first appeared in the English Review in April-May 1910. It was the last completed short story Henry James ever produced. Like other tales he wrote around that time, it deals with the issue of returning to his native America after a long period of living in Europe. James had left the 'old' traditional New York of the 1870s, and he was rather taken aback by the 'new' America he found on revisiting twenty-five years later.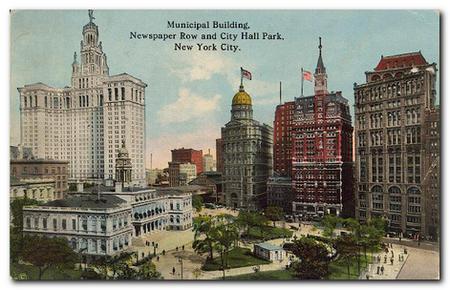 New York in 1909
---
A Round of Visits – critical commentary
New American money
This is a story about new American wealth and the modern mega-city. James paints a picture of a cold and hostile New York – a place of bad weather, an influenza outbreak, and streets filled with a strange mixture of emptiness and vehicles which emit horrible screeching noises.
Montieth has lost money. His capital has been accumulated under the supposedly honorable circumstances of 'old' New York society. But he has lingered too long in Europe, and the money has been snatched up by a representative of the new, speculative venture capitalists who make money out of other people's money – in Bloodgood's case, by absconding with it.
Mrs Folliott has also lost money – but Montieth suspects she has plenty more (as he has). The implication is that American capitalism has been in a boom period. And Winch too has 'splendidly improved'. Montieth is impressed with his sumptuous accommodation. But it turns out to be wealth accumulated corruptly – in the same way as Bloodgood has done.
James wasn't exactly short of money himself (his grandfather had been one of the first US millionaires), but he was surprised by the huge fortunes that had been accumulated by American capitalists in the last two decades of the nineteenth century whilst he had been away in Europe.
His reflections on these recent American developments are not very positive, and it is significant that within a few years (and as an act of solidarity during war time with the country he had made his home) he took out English citizenship in 1915.
Structure
In his study of the tales, Henry James: a study of the short fiction, Richard A. Hocks offers an extended and in-depth analysis of James's irony in this story, and in particular the manner in which the structure of the narrative supports the reversals of expectation that take place:
The formal integrity, too, of A Round of Visits is another illustration of just how much James by the end had furthered the development of American short fiction as a work of art in the course of his career. The seven divisions of the tale are halved by the transitional fourth section (in which no visit occurs), providing a structural balance between the first and final three segments. The first three, moreover, are unified by a repetitive pattern of expectation and rebuff in the encounters with the hotel doctor, Mrs Folliott, and Mrs Ash. The transitional section, with Montieth again outside in the street, has him deciding to reverse his search for sympathy and follow the supposed 'will of Providence'. The last three sections, in Winch's apartment, trace the reversal and twistings of Montieth's expectations and judgements with results even more drastically unexpected than those accumulated in the first three sections.
---
A Round of Visits – study resources

The Complete Works of Henry James – Kindle edition – Amazon UK

The Complete Works of Henry James – Kindle edition – Amazon US

Complete Stories 1898—1910 – Library of America – Amazon UK

Complete Stories 1898—1910 – Library of America – Amazon US

The Cambridge Companion to Henry James – Amazon UK

A Round of Visits – Digireads reprint – Amazon UK

A Round of Visits – eBook at Project Gutenberg

A Round of Visits – read the story on line

The Prefaces of Henry James – Introductions to his tales and novels

Henry James at Wikipedia – biographical notes, links

Henry James at Mantex – tutorials, biography, study resources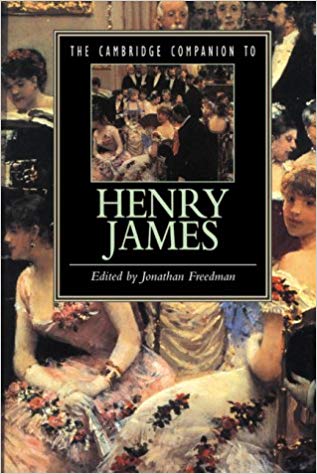 ---
A Round of Visits – plot summary
Part I. Mark Montieth arrives in New York amidst a snowstorm after an absence of ten years living in Paris. He discovers that his old friend Phil Bloodgood has absconded with all the proceeds of money left in trust to him. Montieth falls ill with flu for a few days, then decides to leave his hotel.
Part II. However, he meets Mrs Folliott, who has also lost money entrusted to Bloodgood. Thinking she might offer a sympathetic ear, Montieth actually becomes bored by her complaints about her own loss, and he is glad to accept an invitation to a lunch party. There he meets a pretty young woman who encourages him to visit an old friend Newton Winch, who is also ill with flu.
Part III. Montieth goes to visit Mrs Ash, an old friend from his days in Paris, hoping she will give him a sympathetic ear. But she oppresses him with a non-stop account of the separation from her husband, who is carrying on with Mrs Folliott.
Part IV. He wanders in a rather bleak and hostile New York evening and reflects charitably upon the egoism of other people – then decides to visit his old friend who is sick.
Part V. Newton Winch turns out to be a sophisticated, successful, and very welcoming. Montieth is struck and very impressed by the enormous improvement in his appearance and behaviour.
Part VI. Winch is entirely sympathetic to Montieth's financial loss and heaps criticism on Bloodgood, but Montieth expresses a certain sympathy for him, and says he would even like to meet him.
Part VII. Winch takes a passionate interest in his friend's plight, and implores him to keep 'talking to him', and by his nervousness gives Montieth reason to think that something is wrong. It transpires that Winch has been guilty of the same sort of pecuniary fraudulent dealing as Bloodgood, and is waiting any moment to be arrested. There is a theatrical knock at the door. Montieth goes to answer it, and whilst he is there, Winch shoots himself.
---
Principal characters
| | |
| --- | --- |
| Mark Montieth | an American bachelor |
| Phil Bloodgood | his handsome third cousin and former classmate and close friend |
| Mrs Folliott | an American society woman |
| Mrs Florence Ash | an American society woman, Montieth's friend in Paris |
| Mr Newton Winch | a rich American old friend of Montieth's |
---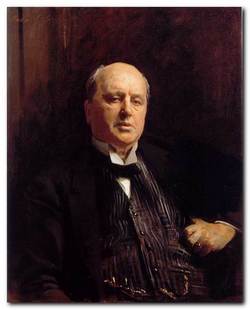 Henry James – portrait by John Singer Sargeant
---
Further reading
Biographical

Theodora Bosanquet, Henry James at Work, University of Michigan Press, 2007.

Leon Edel, Henry James: A Life, HarperCollins, 1985.

Philip Horne (ed), Henry James: A Life in Letters, Viking/Allen Lane, 1999.

Henry James, The Letters of Henry James, Adamant Media Corporation, 2001.

Fred Kaplan, Henry James: The Imagination of Genius, Johns Hopkins University Press, 1999

F.O. Matthieson (ed), The Notebooks of Henry James, Oxford University Press, 1988.
Critical commentary

Ian F.A. Bell, Henry James and the Past, London: Palgrave Macmillan, 1993.

Millicent Bell, Meaning in Henry James, Cambridge (MA): Harvard University Press, 1993.

Harold Bloom (ed), Modern Critical Views: Henry James, Chelsea House Publishers, 1991.

Kirstin Boudreau, Henry James's Narrative Technique, Macmillan, 2010.

Daniel Mark Fogel, A Companion to Henry James Studies, Greenwood Press, 1993.

Jonathan Freedman, The Cambridge Companion to Henry James, Cambridge University Press, 1998.

Roger Gard (ed), Henry James: The Critical Heritage, London: Routledge, 1968.

Tessa Hadley, Henry James and the Imagination of Pleasure, Cambridge University Press, 2009.

Barbara Hardy, Henry James: The Later Writing (Writers & Their Work), Northcote House Publishers, 1996.

Richard A. Hocks, Henry James: A study of the short fiction, New York: Twayne Publishers, 1990.

Colin Meissner, Henry James and the Language of Experience, Cambridge University Press, 2009

John Pearson (ed), The Prefaces of Henry James, Pennsylvania State University Press, 1993.

Ruth Yeazell (ed), Henry James: A Collection of Critical Essays, Longmans, 1994.
---
Other works by Henry James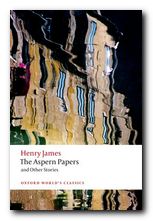 The Aspern Papers (1888) is a psychological drama set in Venice which centres on the tussle for control of a great writer's correspondence. An elderly lady, ex-lover of the writer, seeks a husband for her daughter. But the potential purchaser of the papers is a dedicated bachelor. Money is also at stake – but of course not discussed overtly. There is a refined battle of wills between them. Who will win in the end? As usual, James keeps the reader guessing. The novella is a masterpiece of subtle narration, with an ironic twist in its outcome. This collection of stories also includes three of his accomplished long short stories – The Private Life, The Middle Years, and The Death of the Lion.


Buy the book from Amazon UK


Buy the book from Amazon US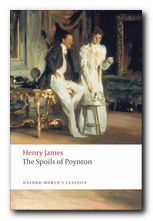 The Spoils of Poynton (1896) is a short novel which centres on the contents of a country house, and the question of who is the most desirable person to inherit it via marriage. The owner Mrs Gereth is being forced to leave her home to make way for her son and his greedy and uncultured fiancee. Mrs Gereth develops a subtle plan to take as many of the house's priceless furnishings with her as possible. But things do not go quite according to plan. There are some very witty social ironies, and a contest of wills which matches nouveau-riche greed against high principles. There's also a spectacular finale in which nobody wins out.


Buy the book from Amazon UK


Buy the book from Amazon US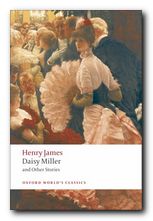 Daisy Miller (1879) is a key story from James's early phase in which a spirited young American woman travels to Europe with her wealthy but commonplace mother. Daisy's innocence and her audacity challenge social conventions, and she seems to be compromising her reputation by her independent behaviour. But when she later dies in Rome the reader is invited to see the outcome as a powerful sense of a great lost potential. This novella is a great study in understatement and symbolic power.


Buy the book from Amazon UK


Buy the book from Amazon US
© Roy Johnson 2012
---
Henry James – web links

Henry James at Mantex
Biographical notes, study guides, tutorials on the Complete Tales, book reviews. bibliographies, and web links.

The Complete Works
Sixty books in one 13.5 MB Kindle eBook download for £1.92 at Amazon.co.uk. The complete novels, stories, travel writing, and prefaces. Also includes his autobiographies, plays, and literary criticism – with illustrations.

The Ladder – a Henry James website
A collection of eTexts of the tales, novels, plays, and prefaces – with links to available free eTexts at Project Gutenberg and elsewhere.

A Hyper-Concordance to the Works
Japanese-based online research tool that locates the use of any word or phrase in context. Find that illusive quotable phrase.

The Henry James Resource Center
A web site with biography, bibliographies, adaptations, archival resources, suggested reading, and recent scholarship.

Online Books Page
A collection of online texts, including novels, stories, travel writing, literary criticism, and letters.

Henry James at Project Gutenberg
A major collection of eTexts, available in a variety of eBook formats.

The Complete Letters
Archive of the complete correspondence (1855-1878) work in progress – published by the University of Nebraska Press.

The Scholar's Guide to Web Sites
An old-fashioned but major jumpstation – a website of websites and resouces.

Henry James – The Complete Tales
Tutorials on the complete collection of over one hundred tales, novellas, and short stories.

Henry James on the Internet Movie Database
Adaptations of James's novels and stories for the cinema and television – in various languages. Full details of directors and actors, production features, film reviews, box office, and even quizzes.
---
More tales by James
More on literature
More on the novella
More on literary studies
More on short stories
---