tutorial, study resources, and critical commentary
For Conscience' Sake was first published in the Fortnightly Review for March 1891, for which Hardy recived £17 as payment. It was later added to the collection of stories, Life's Little Ironies (1894). Students of English grammar and collectors of pedantry might like to note that it was first published under the title For Conscience Sake – without the apostrophe.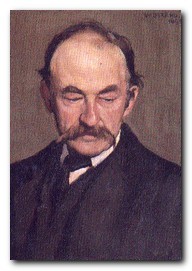 Thomas Hardy – portrait by W. Strang
---
For Conscience' Sake – critical commentary
Folk myth
The dramatic crux of this story occurs in the boating excursion at the Isle of Wight when Frances and Millbourne both suffer from seasickness and begin to look like each other.
Nausea … often brings out strongly the divergences of the individual from the norm of his race, accentuating superficial peculiarities to radical distinctions. Unexpected physiognomies will uncover themselves at these times in well-known faces; the aspect becomes invested with the spectral presence of entombed and forgotten ancestors, and family lineaments of special or exclusive cast, which in ordinary moments are masked by stereotyped expression and mein, start up with crude insistence to the view
Thomas Hardy was very fond of these folk myths, superstitions, and old wives' tales. They feature in such widely disparate works as his tale The Withered Arm and his greatest novel The Mayor of Casterbridge. It is the characters in these works who are affected by their beliefs in the myths, but Hardy himself nevertheless regularly resorts to such incidents as plot devices. But fortunately the logic and outcomes of his stories do not depend upon them.
We might object that there is no scientific evidence to support the idea that seasickness would reveal hitherto hidden genetic similarities in a man and his daughter, Nevertheless, it is true that visible similarities frequently do exist between parent and child. The reverend Cope might just as easily have spotted the connection between Millbourne and Frances for other reasons. So the story is not weakened irrevocably by the 'revelatory seasickness' idea.
Structure
The story has a very symmetrical structure, notwithstanding its unhappy events. In the first part, Millbourne is living alone as a bachelor in London, whilst Mrs Frankland and Frances are in Exonbury (Exeter). All parties are living reasonable and successful lives.
In the second part, Millbourne's ambition to restore his self-respect by marrying Mrs Frankland plunges everyone into a state of unhappiness, including even the Reverend Cope. The two women are uprooted from their community and home in Wessex then transported to London, where they know nobody.
In the third part, realising that some things are best left alone (as his friend Bindon warned him) Millbourne then puts everything back in place as it was before. The two women are restored to Wessex, and Millbourne returns to being a bachelor living in a city – this time Brussels.
Motivation
It is worth noting that Millbourne's motivation is entirely self-oriented. He wishes to marry Mrs Frankland not because he loves her, and not because he wishes to compensate for the wrong he has done her – but because he wishes to bolster his own sense of self-respect. As he tells Bindon, his ambition is "to recover [his] sense of being a man of honour"
The title
It's worth noting that the story first appeared without the apostrophe in its title as For Conscience Sake. Today we might also expect it to have both an apostrophe followed by the possessive 's'. But the truth of the matter is that all three of these usages are accepted by various authorities on English grammar – as the following podcast makes clear:
---
For Conscience' Sake – study resources

Life's Little Ironies – Oxford World Classics – Amazon UK

Life's Little Ironies – Oxford World Classics – Amazon US

Life's Little Ironies – Wordsworth Classics – Amazon UK

Life's Little Ironies – Wordsworth Classics – Amazon US

The Complete Works of Thomas Hardy – Kindle eBook

Life's Little Ironies – eBook version at Project Gutenberg

Life's Little Ironies – audiobook version at Project Gutenberg

The Cambridge Companion to Thomas Hardy – Amazon UK

The Complete Critical Guide to Thomas Hardy – Amazon UK

Authors in Context – Thomas Hardy – Amazon UK

Oxford Reader's Companion to Hardy – Amazon UK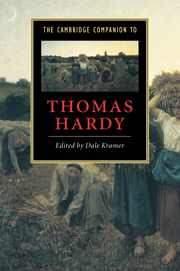 ---
For Conscience' Sake – plot summary
Part I. Mr Millbourne recounts to his friend Doctor Bindon how he feels troubled for having broken his promise of marriage twenty years previously to a Wessex girl he left with a baby daughter. He wants to rectify the misdeed in some way, so as to restore his sense of self-respect. Bindon advises him to leave well alone.
Part II. Millbourne travels to Wessex and discovers that Mrs Frankland (as she calls herself) is an energetic and enterprising teacher of dancing and music. He proposes marriage to her, but she refuses. However, her daughter Frances (who does not know that Millbourne is her father) is engaged to marry a clergyman whose friends object on grounds of social class differences between the couple. Millbourne argues that if Mrs Frankland marries him it will remove the social stigma from her daughter, so she accepts.
Part III. Mrs Frankland's business is sold, and the family move to live in west London where they are not known. Reverend Cope joins them on a family holiday on the Isle of Wight. Whilst suffering seasickness on a sailing trip, the facial similarities of Frances and Millbourne are revealed to Cope. He becomes suspicious of the links between them and distances himself from the family.
Mrs Frankland berates her husband for re-entering the life she had successfully created for herself and her daughter, and thus causing this problem for them. Frances demands to know the truth about herself and Millbourne, and Mrs Frankland tells her. Everybody in the story is unhappy.
Millbourne proposes a solution of moving back to Wessex, close to where Reverend Cope lives. He installs his wife and daughter there, but does not join them. Instead, he moves to live in Brussels, writing to them to confess that it was a mistake to try rectifying a past mistake in this way. Some months later he reads in a newspaper that Frances has married the Revered Cope.
---
Principal characters
| | |
| --- | --- |
| Mr Millbourne | a bachelor (50) and retired banker |
| Dr Bindon | his friend and GP |
| Mrs Leonora Frankland | a music and dancing teacher |
| Miss Frances Frankland | her daughter |
| Rev Percival Cope | fiancé to Frances |
| Exonbury | Exeter |
| Toneborough | Taunton |
| Ivell | Yeoville |
---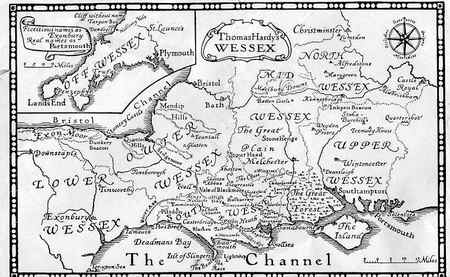 Hardy's WESSEX
---
Further reading

John Bayley, An Essay on Hardy, Cambridge: Cambridge University Press, 1978.

Kristin Brady, The Short Stories of Thomas Hardy, London: Macmillan, 1982.

Raymond Chapman, The Language of Thomas Hardy, London: Macmillan, 1990.

R.G.Cox, Thomas Hardy: The Critical Heritage, London: Routledge and Keegan Paul, 1970.

Ralph W.V. Elliot, Thomas Hardy's English, Oxford: Basil Blackwell, 1984.

P. Ingham, Thomas Hardy: A Feminist Reading, Brighton: Harvester, 1989.

P.Ingham, The Language of Class and Gender: Transformation in the English Novel, London: Routledge, 1995,

Michael Millgate, Thomas Hardy: A Biography Revisited, Oxford: Clarendon Press, 2006. (This is the definitive biography.)

F.B. Pinion, A Thomas Hardy Companion, London: Macmillan, 1968.

Norman Page, Thomas Hardy, London: Routledge & Keegan Paul, 1977.

Richard H. Taylor, The Personal Notebooks of Thomas Hardy, London, 1978.

Merryn Williams, A Preface to Hardy, London: Longman, 1976.
---
Hardy's study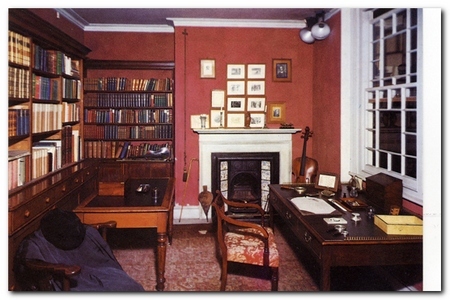 reconstructed in Dorchester museum
---
Other works by Thomas Hardy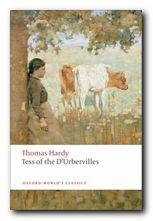 Tess of the d'Urbervilles (1891) is probably the most popular of Hardy's late, great novels. The sub-title is 'A Pure Woman', and it is a story which explores the tragic consequences of a young milkmaid who becomes the victim of the men she encounters. First she falls for the spiritual but flawed Angel Clare, and then the physical but limited Alec Durberville takes advantage of her. This novel has some of the most beautiful and the most harrowing depictions of rural working conditions which reveal Hardy as a passionate advocate for those who work the land. It also has a wonderfully symbolic climax at Stonehenge on Salisbury Plain. There is poetry in almost every page.


Buy the book at Amazon UK


Buy the book at Amazon US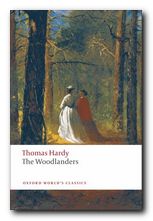 The Woodlanders (1887) Giles Winterbourne, an honest woodsman, suffers with the many tribulations of his selfless love for Grace Melbury, a woman above his station in this classic tale of the West Country. She marries the new doctor, Edred Fitzpiers, but leaves him when she learns he has been unfaithful. She turns instead to Giles, who nobly allows her to sleep in his house during stormy weather, whilst he sleeps outside and brings on his own death. It's often said that the hero of this novel is the woods themselves – so deeply moving is Hardy's account of the timbered countryside which provides the backdrop for another human tragedy and a study of rural life in transition.


Buy the book at Amazon UK


Buy the book at Amazon US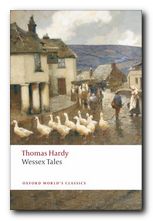 Wessex Tales Don't miss the skills of Hardy as a writer of shorter fictions. None of his short stories are really short, but they are beautifully crafted. This is the first volume of his tales in which he was seeking to record the customs, superstitions, and beliefs of old Wessex before they were lost to living memory. Yet whilst dealing with traditional beliefs, they also explore very modern concerns of difficult and often thwarted human passions which he developed more extensively in his longer works.

Buy the book at Amazon UK


Buy the book at Amazon US
---
Thomas Hardy – web links

Thomas Hardy at Mantex
Biographical notes, study guides to the major novels, book reviews. bibliographies, critiques of the shorter fiction, and web links.

The Thomas Hardy Collection
The complete novels, stories, and poetry – Kindle eBook single file download for £1.29 at Amazon.

Thomas Hardy at Project Gutenberg
A major collection of free eTexts in a variety of digital formats.

Thomas Hardy at Wikipedia
Biographical notes, social background, the novels and literary themes, poetry, religious beliefs and influence, biographies and criticism.

The Thomas Hardy Society
Dorset-based site featuring educational activities, a biennial conference, a journal (three times a year) with links to the texts of all the major works.

The Thomas Hardy Association
American-based site with photos and academic resources. Be prepared to search and drill down to reach the more useful materials.

Thomas Hardy on the Internet Movie Database
Adaptations for the cinema and television – in various languages. Full details of directors, actors, production features, box office, film reviews, and even quizzes.

Thomas Hardy – online literary criticism
Small collection of academic papers and articles 'favoring signed articles by recognized scholars and articles published in peer-reviewed sources'.

Thomas Hardy's Wessex
Evolution of Wessex, contemporary reviews, maps, bibliography, links to other web sites, and history.
© Roy Johnson 2012
---
More on Thomas Hardy
More on the novella
More on literary studies
More on short stories
---