Josephine Baker (1906-1975) was a celebrated African-American dancer and entertainer. She became famous in the Parisian Follies Bergeres, made friends with artists and intellectuals, and eventually renounced the US to become a French citizen. Her reputation was based on the fact that in addition to her being a talented singer and dancer, she also had an effervescent personality and she performed in states of near nudity on stage. However, she was also active in the Civil Rights Movement, refused to perform to segregated audiences, participated in the French Resistance, and was awarded the Legion d'honneur by Charles de Gaul after the war.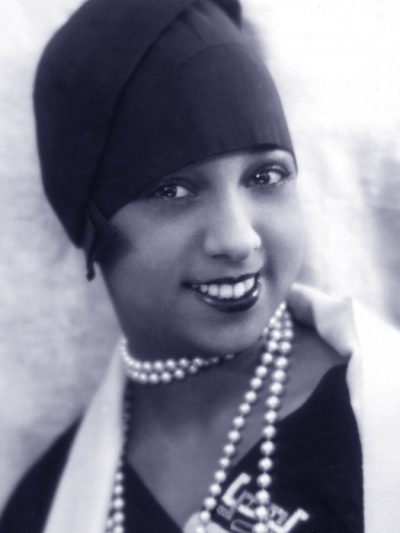 She was born Freda Josephine McDonald in St Louis, Missouri. Her mother was a descendant of black slaves, and it is thought that her biological father was white. As a child she lived in near poverty and had very little formal education. By the age of eight she was working as a live-in domestic servant for white families. She dropped out of school, became a waitress, and for a time lived on the street, sleeping in cardboard boxes.
By the age of thirteen she was married – and divorced a year later. She began singing and dancing in a street performance group. The area was rich in vaudeville, night clubs, and brothels. At fifteen she married Wille Baker, whose name she kept and used professionally for the rest of her life. But in 1925 she left him when her dancing group was booked in to a New York City venue.
The 1920s in New York was a period of what became known as the 'Harlem Renaissance'. There was an artistic and intellectual explosion that took place in Harlem, NYC. Writers such as Langston Hughes and Jean Toomer, plus musicians such as Duke Ellington and Jelly Roll Morton became not only popular but fashionable.
The birth of the Civil Rights Movement gave new confidence to black Americans as an expressive force. And Josephine Baker fitted within this ambience very comfortably, performing at the Plantation Club and in the chorus lines of popular Broadway revues. Around this time she also had a relationship with the blues singer, Clara Smith.
In 1925, still only nineteen years old, she got her first big break – opening in La Revue Negre in Paris at the Theatre de Champs Elysees. She moved on to the Folies Bergere and became famous for her erotic dancing, sometimes appearing almost nude except for a cluster of artificial bananas around her waist. To this exoticism, she added the novelty of a live cheetah in her act.
She met a Sicilian Pepito Abatino who passed himself off as a count: he became her lover and manager, developing her singing skills. Her reputation became international, and she toured in South America, taking the opportunity to have an affair with the architect Le Corbusier who was designing a house for her in Paris.
She also repatriated her fame back in the United States, appearing in the Ziegfeld Follies in 1936. But the reception back home was less than enthusiastic, so she returned in disappointment to Paris the following year, marrying an industrialist and becoming a French citizen.
At the outbreak of the Second World War she was recruited by the French Deuxieme Bureau (French military intelligence) as an 'honourable correspondent'. Her role was to mingle with foreign diplomats and embassy officials (particularly the occupying Germans) picking up information on troop locations and military intelligence. She also worked for the Red Cross and entertained troops in Africa and the Middle East.
After the war she bought a chateau in Sarlat near the Dordogne and began adopting children from all over the world. She accumulated twelve orphans in all, which she called her 'rainbow tribe'. In 1947 she married for the fourth and final time, to Jo Boillon, a French orchestra leader. Like her other formal liaisons, the marriage did not last long.
In the 1950s she returned to America, where her public reception was much better than before. She performed to sell-out audiences from Miami to New York. However, when she challenged the famous Stork Club in Manhattan for refusing to accept mixed races, she was attacked by the newspaper columnist Walter Winchell. He accused her of being a Communist sympathiser, she lost her work visa as a result, and she was forced to return to France.
But her fight on behalf of racial equality did not go unrewarded. She was recognised by the National Association for the Advancement of Coloured People (NAACP). The Association declared May 20 Josephine Baker Day in her honour. And at an individual level she was befriended by the film actress Grace Kelly (Princess Grace of Monaco).
In 1963 she spoke at the March on Washington rally, alongside Martin Luther King. Later, when he was assassinated, his widow Coretta Scott King invited Baker to take his place as leader of the civil rights movement. She turned down the offer in order to look after her children. But in 1968 she was declared bankrupt over unpaid debts, and she lost occupancy of the chateau, which is now open as a museum in her memory. Grace Kelly gave her financial assistance and the loan of a villa in Monaco.
In 1975 she starred in a retrospective revue celebrating her fifty years in show business. The revue in Paris was financed by Prince Rainier of Monaco and Jacqueline Kennedy Onassis. It was attended by an international array of celebrities – but four days later she suffered a cerebral haemorrhage and died at the age of sixty-eight. At her funeral she was given full French military honours, and the Place Josephine Baker was named after her in the Montparnasse Quarter of Paris.
© Roy Johnson 2018
---
Josephine Baker in Art and Life – Amazon UK
Josephine Baker in Art and Life – Amazon US
---
More on biography
More on literary studies
More on the arts
---