tutorial, commentary, study resources, and web links
On the Western Circuit appeared simultaneously in Harper's Weekly in November 1891 and The English Illustrated Magazine in December 1891. The magazine versions were considerably bowdlerised by Hardy himself before publication of the full text in Life's Little Ironies in 1894.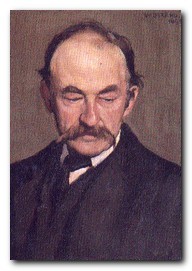 Thomas Hardy – portrait by W. Stang
---
On the Western Circuit – critical commentary
The sexual impulse
This is one of many Hardy fictions in which someone's (usually a man's) prospects for career and social advancement are fatally blighted by a impulsive sexual dalliance. Raye is only a junior counsel, but at least he is the member of a profession (the law). He is London-based, but at the start of the story is temporarily in a provincial location where he can understandably indulge himself.
He locates Anna by careful selection from amongst a number of possibilities on the merry-go-round, and then the significant connection between them is made, which Hardy underscores with his mordant sense of world-weary and tragic pre-destination:
Each time she approached the half of her orbit that lay nearest him they gazed at each other with smiles, and with that unmistakable expression which means so little at the moment, yet so often leads up to passion, heart-ache, union, disunion, devotion, overpopulation, drudgery, discontent, resignation, despair,
There's the whole plot of a novel in one sentence. And it is also a summary of the story. For despite his basic decency, Raye is drawn into a passion for Anna that leads to their sexual union. A pregnancy is the natural result, and although he is prepared to do the decent thing and marry the girl, he feels his career prospects will be thwarted because she is from a lower class.
Irony
Of course the principal dramatic irony in the story is the fact that the letters that pass from Anna to Raye are actually written by Edith Harnham. It's a fact Raye emphasises in the denouement: "Why—you and I are friends—lovers—devoted lovers—by correspondence."
And even the magnetic attraction that seems to exist between them is flagged up by a very Hardyesque incident at the opening of the story at the merry-go-round. When Edith, Anna, and Raye are squashed together by the crowd, Raye thinks he has hold of Anna's hand, when it is in fact Edith's.
Not content with holding her hand, he playfully slipped two of his fingers inside her glove, against her palm. Thus matters continued till the pressure lessened; but several minutes passed before the crowd thinned sufficiently to allow Mrs Harnham to withdraw.
This charged erotic gesture (an invitation to and a symbolic act of intercourse) probably slipped by the censors of the time, but it nevertheless cements very emphatically the other side of the story – the fact that the unfulfilled Edith Harnham ends up yearning for the child by Raye that Anna has begot so naturally.
The subconscious
At another level, it might be possible to argue that Hardy is subconsciously creating a little authorial wish fulfilment here – creating a male character who has erotic connections with two women at the same time – one physical, the other spiritual and intellectual. It is certainly true that he explored these issues in his major works such as Jude the Obscure and elsewhere.
Raye does not emerge very well from this particular reading of the story. He has known close up and at first hand the nature of Anna's sensibility. They have been sexually intimate, and he is hoping to hear from her when he returns to London. The subsequent revelation that the letters have been written by somebody else should be no excuse for his snobbish disparagement of her.
He claims his life (his prospect for a successful career) is ruined because she is not literate. And he sees his true lover as Edith – with whom an imaginary relationship has been conducted on paper. Even though he has married Anna, he is choosing to revere the intellectual bond he has with Edith over the sexual bond he has with Anna – just as Jude does in choosing between Arabella and Sue Brideshead.
Of course in the context of the collection's title, that's why it is one of 'life's little ironies'. He is stuck with the woman towards whom he was physically attracted, but is meanwhile imaginatively engaged with someone else who facilitated their relationship.
---
On the Western Circuit – study resources

Life's Little Ironies – Oxford World Classics – Amazon UK

Life's Little Ironies – Oxford World Classics – Amazon US

Life's Little Ironies – Wordsworth Classics – Amazon UK

Life's Little Ironies – Wordsworth Classics – Amazon US

The Complete Works of Thomas Hardy – Kindle edition – Amazon UK

Life's Little Ironies – eBook version at Project Gutenberg

Life's Little Ironies – audiobook version at Project Gutenberg

The Cambridge Companion to Thomas Hardy – Amazon UK

The Complete Critical Guide to Thomas Hardy – Amazon UK

Authors in Context – Thomas Hardy – Amazon UK

Oxford Reader's Companion to Hardy – Amazon UK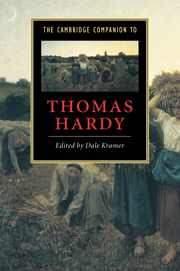 ---
On the Western Circuit – plot summary
Part I. Charles Raye, a junior council from a London law firm, arrives in Melchester (Salisbury) as part of the Western Legal Circuit. Whilst viewing the cathedral he is drawn into the vibrant activities of the town's market fair. Whilst there he meets Anna on a merry-go-round.
Part II. At the same time her employer Mrs Edith Harnham goes out to search for Anna. She finds her with Raye and, caught up in the crowd, he squeezes her hand thinking it is Anna's. Next morning Mrs Harnham sees Raye in the Cathedral and is obviously attracted to him.
Part III. In the ensuing days Raye meets Anna repeatedly, and she gives herself up to him completely. However his work eventually takes him back to London, where he is bored and restless, wondering why she has not written to him. He drops her a short notes and receives in reply and eloquent and enthusiastic letter which rather surprisingly makes no special demands of him.
Part IV. The truth is that Anna cannot read or write. On receiving his note she showed it to Edith and asked her to write back in reply. A regular correspondence is established in this way, and Edith (an unhappily married woman) even writes to Raye in secret in Anna's name when she is absent. Eventually it transpires that Anna is pregnant. Edith honourably composes letters designed to keep Raye romantically connected and she wishes Anna's child were her own.
Part V. Anna is forced to go back to live on Salisbury Plain, so Edith continues the correspondence for her, eventually taking it over without consulting Anna. Ray offers to marry Anna, based on his admiration for her powers of sensitive expression.
Part VI. They marry in London with Edith and a friend of Raye's as witnesses. Immediately afterwards Raye feels a 'gravitation' towards Edith and a dissatisfaction with Anna. When he asks Anna to write a note to his sister the true nature of her literacy emerges. Raye feels his life has been ruined and regards his true lover and wife to be Edith. He parts from her with a passionate kiss, then goes on his honeymoon with Anna, meanwhile reading Edith's letters.
---
Principal characters
| | |
| --- | --- |
| Charles Bradford Raye | a young lawyer from London |
| Anna | a young country girl from Salisbury plain |
| Mrs Edith Harnham | a romantic wine-merchant's wife |
| Melchester | Salisbury |
| Wintoncester | Winchester |
| Casterbridge | Dorchester |
| Knollsea | Swanage |
---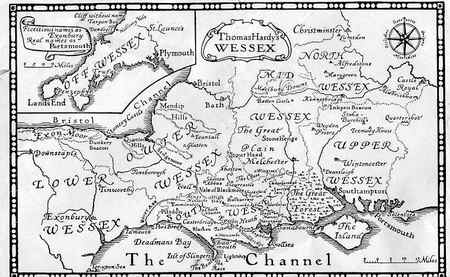 Hardy's WESSEX
---
Further reading

John Bayley, An Essay on Hardy, Cambridge: Cambridge University Press, 1978.

Penny Boumelha, Thomas Hardy and Women: Sexual Ideology and Narrative Form, Brighton: Harvester, 1982.

Kristin Brady, The Short Stories of Thomas Hardy, London: Macmillan, 1982.

Raymond Chapman, The Language of Thomas Hardy, London: Macmillan, 1990.

R.G.Cox, Thomas Hardy: The Critical Heritage, London: Routledge and Keegan Paul, 1970.

James Gibson (ed), The Complete Poems of Thomas Hardy, London, 1976.

P. Ingham, Thomas Hardy: A Feminist Reading, Brighton: Harvester, 1989.

P.Ingham, The Language of Class and Gender: Transformation in the English Novel, London: Routledge, 1995,

Michael Millgate, Thomas Hardy: A Biography Revisited, Oxford: Clarendon Press, 2006. (This is the definitive biography.)

R. Morgan, Women and Sexuality in the Novels of Thomas Hardy, London: Routledge, 1988.

F.B. Pinion, A Thomas Hardy Companion, London: Macmillan, 1968.

Richard H. Taylor, The Personal Notebooks of Thomas Hardy, London, 1978.

Merryn Williams, A Preface to Hardy, London: Longman, 1976.
---
Criss-cross writing
The correspondence between the characters that forms such an important part of this story is at one point described thus;
Four sides were filled; and a few lines written across, after the fashion of former days; the paper, too, was common and not of the latest shade and surface.
This is an example of what's called 'criss cross' writing. To save paper, and because the postal service once charged by the sheet, many people in the nineteenth century wrote their letters in two directions on the page, perpendicularly to each other. It was not unusual to use both sides of the page, and thus get four pages of writing onto one sheet of paper.
The writing is not so difficult to read as you might imagine. We are accustomed to reading English language from left to right and from top to bottom on the page. Writing going in another direction becomes like 'wallpaper' in the background. The example shown is from a letter written by Henry James.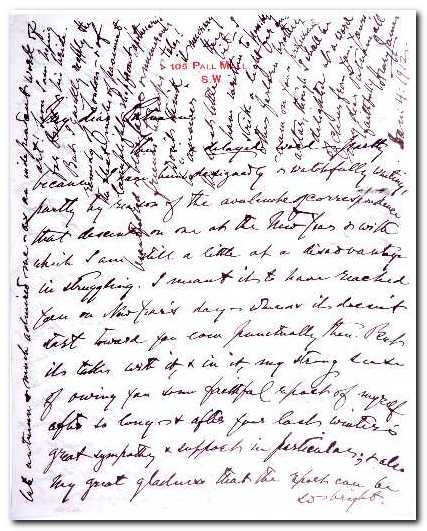 Criss Cross Writing
---
Other works by Thomas Hardy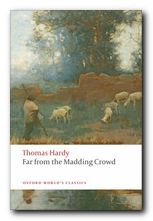 Far from the Madding Crowd (1874) was the first of Hardy's novels to apply the name of Wessex to the landscape of south west England, and the first to gain him widespread popularity as a novelist. Heroine and estate-owner Bathsheba Everdene is romantically involved with three very different men. The dashing Sergeant Troy, who is handsome but unreliable; Farmer Boldwood, who is honourable but middle-aged; and man-of-the-soil Gabriel Oak, who is worthy and prepared to bide his time. The conflicts between them and the ensuing drama has lots of plot twists plus a rich picture of rural life.


Buy the book at Amazon UK


Buy the book at Amazon US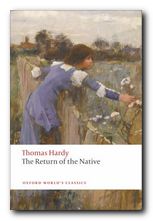 The Return of the Native (1878) It's often said that this is one of the most Hardyesque of all the novels. There are some stand-out characters: Eustacia Vye, a heroine who patrols the moors looking out for her man through a telescope; Clym Yeobright, a hero who can't escape his mother's influence; and Diggory Ven, an itinerant trader who wanders in and out of the story covered in red dye. Improbable coincidences and dramatic ironies abound – and over it all presides the brooding presence of Egdon Heath. But underneath the melodrama, there are profound psychological forces at work. You need to be patient. This is one for Hardy enthusiasts – not beginners. This edition, unlike any other currently available, retains the text of the novel's first edition, without the later changes that substantially altered Hardy's original intentions.


Buy the book at Amazon UK


Buy the book at Amazon US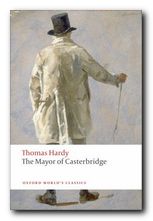 The Mayor of Casterbridge (1886) is probably Hardy's greatest work – a novel whose aspirations are matched by artistic shaping and control. It is the tragic history of Michael Henchard – a man who rises to civic prominence, but whose past comes back to haunt him. This is not surprising, because he sells his wife in the opening chapter. When she comes back unexpectedly, he is trapped between present and past. He is also locked into a psychological contest with an alter-ego figure with whom he battles both metaphorically and realistically. Henchard falls in the course of the novel from civic honour and commercial greatness into a tragic figure, a man defeated by his own strengths as much as his weaknesses. There are strong echoes of King Lear here, and some of the most dramatic and psychologically revealing scenes in all of Hardy's work.


Buy the book at Amazon UK


Buy the book at Amazon US
---
Thomas Hardy – web links

Thomas Hardy at Mantex
Biographical notes, study guides to the major novels, book reviews. bibliographies, critiques of the shorter fiction, and web links.

The Thomas Hardy Collection
The complete novels, stories, and poetry – Kindle eBook single file download for £1.29 at Amazon.

Thomas Hardy at Project Gutenberg
A major collection of free eTexts in a variety of digital formats.

Thomas Hardy at Wikipedia
Biographical notes, social background, the novels and literary themes, poetry, religious beliefs and influence, biographies and criticism.

The Thomas Hardy Society
Dorset-based site featuring educational activities, a biennial conference, a journal (three times a year) with links to the texts of all the major works.

The Thomas Hardy Association
American-based site with photos and academic resources. Be prepared to search and drill down to reach the more useful materials.

Thomas Hardy on the Internet Movie Database
Adaptations for the cinema and television – in various languages. Full details of directors, actors, production features, box office, film reviews, and even quizzes.

Thomas Hardy – online literary criticism
Small collection of academic papers and articles 'favoring signed articles by recognized scholars and articles published in peer-reviewed sources'.

Thomas Hardy's Wessex
Evolution of Wessex, contemporary reviews, maps, bibliography, links to other web sites, and history.
© Roy Johnson 2012
---
More on Thomas Hardy
More on the novella
More on literary studies
More on short stories
---