cultural history – voices from the past
The Bloomsbury Group audio book is a collection of archive recordings taken from long-unheard BBC broadcasts and recordings from the Charleston Trust, many of them published here for the first time. They come in a two-CD boxed set, accompanied by a sixteen page explanatory booklet. Contributors to the Virginia Woolf Internet discussion group often comment on how astonishing it is to hear these voices from the past – and how remarkable their accents seem to us now. This is living proof that speech patterns and accents change over time.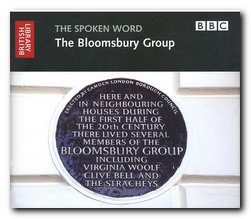 Remember that Woolf began writing over a hundred years ago, and her father married Thackeray's daughter – so these recordings carry with them direct links back as far as the Victorian era. For Bloomsbury Group aficionados and lovers of period nostalgia, this is a rare treat. Secondary Bloomsbury figures throw interesting light on life at that time via their first-hand accounts and memories of each other.
Virginia Woolf reading an extract from a radio talk on the importance of language
Leonard Woolf proffering a Who's Who of the Bloomsbury Group
Desmond McCarthy meditating on 'tears' in literature
Duncan Grant discussing the infamous Dreadnought Hoax
Clive Bell remembering Lytton Strachey asking, 'Who would you most like to see coming up the drive?'
Frances Partridge speaking about the Group's larger influence
William Plomer discussing the Group's exclusivity
David Garnett candidly describing the relationship between Lytton Strachey and Dora Carrington
David Cecil detailing Virginia Woolf's day-to-day appearance
Angelica Garnett opining on various attitudes towards members of the Group
Harold Nicholson reciting a talk on the members and attitudes that dominated the Group
Vita Sackville-West talking about the inspiration behind Virginia Woolf's Orlando
Quentin Bell exactingly describing the fashions of Virginia Woolf
Benedict Nicholson remembering Virginia Woolf's visits to Sissinghurst
Margery Fry holding court on Virginia Woolf's flights of fancy
Elizabeth Bowen recalling Bloomsbury parties and Virginia Woolf's antics
Ralph Partridge reminiscing on time spent with Leonard and Virginia Woolf
John Lehmann describing his reactions to Woolf's final novel, Between the Acts
Bertrand Russell on Lytton Strachey and his family
Gerald Brenan recalling times spent with Lytton Strachey, Ralph Partridge, and Dora Carrington
Grace Higgins describing daily life at Charleston, the Bloomsbury outpost in Sussex
© Roy Johnson 2010
---
The Bloomsbury Group (Spoken Word), British Library; 2 CD audio set with 16 page booklet, edition (November 15, 2009), Language: English, ISBN: 0712305939
---
More on biography
More on the Bloomsbury Group
Twentieth century literature
---