how to make money on eBay – and avoid losing your shirt
I rarely talk about computers when socialising – otherwise you easily get branded an IT bore. But I was at a dinner party recently with neighbours where it suddenly turned out that half the table were trading on eBay! There are amazing bargains to be had. It turned out that we were eating off antique plates the hostess had bagged to match up with family heirlooms. But for tender mortals like you and me, there needs to be some hand-holding through the jungle of bids, deadlines, and prospective bidding. That's where guidance manuals such as eBay the smart way, eBay Hacks and the eBay survival guide come in.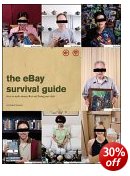 Michael Banks is an experienced trader with twenty years of eCommerce experience, and he talks you through the basics in a friendly and encouraging manner. First he gives a clear account of the huge variety of services, downloads, and support materials at the eBay site, then explains how the auctions (and the sales) actually work . There are lots of different ways of trading, and he covers them all.
Then he shows you how to find things using eBay's powerful search engine. This includes neat tricks such as including plurals and deliberate mis-spellings in your search terms.
He deals with the central issue of 'How much is it worth?' – which is a much easier question to ask than to answer. His advice is that you need to cross-check with other auctions of the same object; look into price guides; and track what other people are searching for and buying.
Selling items is a more complex business than buying – not because of eBay, but because more of your own time is tied up in handling and posting stock to customers. There are also lots of different ways to set a selling price: you can have a minimum, a reserve, and a buy-it-now price.
He shows you how to describe, display, and illustrate the goods you want to sell. This might sound fairly simple – but you've got to remember that you need to stand out from thousands of other sellers, and you've got to be completely accurate, otherwise you might get negative feedback.
eBay has a fairly detailed system of resolving complaints and offering protection for both buyers and sellers. If you're worried about getting into difficulties, he explains quite clearly how to solve problems.
As a buyer, if you really have your heart set on securing a bargain, you might need to get into the skills of bidding at the last possible minute – or 'sniping' as it is known in the trade. Once again, he shows you how to do it, and even how to outwit other people who may be doing the same thing.
He finishes by showing you how to recognise scams and misleading descriptions of products for sale. Thanks to eBay's gigantic database of information on its buyers, sellers, and the history of all their transactions, it's possible to locate all the information you need to protect yourself.
It's quite true that some people make a full time living just buying and selling on eBay. If you fancy putting your toes into the waters of eCommerce, this would be an excellent place to start.
© Roy Johnson 2005

  Buy the book at Amazon UK

  Buy the book at Amazon US
---
Michael Banks, the eBay survival guide, San Francisco: No Starch Press, 2005. ISBN: 1593270631
---
More on eCommerce
More on media
More on publishing
More on technology
---