a writer's guide to staying out of the slush pile
Noah Lukeman is a New York literary agent with a number of top-ranking authors as his clients. He has also written a number of books on the craft of writing (see The Art of Punctuation for instance) so he knows what he's talking about when it comes to the literary marketplace – in which it must be said so many people wish to make their mark. Publishers and literary agents receive hundreds and hundreds of manuscripts each month – almost all of which are rejected. The First Five Pages is his advice for staying out of the slush pile.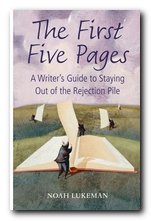 It's the job of these publishing professionals to be discriminating, and it's the job of the writer to produce a manuscript that stands out among the competition. Those outstanding qualities, Lukeman argues, have to be apparent from the first five pages – otherwise no agent or publisher will bother reading further. In fact he claims – and I believe him – that five sentences is enough. His advice when it comes is quite bracing. First of all he dismisses the supremacy of plot, and lets you in to a secret from the professional's office:
Agents and editors often ignore synopses and plot outlines; instead, we skip right to the actual manuscript. If the writing is good, then we'll go back and consider the synopsis
The other thing which creates an immediate impression on agents and publishers is the physical presentation of text. He takes a really strict line here.You should use clean, new A4 paper, and the text should be printed at high quality, double spaced with one inch margins and indented dialogue and paragraph first lines. The slightest falling off in these standards gives the reader every reason to chuck your work into the reject bin.
Next comes the surgical removal of excessive adjectives and adverbs – the most common mistake of would-be writers. This is followed by advice on the sound of language, and how to avoid unwanted alliteration, assonance, and verbal echoes. The same is true for any comparisons or metaphors you use. They should be fresh, original, and to the point – otherwise, leave them out.
On literary style his advice is to avoid mannerism and extremes, and he nails down two excellent examples of the 'academic' and 'experimental' style of writing.
There's a section on dialogue and eradicating all that 'he said … she retorted' sort of thing. He warns specifically against the easy trap of using dialogue to fill in the back story. That is, having characters explicate matters they would both already know (for the benefit of the reader). The rule – as ever – is show, don't tell.
The same sort of rigour is well-advised over point of view and narrative mode. Many amateur writers use the first person mode thinking it will allow them the chance to show off, but all they end up doing is littering their story with too much biographical dross, and failing to create a consistent and credible or interesting narrator.
Next comes the creation of character. This is a difficult topic on which to generalise. Some great novels have memorable characters about whose appearance we know very little (Kafka's Joseph K for instance) and others are memorable merely for what they do – such as Catherine Earnshaw, who even dies half way through Wuthering Heights.
The later chapters deal with some of the more subtle points of being creative – knowing what to leave out, striking the right tone, how to stay focused on the main event, and how to deal with setting and pace.
Many aspiring writers will complain that their favourite authors ignore these guidelines – and Lukeman admits that great writers break all the rules. But what he's offering here is a guide to common mistakes which should be avoided. As he says, would-be writers from California to England to Turkey to Japan … do exactly the same things wrong
To get into print in the first instance you have to obey the literary norms of the day. And that's what this book The First Five Pages is doing in its own modest way. Noah Lukeman just wants to show you how to stand out from the also-rans in the slush pile, as something worthy of notice.

  Buy the book at Amazon UK

  Buy the book at Amazon US
© Roy Johnson 2010
---
Noah Lukeman, The First Five Pages, Oxford: Oxford University Press, revised edition, 2010, pp.191, ISBN: 0199575282
---
More on creative writing
More on writing skills
More on publishing
---