Vita Sackville-West's 1922 novella
Vita Sackville-West knew a great deal about ownership and inheritance. She was raised at Knole, a country estate in Sevenoaks, Kent which dates back to the sixteenth century. She felt very passionately about its traditions and importance, and was deeply grieved when on her father's death it passed to her younger brother. She sought emotional compensation by buying a ruined castle at Sissinghurst and created one of the most celebrated English country gardens with her husband Harold Nicolson. Both properties are now run by the National Trust.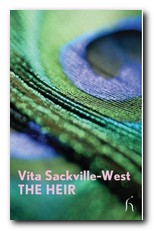 She also wrote a celebrated poem, The Land, about her feelings for the traditions of pastoral life and culture (it won the Hawthorden Prize in 1926) and her passion for Knole was also transformed by her then lover, Virginia Woolf into the main setting for the fantasy romance, Orlando. This recent publication The Heir is a relatively early and little-known work which deals with all these issues of continuity, tradition, history, and ownership which are almost the predominant leitmotif of her whole life.
Mr Chase, an insurance salesman from Wolverhampton, inherits a house and estate deep in rural Kent/Sussex. Everyone from the probate solicitors downwards encourages him in a plan to sell up and retire on the proceeds. But the house and its history begin to grow on him.
It's a long short story – or as some might claim a novella – and if there's a weakness it's that the pace of Chase's conversion to enthusiastic traditionalist isn't properly dramatised. He arrives at the property he has never before seen, and from then on all matters rustic are cast in the most glowingly positive light.
West writes elegantly on the house and its surrounding lands, putting the wide range of her architectural and horticultural vocabulary to full effect. But the sale must go on – driven by the greedy, materialist ambition of the chief solicitor. Chase suddenly realises that he has fallen in love with the property, and feels on the day of the auction that it is 'like seeing one's mistress in a slave market'.
It would be invidious to reveal how the drama unfolds, but it is resolved by Chase also realising that a life materially reduced is better than one without any passion. You might say that this is a form of wish-fulfilment on West's part, but it is a work written with a lot of feeling, and one which it is good to see back in print again.
© Roy Johnson 2008

Buy the book at Amazon UK

Buy the book at Amazon US
---
Vita Sackville-West, The Heir, London: Hesperus Press, 2008, pp.92, ISBN 1843914484
---
More on the Bloomsbury Group
More on Vita Sackville-West
More on the novella
More on literary studies
More on short stories
---