tutorial, commentary, study resources, plot, and web links
The Lady in the Looking-Glass was first published in the American monthly Harper's Magazine in December 1929. The story was inspired by a visit Woolf made to Ethel Sands in Normandy. She noted in her diary for 20 September 1927:
How many little stories come into my head! For instance, Ethel Sands not looking at her letters. What this implies. One might write a book of short significant separate scenes. She did not open her letters.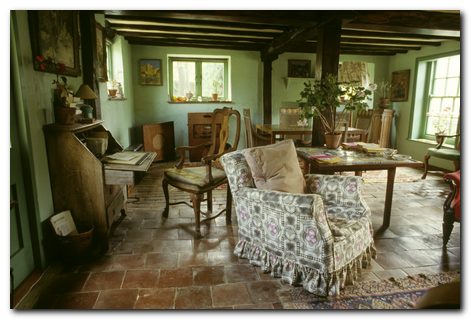 Virginia Woolf's old house in Sussex
---
The Lady in the Looking-Glass – critical commentary
This is one variation of a story that Virginia Woolf wrote many times over – the imaginative musings of a narrator speculating upon the life of someone else – only to have the picture of the imagined life shattered by the revelation of a truth quite different. The same thing happens in her earliest experimental short story The Mark on the Wall (1917) and in An Unwritten Novel (1920) .
In one sense the story is a form of making fun of invention and imagination – a satire of her own occupation as a creator of fiction. And yet at the same time it's also a superb demonstration of Woolf's literary skills and her ability to create fiction out of seemingly nothing – in this case someone sitting alone in an empty room.
The speculation about the imagined personality however is not entirely wasted – for it forms a sort of amateur philosophy of 'essences' or 'being'. It fictionalises an attempt to get below the surfaces of appearances, to dig out something more profound or important. This was one of Virginia Woolf's important contributions to characterisation as a modernist phenomenon.
The story is also a dramatisation of the creative mind at work, as the narrator weaves together ideas, images, and metaphors. In that sense the subject of the story is not so much Isabella Tyson, the owner of the house, but the narrator, whose imagination we are being invited to follow.
---
The Lady in the Looking Glass – study resources

The Complete Shorter Fiction – Vintage Classics – Amazon UK

The Complete Shorter Fiction – Vintage Classics – Amazon US

The Complete Shorter Fiction – Harcourt edition – Amazon UK

The Complete Shorter Fiction – Harcourt edition – Amazon US

Monday or Tuesday and Other Stories – Gutenberg.org

Kew Gardens and Other Stories – Hogarth reprint – Amazon UK

Kew Gardens and Other Stories – Hogarth reprint – Amazon US

The Mark on the Wall – Oxford World Classics edition – Amazon UK

The Mark on the Wall – Oxford World Classics edition – Amazon US

The Complete Works of Virginia Woolf – Kindle edition

The Cambridge Companion to Virginia Woolf – Amazon UK

Virginia Woolf – Authors in Context – Amazon UK

The Cambridge Introduction to Virginia Woolf – Amazon UK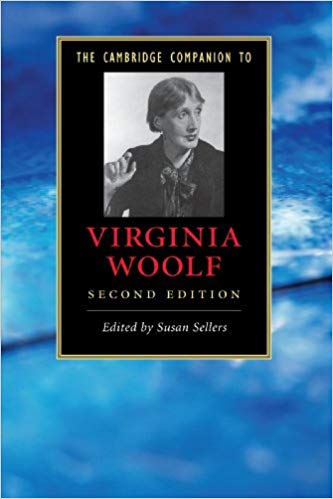 ---
The Lady in the Looking-Glass – story synopsis
Sitting in the drawing room of a house in the country, an un-named narrator describes scenes outside the house that can be seen reflected in a mirror in the hall. The play of light and flicker of shadows in the room is evoked as the movement of small creatures, and the garden outside is paradoxically static as reflected in the mirror.
Isabella Tyson, the owner of the house, has gone into the garden to gather flowers. The narrator speculates which type of flowers will best describe her, and realises that even after knowing her for many years such comparisons are meaningless because they do not establish a reliable 'truth' about a person.
Isabella is a rich spinster who has travelled extensively and furnished her house with beautiful objects from her travels. The narrator speculates that these objects could yield up valuable information about the richness of her life.
Suddenly the view in the mirror is changed dramatically when the postman delivers a number of letters onto the hall table. The letters are seen like marble tablets establishing a new visual significance, and the narrator thinks their contents might disclose further revelations about Isabella's character.
The narrator feels an urgent need to uncover hitherto unknown information about her hostess. She pictures her in the lower garden dressed in her expensive and fashionable clothes. Isabella is rich, successful, distinguished – and the narrator wants to know the contents of her hidden depths.
The narrator tries to imagine what the nature of Isabella's thoughts must be, and conjectures that they will be like the drawing room – full of shadows and light. And then Isabella herself becomes visible in the mirror, returning from the garden. The narrator then has a new vision of the truth' about Isabella. She isn't thinking wonderful thoughts at all; she has no friends; and the letters are all bills – which Isabella doesn't even bother to open.
---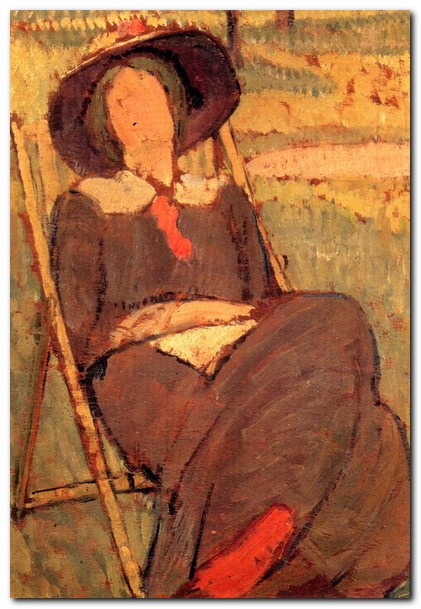 Virginia Woolf – by Vanessa Bell
---
Further reading

Quentin Bell. Virginia Woolf: A Biography. New York: Harcourt Brace Jovanovich, 1972.

Hermione Lee. Virginia Woolf. New York: Alfred A. Knopf, 1997.

Nicholas Marsh. Virginia Woolf, the Novels. New York: St. Martin's Press, 1998.

John Mepham, Virginia Woolf. New York: St. Martin's Press, 1992.

Natalya Reinhold, ed. Woolf Across Cultures. New York: Pace University Press, 2004.

Michael Rosenthal, Virginia Woolf: A Critical Study. New York: Columbia University Press, 1979.

Susan Sellers, The Cambridge Companion to Virginia Woolf, Cambridge University Press, 2010.

Virginia Woolf, The Common Reader. New York: Harvest Books, 2002.

Alex Zwerdling, Virginia Woolf and the Real World. Berkeley: University of California Press, 1986.
---
Other works by Virginia Woolf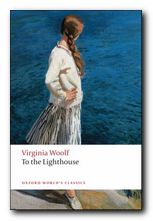 To the Lighthouse (1927) is the second of the twin jewels in the crown of her late experimental phase. It is concerned with the passage of time, the nature of human consciousness, and the process of artistic creativity. Woolf substitutes symbolism and poetic prose for any notion of plot, and the novel is composed as a tryptich of three almost static scenes – during the second of which the principal character Mrs Ramsay dies – literally within a parenthesis. The writing is lyrical and philosophical at the same time. Many critics see this as her greatest achievement, and Woolf herself realised that with this book she was taking the novel form into hitherto unknown territory.


Buy the book at Amazon UK


Buy the book at Amazon US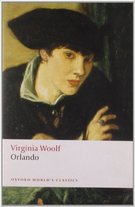 Orlando (1928) is one of her lesser-known novels, although it's critical reputation has risen in recent years. It's a delightful fantasy which features a character who changes sex part-way through the book – and lives from the sixteenth to the twentieth century. Using this device (which turns out to be strangely credible) Woolf explores issues of gender and identity as her hero-heroine moves through a variety of lives and personal adventures. Orlando starts out as an emissary to the Court of St James, lives through friendships with Swift and Alexander Pope, and ends up motoring through the west end of London on a shopping expedition in the 1920s. The character is loosely based on Vita Sackville-West, who at one time was Woolf's lover. The novel itself was described by Nigel Nicolson (Sackville-West's son) as 'the longest and most charming love-letter in literature'.


Buy the book at Amazon UK


Buy the book at Amazon US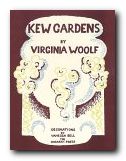 Kew Gardens is a collection of experimental short stories in which Woolf tested out ideas and techniques which she then later incorporated into her novels. After Chekhov, they represent the most important development in the modern short story as a literary form. Incident and narrative are replaced by evocations of mood, poetic imagery, philosophic reflection, and subtleties of composition and structure. The shortest piece, 'Monday or Tuesday', is a one-page wonder of compression. This collection is a cornerstone of literary modernism. No other writer – with the possible exception of Nadine Gordimer, has taken the short story as a literary genre as far as this.


Buy the book at Amazon UK


Buy the book at Amazon US
---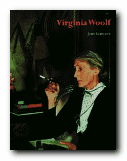 Virginia Woolf is a readable and well illustrated biography by John Lehmann, who at one point worked as her assistant and business partner at the Hogarth Press. It is described by the blurb as 'A critical biography of Virginia Woolf containing illustrations that are a record of the Bloomsbury Group and the literary and artistic world that surrounded a writer who is immensely popular today'. This is an attractive and very accessible introduction to the subject which has been very popular with readers ever since it was first published..


Buy the book at Amazon UK


Buy the book at Amazon US
---
Virginia Woolf – web links
Virginia Woolf at Mantex
Biographical notes, study guides to the major works, book reviews, studies of the short stories, bibliographies, web links, study resources.
Blogging Woolf
Book reviews, Bloomsbury related issues, links, study resources, news of conferences, exhibitions, and events, regularly updated.
Virginia Woolf at Wikipedia
Full biography, social background, interpretation of her work, fiction and non-fiction publications, photograph albumns, list of biographies, and external web links
Virginia Woolf at Gutenberg
Selected eTexts of her novels and stories in a variety of digital formats.
Woolf Online
An electronic edition and commentary on To the Lighthouse with notes on its composition, revisions, and printing – plus relevant extracts from the diaries, essays, and letters.
Hyper-Concordance to Virginia Woolf
Search texts of all the major novels and essays, word by word – locate quotations, references, and individual terms
Orlando – Sally Potter's film archive
The text and film script, production notes, casting, locations, set designs, publicity photos, video clips, costume designs, and interviews.
Women's History Walk in Bloomsbury
Tour of literary and political homes in Bloomsbury – including Gordon Square, Gower Street, Bedford Square, Tavistock Square, plus links to women's history web sites.
Virginia Woolf Society of Great Britain
Bulletins of events, annual lectures, society publications, and extensive links to Woolf and Bloomsbury related web sites
BBC Audio Essay – A Eulogy to Words
Charming sound recording of radio talk given by Virginia Woolf in 1937 – a podcast accompanied by a slideshow of photographs.
A Family Photograph Albumn
Leslie Stephen compiled a photograph album and wrote an epistolary memoir, known as the "Mausoleum Book," to mourn the death of his wife, Julia, in 1895 – an archive at Smith College – Massachusetts
Virginia Woolf first editions
Hogarth Press book jacket covers of the first editions of Woolf's novels, essays, and stories – largely designed by her sister, Vanessa Bell.
Virginia Woolf – on video
Biographical studies and documentary videos with comments on Virginia Woolf and the Bloomsbury Group and the social background of their times.
Virginia Woolf Miscellany
An archive of academic journal essays 2003—2014, featuring news items, book reviews, and full length studies.
© Roy Johnson 2013
---
More on Virginia Woolf
Virginia Woolf – short stories
Virginia Woolf – greatest works
Virginia Woolf – criticism
Virginia Woolf – life and works
---