tutorial, commentary, study resources, plot, and web links
The Last Asset first appeared in Scribner's Magazine for August 1904. It was one of many stories Edith Wharton wrote with the subject of divorce in the background. She did not dissolve her own marriage to her husband Edward until much later in 1912, but the topic was very much a live social problem at that time. She had already explored the issue in Souls Belated (1899) and she had produced a comic version of divorce and its consequences in The Other Two published earlier the same year in February 1904.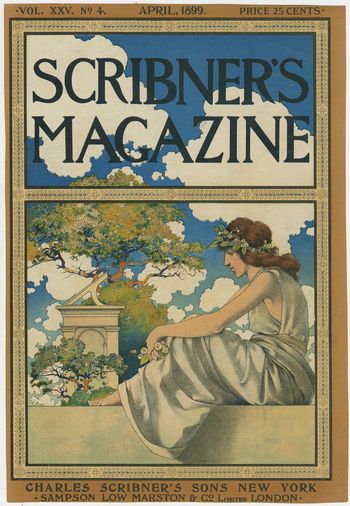 cover design by Parish Maxfield
---
The Last Asset – critical commentary
This is a mildly humorous and bitter-sweet story of social outcasts unscrupulously re-integrating themselves with society via a carefully arranged marriage. Mrs Newell is separated (but not divorced) from a husband who has been impoverished by her extravagance. He lives in down-at-heel seclusion in a sleazy Parisian back street.
She moves between one upper-class group and another, sponging on their generosity. But she has run out of friends, so she uses her daughter as a pawn in a game of social reclamation. She uses Garnett, and he in turn recruits her estranged husband ('the last asset') to make sure the marriage takes place.
But Mrs Newell needs a dowry for her daughter who will be married to a French aristocrat. The money is provided by her lover Schenkelderff, who appears to be a Jewish roué, and who also wishes to be accepted into polite society after being excluded from it following a money-lending scandal which ended in someone's suicide. He is a double outsider, because of his race and his dubious behavior and shady past.
So Garnett is drawn into Mrs Newell's scheme – as is her long-suffering husband, who ruefully remarks 'One way or another, my wife always gets what she wants'. Mrs Newell at the end of the story is related by her daughter's marriage to a French aristocrat with relatives in England – so she is back in the highest echelons of society. But the darker side to this Balzacian view of voracious social climbing is tinged with the mild aura of redemption in Garnett's vision of the shabby father in his over-sized and rented morning suit, re-united with his beloved daughter, and giving her away at the altar to a man she loves.
---
The Last Asset – study resources

Edith Wharton Stories 1891-1910 – Norton Critical – Amazon UK

Edith Wharton Stories 1891-1910 – Norton Critical – Amazon US

The Last Asset – eBook format at Project Gutenberg

The Last Asset – Kindle edition

The Last Asset – paperback edition

A Historical Guide to Edith Wharton – Amazon UK

The Cambridge Introduction to Edith Wharton – Amazon UK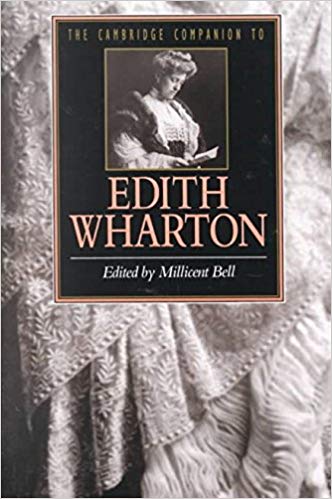 ---
The Last Asset – story synopsis
Part I   Paul Garnett has made the acquaintance of a quasi-philosophic fellow American in a cheap Parisian restaurant. The man preaches a morality of expecting very little in life – and tolerating the consequences.
Part II   Garnett has received a note from Mrs Newell to say that she is at the Ritz. She is a social parasite who lives recklessly at other people's expense. She also has an undistinguished daughter Hermione who lives very much in her mother's shadow. Garnett suspects that Mrs Newell might have run out of friends in London.
Part III   When he visits her, Mrs Newell announces that Hermione is to marry a French aristocrat. She wants Garnett to locate her estranged husband and persuade him to attend the marriage ceremony – otherwise the Count's family will call off the match.
Part IV   At dinner the same evening Garnett feels sure that Baron Schenkelderff (who seems to be Mrs Newell's lover) has provided the money for Hermione's dowry. But he thinks the marriage should go ahead because Hermione and her intended Count seem to be simple, well-matched, and in love. So he resolves to find her father.
Part V   Garnett discovers that his friend in the restaurant is Mr Newell, but when told about his estranged wife's plans he does not want anything to do with the wedding.
Part VI   Garnett reports back to Mrs Newell on his lack of success, and whilst there Hermione asks him not to persuade her father against his will – because of the injustices he has suffered at the hands of his wife (her mother) in the past. But when Garnett reports Hermione's plea to her father, Mr Newell realises that his daughter's chance of happiness might be threatened, and he drops his objection.
Part VII   On the day of the marriage all goes according to plan. Garnett at first sees the event as an ugly triumph of manipulation by Mrs Newell, and feels ashamed of the part he has played in her machinations. But then he finally has a very positive vision of the event, seeing Hermione reunited with her father.
---
Principal characters
| | |
| --- | --- |
| Paul Garnett | an American journalist, London correspondent of the New York Searchlight |
| Mrs Sam Newell | an extravagant social climber |
| Hermione Newell | her retiring young daughter |
| Baron Schenkelderff | a rich roué and money-lender with a shady past |
| Mr Samuel Newell | an impoverished American businessman, exiled in Paris |
| Count Louis du Trayas | a French aristocrat with English relatives (23) |
---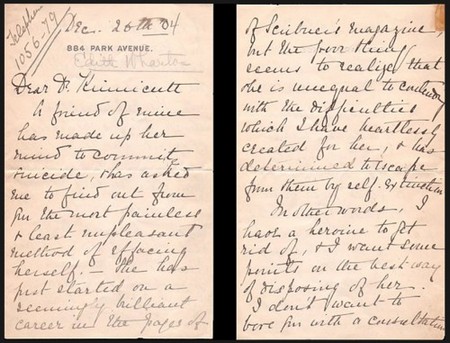 Edith Wharton's writing
---
Further reading
Louis Auchincloss, Edith Wharton: A Woman of her Time, New York: Viking, 1971,
Elizabeth Ammons, Edith Wharton's Argument with America, Georgia: University of Georgia Press, 1982, pp.222. ISBN: 0820305138
Janet Beer, Edith Wharton (Writers & Their Work), New York: Northcote House, 2001, pp.99, ISBN: 0746308981
Millicent Bell (ed), The Cambridge Companion to Edith Wharton, Cambridge: Cambridge University Press, 1995, pp.232, ISBN: 0521485134
Alfred Bendixen and Annette Zilversmit (eds), Edith Wharton: New Critical Essays, New York: Garland, 1992, pp.329, ISBN: 0824078489
Eleanor Dwight, Edith Wharton: An Extraordinary Life, New York: Harry N. Abrams, 1994, ISBN: 0810927950
Gloria C. Erlich, The Sexual Education of Edith Wharton, California: University of California Press, 1992, pp.223, ISBN: 0520075838
Susan Goodman, Edith Wharton's Women: Friends and Rivals, UPNE, 1990, pp.220, ISBN: 0874515246
Irving Howe, (ed), Edith Wharton: A collection of Critical Essays, London: University of North Carolina Press, 1986,
Jennie A. Kassanoff, Edith Wharton and the Politics of Race, Cambridge: Cambridge University Press, 2004, pp.240, ISBN: 0521830893
Hermione Lee, Edith Wharton, London: Vintage, new edition 2008, pp.864, ISBN: 0099763516
R.W.B. Lewis, Edith Wharton: A Biography, New York: Harper and Rowe, 1975, pp.592, ISBN: 0880640200
James W. Tuttleton (ed), Edith Wharton: The Contemporary Reviews, Cambridge: Cambridge University Press, 1992, pp.586, ISBN: 0521383196
Candace Waid, Edith Wharton's Letters from the Underworld, London: University of North Carolina Press, 1991,
Sarah Bird Wright, Edith Wharton A to Z: The Essential Reference to Her Life and Work, Fact on File, 1998, pp.352, ISBN: 0816034818
Cynthia Griffin Wolff, A Feast of Words: The Triumph of Edith Wharton, New York: Perseus Books, second edition 1994, pp.512, ISBN: 0201409186
---
Video documentary
---
Other works by Edith Wharton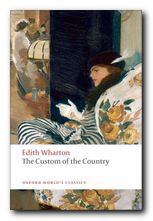 The Custom of the Country (1913) is Edith Wharton's satiric anatomy of American society in the first decade of the twentieth century. It follows the career of Undine Spragg, recently arrived in New York from the midwest and determined to conquer high society. Glamorous, selfish, mercenary and manipulative, her principal assets are her striking beauty, her tenacity, and her father's money. With her sights set on an advantageous marriage, Undine pursues her schemes in a world of shifting values, where triumph is swiftly followed by disillusion. This is a study of modern ambition and materialism written a hundred years before its time.


Buy the book from Amazon UK


Buy the book from Amazon US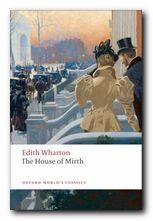 The House of Mirth (1905) is the story of Lily Bart, who is beautiful, poor, and still unmarried at twenty-nine. In her search for a husband with money and position she betrays her own heart and sows the seeds of the tragedy that finally overwhelms her. The book is a disturbing analysis of the stifling limitations imposed upon women of Wharton's generation. In telling the story of Lily Bart, who must marry to survive, Wharton recasts the age-old themes of family, marriage, and money in ways that transform the traditional novel of manners into an arresting modern document of cultural anthropology.


Buy the book from Amazon UK


Buy the book from Amazon US
---
Edith Wharton – web links
Edith Wharton at Mantex
Biographical notes, study guides to the major novels, tutorials on the shorter fiction, bibliographies, critiques of the shorter fiction, and web links.
The Short Stories of Edith Wharton
This is an old-fashioned but excellently detailed site listing the publication details of all Edith Wharton's eighty-six short stories – with links to digital versions available free on line.
Edith Wharton at Gutenberg
Free eTexts of the major novels and collections of stories in a variety of digital formats – also includes travel writing and interior design.
Edith Wharton at Wikipedia
Full details of novels, stories, and travel writing, adaptations for television and the cinema, plus web links to related sites.
The Edith Wharton Society
Old but comprehensive collection of free eTexts of the major novels, stories, and travel writing, linking archives at University of Virginia and Washington State University.
The Mount: Edith Wharton's Home
Aggressively commercial site devoted to exploiting The Mount – the house and estate designed by Edith Wharton. Plan your wedding reception here.
Edith Wharton at Fantastic Fiction
A compilation which purports to be a complete bibliography, arranged as novels, collections, non-fiction, anthologies, short stories, letters, and commentaries – but is largely links to book-selling sites, which however contain some hidden gems.
Edith Wharton's manuscripts
Archive of Wharton holdings at the Beinecke Rare Book and Manuscript Library
© Roy Johnson 2014
---
Edith Wharton – short stories
More on Edith Wharton
More on short stories
---