life, loves, letters, plus Bloomsbury gossip
Lytton Strachey, like his close friend Virginia Woolf (strongly featured here) was a prolific letter writer. Theirs was an age which largely preceded the telephone, and in early twentieth-century England there could be up to three postal deliveries per day. This selection from The Letters of Lytton Strachey covers the whole of his adult life – from meeting Leonard Woolf as Apostles at Trinity College Cambridge in 1899 to his premature death in 1932.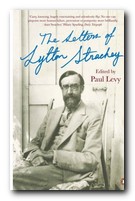 The letters reveal him as an even more complex character than that which emerges from the majority of Bloomsbury memoirs and biographies. He was, as Paul Levy succinctly puts it in his introduction, "a political radical who was born into the ruling class, a member of the intellectual aristocracy who cherished his contacts with the aristocracy of blood, a democrat who did not always trust the people, and one of the original champagne socialists."
Most of the early letters are to his lifelong friend Leonard Woolf, with whom he kept up a regular correspondence all the time Woolf was working as a colonial administrator in Sri Lanka (then Ceylon). We see the formation of the Bloomsbury Group when "The Goth [Adrian Stephen] is 'at home' on Thursday evenings", and there are some slightly unexpected appearances and connections – such as his brother James Strachey's affair with Rupert Brooke, and Lytton Strachey's flirtation with the explorer George Mallory, who was to disappear on Everest in 1924.
He is certainly a mass of contradictions in his private life: one minute fluttering like an elderly aunt about a minor ailment or swooning with rapture over a young messenger boy, then next minute talking about 'raping' one of his friends or discussing the techniques of coprologists with his brother James in stomach-churning detail.
He's also two-faced to an extraordinary degree – writing scathing critiques of John Maynard Keynes and Rupert Brooke in letters to third parties, then toadying up to them directly and even asking them to come on holiday with him.
His correspondence during the war years reveals him as far more politically radical than he is usually given credit for. He was not only a conscientious objector on principle, but he even wrote pamphlets critical of the way the government was handling the war.
The letters are presented and annotated in the most scholarly fashion – with full biographical notes on all the people mentioned, and all nicknames and obscure allusions spelled out. Indeed, the notes are occasionally longer than the letters they seek to explain.
Suddenly in mid volume the correspondence takes on an amazing animation and inventiveness when he meets Dora Carrington, who was to become the central figure in the rest of his life. First (and very briefly) she was his lover, and then they set up their famous menage a trois when Strachey fell in love with Ralph Partridge – and Carrington married him, whilst remaining in love with Strachey.
Whenever separated from Carrington, he wrote her long letters describing the various weekend house parties he attended. The portraits of Ottoline Morrell and Margot Asquith and their like are mischievous and bitchy, and although he censors himself on personal matters, he is not averse to pungent comment on others:
everything is at sixes and sevens – ladies in love with buggers and buggers in love with womanisers, and the price of coal going up too. Where will it all end?
There are all sorts of interesting details: Strachey's sharp eye and collector's nose for modern painting (Derain and Modigliani); Maynard Keynes altering the clocks to one hour ahead of summer time; Strachey's strong opinions that Queen Victoria was 'a martyr to analeroticism' and Bernard Berenson 'has accumulated his wealth from being a New York guttersnipe'.
However, he seems at his most comfortable when in the midst of his Bloomsbury contemporaries, as a letter written from Vanessa Bell's house at Charleston suggests:
the company in this house is its sempiternal self. Duncan and Vanessa painting all day in each other's arms. Pozzo [Keynes] writing on Probability, on the History of Currency, controlling the business of King's , and editing the Economic Journal. Clive pretending to read Stendhal. Mary writing letters on blue note-paper, the children screaming and falling into the pond.
The final bunch of letters, to his last lover, Roger Senhouse, reveal his taste for sado-masochism (crucifixion, blood-letting) but also his extraordinary generosity towards friends. His late financial success led to some self-indulgence, but he seems to have spent far more on other people than on himself. Though not for long. A falsely diagnosed stomach cancer cut him down at the age of fifty-two. His soul-mate Dora Carrington committed suicide a few weeks later.
© Roy Johnson 2006

Buy the book at Amazon UK

Buy the book at Amazon US
---
Paul Levy, The Letters of Lytton Strachey, London: Penguin Books, 2006, pp.698, ISBN 0141014733
---
More on Lytton Strachey
Twentieth century literature
More on the Bloomsbury Group
---