illustrated encyclopedia of writers and places
Writers in Britain (no less than those in any other part of the world) have often been influenced by the localities in which the have been born and grown up. There are whole mythologies built around the Brontes and Yorkshire, Thomas Hardy and the West Country, Charles Dickens and London. But the influence actually goes further back than that. For instance in the late eighteenth and early nineteenth centuries, people from all over Europe flocked to Scotland, inspired by the writing of Walter Scott.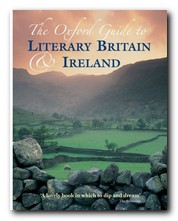 Wordsworth and his friends almost single-handedly created a passion for the English Lake District which continues to this day. People queue up to peep into Dove Cottage, then go back home to houses ten times the size. Jane Austen has her own museum in Bath, because she captured the city so well in her work, even though she only spent a brief period of her short life there. But these are the well known examples. Less well known but just as interesting socially and geographically are the names listed in this encyclopedia of literature and place which explains connections between writers and locations from the smallest villages via towns and cities, to palaces and country seats which are like separate worlds of their own.
The other interesting factor here is that entries take a historical view of places – so that the record stretches well back beyond the recent past. And it also includes writers who were well known in their own day, even though they might not be now.
So, whilst you get pages of information about Shakespeare and Stratford on Avon (for obvious reasons) the entry on my own home city of Manchester includes Elizabeth Gaskell and Anthony Burgess (both fairly well known) but also the less well known Thomas de Quincy, Harrison Ainsworth, Howard Spring, George Gissing, and even Nobel Prize winner Elias Canetti, who lived here for a while.
I was even more interested to read the details of an entry concerning Christopher Isherwood and his connections with the now defunct Marple Hall in Cheshire. His much neglected – and in my opinion his best – novel The Memorial (1932) is set there. He inherited the hall, but gave it away to his brother.
There are all sorts of unexpected informational gems – such as the fact that Nathaniel Hawthorne lived in Southport; Henry James wrote The Spoils of Poynton in Torquay; and Vladimir Nabokov lived in Trinity College, Cambridge. Entries range from Adelstrop and Abingdon to Wormwood Scrubs and Zennor – famous for having expelled D.H.Lawrence during the First World War on suspicion that he was a German spy.
It's packed with little gems like that, and the nice thing is that although the big names are not neglected, the smaller, the second.rate, and the also-rans are listed too – and this makes it a work of fairly serious reference rather than just a coffee-table guide. And with two indexes, you can look up either authors or places you might plan to visit. It's the sort of book that reinforces the idea that people from all over the world probably regard Britain as a nation of writers and poets.
© Roy Johnson 2008

  Buy the book at Amazon UK

  Buy the book at Amazon US
---
Daniel Hahn and Nicholas Robins, The Oxford Guide to Literary Britain and Ireland, Oxford: Oxford University Press, third revised edition 2008, pp.370, ISBN: 0198614608
---
More on literature
More on the novella
More on literary studies
More on short stories
---