Ruschuk – Manchester – Vienna – Zurich
The Tongue Set Free is the first volume of Elias Canetti's memoirs. Although he is best known (though not widely) for his novel Auto-da-Fe (1935) he was a prolific writer in a number of literary genres. Crowds and Power (1960) is a sociological study of human behaviour in masses; Voices of Marrakesh (1968) is a collection of travel essays; Kafka's Other Trial (1969) is a combination of literary criticism and a study of Kafka's troubled relationship with his lover Felice Bauer. Canetti's memoirs document the social and cultural life of Europe as well as his own intellectual development in the first half of the twentieth century. He was awarded the Nobel Prize for literature in 1981.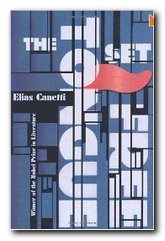 His story constitutes an extraordinarily rich pan-European cultural history. He was raised in a Sephardic Jewish family of Spanish origin in Bulgaria, speaking Ladino, but with parents who spoke to each other in German. As a child he was taken to live in Manchester where English quickly became his adoptive language. On the early death of his father he was then taken to Switzerland where his mother drilled him in German, in preparation for school in Vienna, where he also learned to read Hebrew.
Living in Zurich, his neighbours include Busoni, and his mother points out Lenin in a caf&eacute. As a matter of fact James Joyce and Tristran Tzara were there at the same time, but they were less well known.
There are three central links joining together the short chapters of reminiscence: the passionate and intense relationship with his mother; his love of words and languages; and his insatiable appetite for learning and knowledge.
His father died very suddenly when quite young, and left an obviously attractive wife with one elder and two younger sons to be raised. She put Elias, the eldest, under tremendous pressure to replace his father as an intellectual companion, and he took to the role very enthusiastically.
She drilled him relentlessly to learn German, the language of love she had shared with her husband. She discussed books and ideas with her son. He became jealous whenever suitors came in sight – and drove them away. She told him that she had sacrificed her life to raise him, and expected total devotion in return. She even imposed a total prohibition on all knowledge of sexual matters.
He piles on page after page of admiration for his mother's charm, intelligence, passionate devotion to literature, and her firm opposition to the war. It's a well known psychological scenario – and a wonder he didn't become homosexual – though there are hints of misogyny creeping through by the end of this first volume. Women are associated with bad smells – apart from his mother of course – and his negative attitude to women emerges despite all his efforts to conceal it in the second and third volume of this autobiography. .
His love of books and learning are unstoppable, and he has the grace to reveal that it made him into a somewhat priggish know-it-all at school, where he was subject to anti-Semitic prejudice.
The latter part of this first volume ends in a catalogue of character sketches of his ever-changing schoolmasters, who very typically range from petty martinets to the sort of Dead Poets Society and Jean Brodie favourites who treat their students as 'equals' – and end up being fired.
What comes through most admirably is a strong sense of internationalism. He knows his ancestors came from Spain; he was born in Bulgaria, but he also lived in Manchester, Vienna, and Zurich, with loyalties during the first world war (largely directed by his mother) towards those who had suffered most.
The struggle between him and his mother reaches a tremendous emotional climax when after encouraging his every cultural interest, she suddenly decides to jerk him out of what she sees as his complacent intellectualism, cosseted in the Zurich gymnasium, and drag him unwillingly to an inflation-struck Germany where he would have to live amongst people who were suffering, and learn to face 'real life'. This takes him to Frankfurt – where the story is continued in the second volume of these remarkable memoirs..
Elias Canetti – biographies

Volume One of the memoirs — The Tongue Set Free

Volume Two of the memoirs — The Torch in My Ear

Volume Three of the memoirs — The Play of the Eyes

Volume Four of the memoirs — Party in the Blitz
© Roy Johnson 2012
---
Elias Canetti, The Tongue Set Free, London: Granta Publications, 2011, pp.268, ISBN: 1847083560
---
Twentieth century literature
More on biography
---