tutorial, commentary, study resources, plot, and web links
The Shooting Party was first published in Harper's Bazaar in New York and London in 1938, and was reprinted in A Haunted House published by the Hogarth Press in 1944.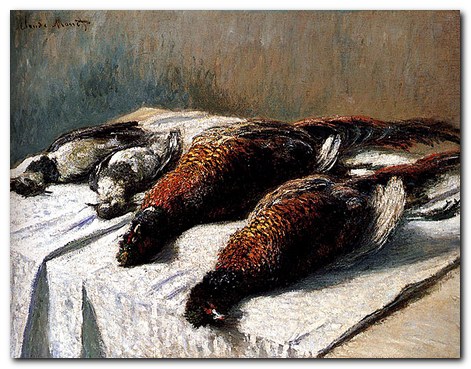 Claude Monet 1840–1926
---
The Shooting Party – Critical comment
This is a devastating and at times almost exaggerated critique of upper class society. The house and its occupants are ageing and falling apart. The slaughter of the pheasants is an apt metaphor for the privilege and waste of a landowning class which has outlived its purpose in society. And the mindless brutality of the Squire is a comic parody of the military tradition of which he is part.
The complicity of this class with its servants is neatly illustrated by the fact that Milly Masters is knitting a jersey for her son, who may well be the illegitimate offspring of the Squire.
The parts of the story are also tied together by a number of recurring motives – the curled claws and the eyes of the pheasants and those of the women in the story:
Old Miss Rashleigh filled her glass. As they sipped their eyes became lustrous like half-precious stones held to the light. Slate blue were Miss Rashleigh's; Miss Antonia's red, like port. And their laces and their flounces seemed to quiver, as if their bodies were warm and languid underneath their feathers as they drank.
It is interesting to note that the story was originally composed without the opening and closing paragraphs concerning Milly Masters which 'frame' the central sequence. This speculation over the identity of a woman on a train is an idea Virginia Woolf used more than once. Milly Masters cannot be pinned down sociologically at the outset of the story, but by the end of the narrative her unfashionable clothes, her monogrammed suitcase, and the brace of pheasants she is carrying have all had their significance revealed.
---
The Shooting Party – study resources

The Complete Shorter Fiction – Vintage Classics – Amazon UK

The Complete Shorter Fiction – Vintage Classics – Amazon US

The Complete Shorter Fiction – Harcourt edition – Amazon UK

The Complete Shorter Fiction – Harcourt edition – Amazon US

Monday or Tuesday and Other Stories – Gutenberg.org

Kew Gardens and Other Stories – Hogarth reprint – Amazon UK

Kew Gardens and Other Stories – Hogarth reprint – Amazon US

The Mark on the Wall – Oxford World Classics edition – Amazon UK

The Mark on the Wall – Oxford World Classics edition – Amazon US

The Complete Works of Virginia Woolf – Kindle edition

The Cambridge Companion to Virginia Woolf – Amazon UK

Virginia Woolf – Authors in Context – Amazon UK

The Cambridge Introduction to Virginia Woolf – Amazon UK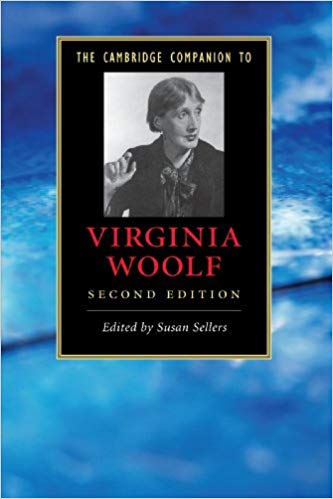 ---
The Shooting Party – story synopsis
The story begins as Milly Masters, a housekeeper, gets into the third class carriage of a train with her suitcase and two pheasants. The narrative immediately switches to the old country house where she works. Miss Antonia is waiting for lunch, whilst her brother, the Squire, is out in the grounds, shooting pheasants.
The luncheon table is set by servants, and she is joined by her elderly sister, Miss Rashleigh. Meanwhile, birds continue to be shot and piled up into a cart. Milly Masters finishes knitting a jersey for her son, then helps unload the birds from the cart.
The two sisters have lunch (of pheasant) whilst the shooting continues outside. The carcass of the bird they have eaten is thrown to their spaniel dog in the dining room.
They then fall into reminiscence and gossip as they drink their wine. They criticise their male relatives, from which it transpires that Milly Masters is probably their brother's mistress. Whilst they are talking, the harsh autumn weather is causing damage to what is obviously a dilapidated house.
The Squire arrives with three hounds and begins to curse everyone. He then begins to lash out with a leather whip and causes Miss Rashleigh to fall into the fireplace, where the shield of the Rashleighs and a picture of King Edward fall onto her.
The story returns to the railway carriage where Milly Masters is described as an ordinary woman, but one whose eyes reveal 'the ghost of a family, of an age, of a civilization dancing over the grave'.
---
Principal characters
| | |
| --- | --- |
| Miss Antonia | an old woman |
| Miss Rashleigh | her even older sister |
| Squire Hugh Rashleigh | their brother |
| Milly Masters | the handsome housekeeper |
| Wing | the gamekeeper |
---
Further reading

Quentin Bell. Virginia Woolf: A Biography. New York: Harcourt Brace Jovanovich, 1972.

Hermione Lee. Virginia Woolf. New York: Alfred A. Knopf, 1997.

Nicholas Marsh. Virginia Woolf, the Novels. New York: St. Martin's Press, 1998.

John Mepham, Virginia Woolf. New York: St. Martin's Press, 1992.

Natalya Reinhold, ed. Woolf Across Cultures. New York: Pace University Press, 2004.

Michael Rosenthal, Virginia Woolf: A Critical Study. New York: Columbia University Press, 1979.

Susan Sellers, The Cambridge Companion to Virginia Woolf, Cambridge University Press, 2010.

Virginia Woolf, The Common Reader. New York: Harvest Books, 2002.

Alex Zwerdling, Virginia Woolf and the Real World. Berkeley: University of California Press, 1986.
---
Other works by Virginia Woolf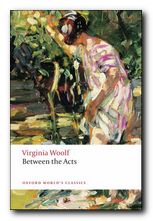 Between the Acts (1941) is her last novel, in which she returns to a less demanding literary style. Despite being written immediately before her suicide, she combines a playful wittiness with her satirical critique of English upper middle-class life. The story is set in the summer of 1939 on the day of the annual village fete at Pointz Hall. It describes a country pageant on English history written by Miss La Trobe, and its effects on the people who watch it. Most of the audience misunderstand it in various ways, but the implication is that it is a work of art which temporarily creates order amidst the chaos of human life. There's lots of social comedy, some amusing reflections on English weather, and meteorological metaphors and imagery run cleverly throughout the book.


Buy the book at Amazon UK


Buy the book at Amazon US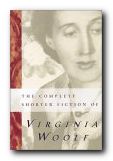 The Complete Shorter Fiction contains all the classic short stories such as The Mark on the Wall, A Haunted House, and The String Quartet – but also the shorter fragments and experimental pieces such as Mrs Dalloway in Bond Street. These 'sketches' (as she called them) were used to practice the techniques she used in her longer fictions. Nearly fifty pieces written over the course of Woolf's writing career are arranged chronologically to offer insights into her development as a writer. This is one for connoisseurs – well presented and edited in a scholarly manner.


Buy the book at Amazon UK


Buy the book at Amazon US
---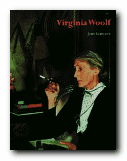 Virginia Woolf is a readable and well illustrated biography by John Lehmann, who at one point worked as her assistant and business partner at the Hogarth Press. It is described by the blurb as 'A critical biography of Virginia Woolf containing illustrations that are a record of the Bloomsbury Group and the literary and artistic world that surrounded a writer who is immensely popular today'. This is an attractive and very accessible introduction to the subject which has been very popular with readers ever since it was first published..


Buy the book at Amazon UK


Buy the book at Amazon US
---
Virginia Woolf – web links
Virginia Woolf at Mantex
Biographical notes, study guides to the major works, book reviews, studies of the short stories, bibliographies, web links, study resources.
Blogging Woolf
Book reviews, Bloomsbury related issues, links, study resources, news of conferences, exhibitions, and events, regularly updated.
Virginia Woolf at Wikipedia
Full biography, social background, interpretation of her work, fiction and non-fiction publications, photograph albumns, list of biographies, and external web links
Virginia Woolf at Gutenberg
Selected eTexts of her novels and stories in a variety of digital formats.
Woolf Online
An electronic edition and commentary on To the Lighthouse with notes on its composition, revisions, and printing – plus relevant extracts from the diaries, essays, and letters.
Hyper-Concordance to Virginia Woolf
Search texts of all the major novels and essays, word by word – locate quotations, references, and individual terms
Orlando – Sally Potter's film archive
The text and film script, production notes, casting, locations, set designs, publicity photos, video clips, costume designs, and interviews.
Women's History Walk in Bloomsbury
Tour of literary and political homes in Bloomsbury – including Gordon Square, Gower Street, Bedford Square, Tavistock Square, plus links to women's history web sites.

Virginia Woolf Society of Great Britain
Bulletins of events, annual lectures, society publications, and extensive links to Woolf and Bloomsbury related web sites
BBC Audio Essay – A Eulogy to Words
Charming sound recording of radio talk given by Virginia Woolf in 1937 – a podcast accompanied by a slideshow of photographs.
A Family Photograph Albumn
Leslie Stephen compiled a photograph album and wrote an epistolary memoir, known as the "Mausoleum Book," to mourn the death of his wife, Julia, in 1895 – an archive at Smith College – Massachusetts
Virginia Woolf first editions
Hogarth Press book jacket covers of the first editions of Woolf's novels, essays, and stories – largely designed by her sister, Vanessa Bell.
Virginia Woolf – on video
Biographical studies and documentary videos with comments on Virginia Woolf and the Bloomsbury Group and the social background of their times.
Virginia Woolf Miscellany
An archive of academic journal essays 2003—2014, featuring news items, book reviews, and full length studies.
© Roy Johnson 2014
---
More on Virginia Woolf
Virginia Woolf – short stories
Virginia Woolf – greatest works
Virginia Woolf – criticism
Virginia Woolf – life and works
---