a critical examination of Nabokov's collected stories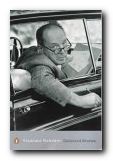 'Time and Ebb' (August 1944) reflects Nabokov's enthusiasm for his newly adopted America in a manner similar to that which his earliest stories of the 1920s showed his enjoyment of the material world of Berlin – his first place of permanent exile. The piece toys with his long term interest in time and memory, but hardly even pretends to be a story: it is not much more than an exercise in his increasingly complex prose style dressed up as a memoir.
In it an unnamed ninety year old narrator thinks back from some time in the twenty-first century to his arrival in America from Europe in the mid 1940s. His topics are soda parlours, trains, aeroplanes, skyscrapers, and anything which presents a novelty to the European. (This positive appreciation of what is new is undoubtedly one of the characteristics which helped Nabokov to survive an entire adult life spent in exile.) But the lack of any narrative impulse is reflected in some of the extreme contortions of syntax and prose rhythm:
'The trees had their latin binomials displayed upon their trunks, just as the drivers of the squat, gaudy, scaraboid motor-cabs (generically allied in my mind to certain equally gaudy automatic machines upon the musical constipation of which the insertion of a small coin used to act as a miraculous laxative) had their stale photographic pictures affixed to their backs' (ND,p.163)
This has all the hallmarks of the style which would eventually produce the rococo constructions of Look at the Harlequins! and Ada – the insistent use of alliteration and assonance, the complex syntax, long periods with huge subordinate clauses and parentheses, the rich vocabulary dotted with recondite and semi-technical terms, and the twinning and parallelism. When these devices were held in restraint by the structural and narrational demands of a story-to-be-told, the result could be the creation of masterpieces such as Lolita, but even his warmest supporters would probably concede that at times this mannerism can become inflated and tiresome.

© Roy Johnson 2005
---

  Vladimir Nabokov: The Collected Stories – Amazon UK


  Vladimir Nabokov: The Collected Stories – Amazon US
---
Vladimir Nabokov web links
Vladimir Nabokov greatest works
Vladimir Nabokov criticism
Vladimir Nabokov life and works
---