tutorial, study guide, commentary, web links
Vile Bodies (1930) was Evelyn Waugh's second novel, published as a follow-up to the success of his first – Decline and Fall (1928). It uses the same formula of presenting a farcical and deeply satirical portrait of the 1920s and the Wild Young Things who became the upper-class celebrities of the decade. It also features other aspects of modern society which help to fuel the culture of fashionable excess – tabloid journalism, artificially cultivated publicity, and the cinema.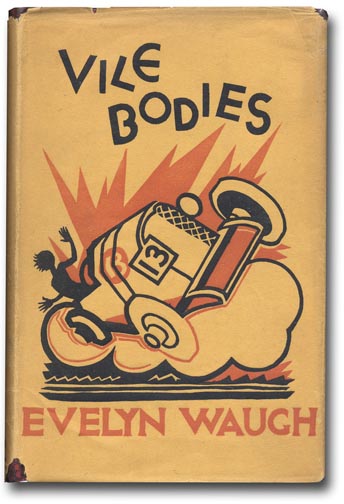 first edition – design by Evelyn Waugh
---
Vile Bodies – commentary
Narrative presentation
The most interesting thing about the narrative is the manner in which so much of it is presented via short and very rapidly changing scenes. The effect is almost like the abrupt editing of cinema film to produce 'jump cuts' – and probably reflects the influence of moving pictures at that time. It is a style perfectly suited to the frivolous and erratic behaviour of the characters in the story.
Waugh was setting out to capture the irresponsible and anarchic behaviour amongst the youthful offspring of a privileged elite in the 1920s – which in America was labelled 'the Jazz Age'. This featured mis-spent wealth, reckless self-indulgence, warped ambitions, greed, and sexual libertinism – all fuelled on a heady mixture of alcohol and (some) drugs. It was also a culture in which Evelyn Waugh had plenty of first hand experience.
Indeed, crass and unprofessional film production becomes one of the objects of satire towards the end of the novel. And Waugh takes great delight in presenting the two people who own the production company (Mr Isaacs and Colonel Blount) as interested in little else except trying to get rid of what is obviously a financial loss-maker by selling the business on to somebody else.
Waugh treats newspaper journalism in a similar fashion – concentrating on the frivolous and inconsequential parts of popular newspaper gossip columns. The upper-class journalists merely record the names of so-called celebrities who have been 'seen' at fashionable events in society. And if they are stuck for news, they invent it. When Adam becomes 'Mr Chatterbox' on the Daily Excess, the paper is being sued by various celebrities for libel, and who therefore cannot be mentioned. (This is almost one hundred years before the Leveson Enquiry into phone hacking and the ethics of the British press.)
Adam spices up the flagging column with a series of 'Notable Invalids' – well known people who are deaf, bald, disabled, one-legged, and certified insane. When he has exhausted this line of entertainment, he begins to invent celebrities who do not actually exist. He creates the society beauty Imogen Quest and fills his column with her spectacular successes and designer clothes. Eventually she becomes so popular that the editor of The Daily Excess Lord Monomark wants to meet her. Adam is forced to despatch the Quest family to Jamaica the same day.
Waugh had worked as a journalist for Lord Beaverbrook, the Canadian-born owner of the Daily Express – and he used the joke about journalists inventing what we now call 'fake news' in his later novel Scoop (1938).
The ending
There are two curious features in the conclusion of the novel. The first is the fact that all the farcical goings-on of the plot are brought to an abrupt stop by the declaration of war. For a book published in 1930, the reader is forced to wonder 'What war is that?' The text does does not refer to the war of 1914-18, and the Second World War was still a decade away. It turns out to be an imaginary war, which does not sit easily with the essentially realistic mise en scene of the remainder of the novel.
The antics of the Bright Young Things might be comically exaggerated, but they are set in a credible world of London and the home counties – of Mayfair, Shepherd's Market, Fitzrovia, and Manchester Races. But a war which had not taken place is a different fictional – and moral – universe altogether.
The second curiosity is the abrupt shift in tone – from frivolous satire to an almost apocalyptic vision of battleground Europe – largely constructed of images derived from the trench warfare of 1914-1918. It has often been remarked that Evelyn Waugh's rather painful divorce from his first wife (who was also called Evelyn) occurred during the composition of Vile Bodies. This may be a reasonable biographical explanation for the sudden change of mood, but it does not repair the damage done to the novel's structural coherence.
---
Vile Bodies – study resources
Vile Bodies – Penguin – Amazon UK
Vile Bodies – Penguin – Amazon US
Evelyn Waugh: A Life Revisited – Amazon UK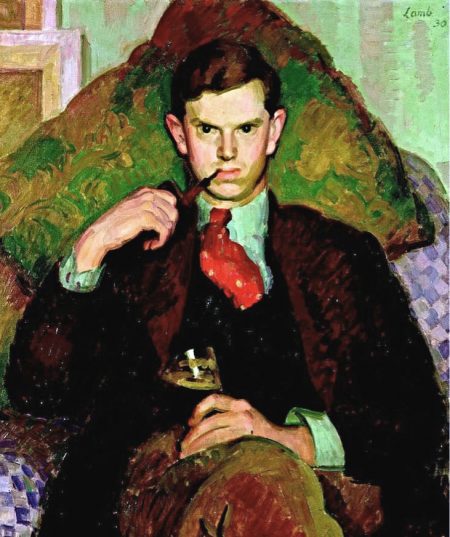 Evelyn Waugh – by Henry Lamb
---
Vile Bodies – plot summary
Returning from France, Adam Fenwick-Symes has the manuscript of his autobiography seized and burnt by the border customs officers. His publishers give him a new contract, but with crippling conditions. He cancels his engagement to Nina Blount, but then wins a thousand pounds in a hotel bar, so he renews the engagement.
He puts the money on a horse racing bet with a 'Major' who promptly disappears with the money. Adam goes to a fancy dress party where he meets Nina. They 'go on' afterwards to continue their revelries, staying with a girl who turns out to be the Prime Minister's youngest daughter. The party-goers at Number 10 Downing Street are all reported in the morning newspapers.
Nina suggests that Adam ask her father for money to enable them to get married. Adam travels out beyond Aylesbury where the absent-minded Colonel Blount gives him an elaborate lunch and a cheque for one thousand pounds. Adam and Nina drive out and stay overnight at a pub in Arundel. In the morning, Nina point out that the cheque has been signed with the name 'Charlie Chaplin'.
Gossip journalist Simon Balcairn wants to get into Margot Metroland's party, but she refuses to admit him. Instead, he gets horsewhipped by the angry father of a girl he has written about. Lady Metroland gives her party, where she tries to recruit young girls for her nightclubs in South-America. Balcairn gatecrashes the party disguised in a false beard, but he is found out and expelled. He files completely invented stories about the guests to his newspaper, then commits suicide.
Adam replaces Balcairn as Mr. Chatterbox on the Daily Excess. He writes about famous people who are disabled, and then begins to invent ficticious celebrities. He meets 'Ginger' Littlejohn at Manchester Races and puffs him as a rich colonial in his column. They go to a party held in a tethered hot air balloon and then go on to a dingy night club. There are lots of complaints in society about the reckless behaviour of the Younger Generation.
Adam goes off to see Colonel Blount again. A cheap historical film is being shot at the house. Blount deliberately misunderstands Adam again, and thereby avoids giving him any money. Adam is fired from his job on the paper.
Adam and friends drive out to see some motor races. They stay at a boarding house and leave without paying. Amidst much confusion at the race, Adam meets the drunk Major, who claims he has got Adam's winnings – at odds of thirty-five to one. The Major borrows money from him then disappears again. Miss Runcible drives a racing car whilst drunk, crashes it, and is taken to a nursing home.
Next day Nina announces that she is going to marry Ginger. The Young Things meet at the nursing home where Agatha Runcible is recovering. A party starts up in her room. When Nina has dinner with Adam, it makes Ginger jealous – so Adam offers to sell Nina to Ginger for £100. Agatha dies.
Nina returns from her honeymoon and Ginger is recalled to his regiment. She takes Adam to her father's house for Christmas. Colonel Blount shows boring extracts from his film at the vicar's house and causes an electrical power failure. He tries to sell the film company to Adam. Suddenly, war is declared.
During the war Nina returns to Ginger. As a soldier Adam is fighting in France. He meets the drunken Major. They share confiscated Champagne with one of Lady Metroland's nightclub hostess girls, who has become a camp follower.
---
Vile Bodies – principal characters
| | |
| --- | --- |
| Adam Fenwick-Symes | a young would-be writer and journalist |
| Nina Blount | Adam's fiancee, a spoilt and frivolous young woman |
| Colonel Blount | Nina's father, a confused and confusing country gent |
| Lottie Crump | the dipsomaniac landlady of Shepheard's Hotel |
| The Drunken Major | a confidence trickster and n'er do well |
| Ginger Littlejohn | a friend of Adam's and rival for Nina |
| Simon Balcairn | an aggressive young journalist who commits suicide |
| The Honourable Agatha Runcible | a drunken and raffish young woman who kills herself in a racing car |
| Mrs Melrose Ape | an American evangelist with a troupe of girl followers |
| Lady Metroland | (a recurrent figure in Waugh's novels) |
| Mr Isaacs | owner of The Wonderfilm Company |
© Roy Johnson 2018
---
More on Evelyn Waugh
More on the novella
More on literary studies
More on short stories
---