tutorial, study guide, commentary, web links
Decline and Fall (1928) was Evelyn Waugh's first novel. It was very well received on first publication, and he followed it up with similar acerbic social satires in Vile Bodies (1930), A Handful of Dust (1934), and Scoop (1938). Waugh is probably best known for his later novel Brideshead Revisited (1945) which was the basis of a very successful television series. But Decline and Fall has the distinction of introducing what became a hallmark of Waugh's style – the use of black comedy.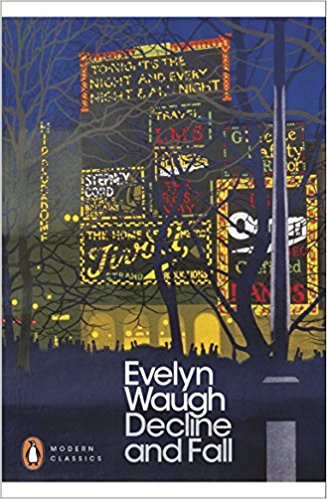 ---
Decline and Fall – commentary
The novel is in the comic tradition of the naive young innocent who becomes the victim of ever increasing disasters. This is a theme that goes back to Voltaire's Candide (1759). Paul Pennyfeather is an orphan who is punished for a misdemeanour he did not commit and is cast out into the world with virtually nothing.
He is the blameless victim of the Bollinger Club's vandalism, then his guardian refuses to give him his rightful inheritance and expels him from home. All the people he then meets (with the exception of Peter Beste-Chetwynde) are frauds, liars, criminals, and social failures living in a world of deception, incompetence, and villany.
Dr Fagan, his employer, is a posturing academic fraud who runs a seedy private college (a 'public school') with no regard for the students education or welfare. Fagan has a 'butler' Philbrick who turns out to be a confidence trickster, and who is later arrested for fraud. The glamorous and wealthy Mrs Beste-Chetwynde might have poisoned her husband and lives off the earnings of prostitutes. The prison governor Sir Wilfred Lucas-Dockery is a naive penal reformist who is responsible for a prisoner being murdered.
Contemporary readers will have little difficulty in seeing this as a radically irreverent critique of what in the 1920s was politically correct. The targets for Waugh's satire range from moral blindness to modernist architecture. But there are also some excruciating passages which reveal the astonishing levels of racism that were considered acceptable at that time.
Margot Beste-Chetwynde arrives at the school sports day accompanied by her black lover Sebastian 'Chokey' Chalmondley. The reactions of the other guests are voiced using expressions that seem quite shocking: 'What price the coon?', 'I think it's an insult bringing a nigger here', and 'to put it bluntly, they have uncontrollable passions … it's just their nature. Animals, you know'.
These opinions might reflect the social blindness and narrow prejudices of the fictional characters in the scene, but Waugh also makes Sebastian himself a figure of fun. Whilst wishing to claim an appreciation of traditional English culture, he responds to most enquiries with the stock phrase 'I sure am that'. He makes a perfectly articulate plea for tolerance and understanding, but it is difficult to escape the impression that Waugh to some extent shares the prejudices he is satirising. For a fuller discussion of this topic, see David Bradshaw's excellent introduction to the Penguin Classics edition of Decline and Fall.
Black humour
In addition to the comically villanous characters, there are several instances of what we now call black humour scattered throuout the narrative. These often involve a certain amount of criminality or violence. Three years befor the story opens, the Bollinger Club dinner featured a caged fox that had been stoned to death with champagne bottles. At the school sports day, the young Lord Tangent is shot in the foot by the drunken Prendergast with his starting pistol. It is mentioned quite casually in a later chapter that his foot has been amputated.
Margot Beste-Chetwynde not only owns a chain of brothels in South America, she demolishes a listed Tudor building, to put in its place a monstrosity of plate glass, lifts, leather walls, and modernist furniture designed by a twenty-five year old 'professor' of foreign extraction. Moreover it is quite possible that she has poisoned her husband (with ground glass).
The governor of the first prison to which Paul is sent is a theoretical reformist who believes hardened criminals can be reformed by appealing to their 'creative' instincts. When a religious maniac reveals that he was formerly a cabinet-maker, the governor issues him with a set of carpenter's tools – which he promptly uses to saw off a man's head.
The scenes at the Llanabba College that feature locals are drenched in anti-Welsh sentiment. Waugh captures brilliantly the fractured syntax of the local stationmaster speaking in English, which for him is a foreign language:
'To march about you would not like us? … We have a fine yellow flag look you that embroidered for us was in silks.'
The stationmaster divides his time between squeezing more money out of Dr Fagan and trying to sell his sister's services as a prostitute at cut-price rates. Doctor Fagan then philosophises about the Welsh in general:
From the earliest times the Welsh have been looked upon as an unclean people. It is thus they have preserved their racial integrity. Their sons and daughters mate freely with the sheep but not with human kind except their blood relations … The Welsh are the only nation in the world that has produced no graphic or plastic art, no architecture, no drama. They just sing and blow down wind instruments of plated silver.
Waugh attributes these outrageous opinions to the foppish and incompetent Doctor Fagan, but once again it is difficult to escape the suspicion that he is hiding his own prejudices behind this literary strategy. When introducing the local brass band into the narrative he does so in third person mode that is just as insulting:
They advanced huddled together with the loping tread of wolves, peering about them furtively as they came, as though in constant terror of ambush; they slavered at their mouths, which hung loosely over their receding chins, while each clutched under his ape-like arm a burden of curious and unaccountable shape.
In fact the black humour and the comic potential of naively thwarted expectations are rather prescient of attitudes that only became more popularly widespread in Britain after the Second World War. Evelyn Waugh was well ahead of his time in this respect.
---
Decline and Fall – study resources
Decline and Fall – Penguin – Amazon UK
Decline and Fall – Penguin – Amazon US
Decline and Fall – York Notes – Amazon UK
Evelyn Waugh: A Life Revisited – Amazon UK
Decline and Fall – DVD film – Amazon UK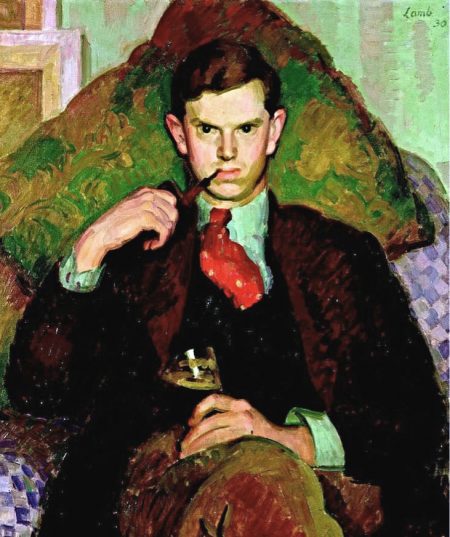 Evelyn Waugh – by Henry Lamb
---
Decline and Fall – plot synopsis
Prelude Paul Pennyweather has his trousers removed by the Bollinger Club and is unjustly sent down from Oxford University for 'indecent behaviour'.
Part One
I. Paul is castigated by his guardian for this misadventure. He withholds Paul's rightful inheritance and expels him from home. Paul secures a post as schoolmaster at a private college in Wales.
II. Paul arrives at the inhospitable Llanabba Castle, where he meets Dr Fagan and his daughters. He is given as special subject something he knows nothing about.
III. He meets student Peter Beste-Chetwynde and ex public school Captain Grimes, who regales him with stories of his failures. Grimes is engaged to the unappetising elder Fagan daughter.
IV. Paul meets ex-clergyman Prendergast, who bores him with tales of his fundamental religious doubts.
V. Paul tries to establish discipline with his form, and becomes popular. Doubts are cast about Philbrick.
VI. Paul is offered £20 compensation from Oxford, thinks to refuse it on principle, but Grimes accepts it on his behalf. Paul will treat his colleagues to dinner with the money.
VII. Dr Fagan makes grandiose arrangments for the sports day. The 'butler' Philbrick reveals his unsavoury (and imaginary) criminal connections to Paul, and reveals his intention to marry Diana Fagan.
VIII. The sports events are a mis-managed farce. Prendergast, who is drunk, shoots a boy in the foot with his starting gun.
IX. Mrs Margot Beste-Chetwyde arrives with her black lover Sebastian 'Chokey' Chalmondley. He is the object of virulent racist commentary from the guests.
X. In the aftermath of the sports day, Paul has fallen for Mrs Beste-Chetwynde.
XI. The butler Philbrick has given the staff various fantastic stories about his origins.
XII. Dr Fagan disapproves of Grimes as a potential son-in-law. The staff go out to celebrate Grimes' forthcoming marriage to the principal's daughter. Grimes (who already has a wife) laments falling into the trap of matrimony.
XIII. Grimes is depressed by his marriage, and resents being patronised by Dr Fagan. The police arrive to arrest Philbrick for fraud. Grimes stages his own disappearance.
Part Two
I. Margot Beste-Chetwynde demolishes a historic Tudor building at King's Thursday and has a modern replacement designed by young modernist 'Professor' Otto Silenus.
II. In the Easter holidays Peter Beste-Chetwynde invites Paul back to his mother's new house.
III. There is a weekend party to show off Margot's new modernist construction. She stays in bed, taking drugs. Paul proposes marriage to her, and he is accepted.
IV. Grimes reappears, working for a Latin-American night club consortium owned by Margot.
V. Margot is in London, interviewing hostess applicants for her Latin-American night club business (brothels).
VI. Elaborate preparations are made for the wedding. Paul moves in to the Ritz. Paul's friend Potts is working for the League of Nations. Paul goes to Marseilles to sort out visa problems for the hostesses. He returns to his much-publicised marriage day, but is arrested by the police.
Part Three
I. Paul is sentenced to seven years imprisonment for white slave trafficking. At the trial Potts is chief witness for the prosecution. Margot flees to her villa in Corfu. The prison is run in a repressive and punitive manner. Paul meets Philbrick as a fellow prisoner and Prendergast is the prison chaplain.
II. Paul wishes to remain in solitary confinement, which is against the rules, so the governor makes him the subject of a rehabilitation experiment.
III. Paul exercises with a religious homicidal maniac, and complains to the governor. Since the man was formerly a cabinet maker, the governor issues him with a set of carpenter's tools for 'therapeutic rehabilitation'. The prisoner saws Prendergast's head off.
IV. Paul is transferred to Dartmoor prison, where he meets Grimes, who has been sent down for bigamy. Peter Beste-Chetwynde becomes an Earl. Margot visits to announce her forthcoming marriage to Miles Maltravers (son of the Home Secretary).
V. Grimes escapes from Dartmoor but is thought to have perished in a mire. Paul thinks of him as inextinguishable.
VI. The Home Secretary arranges for Paul's removal to a nursing home owned by Dr Fagan. A fake death certificate is provided by a surgeon who is drunk. Paul is smuggled away to Margot's villa in Corfu.
VII. Paul recovers in Corfu, where he meets 'Professor' Silenus again. Paul returns to his old college at Oxford to study theology.
Epilogue Peter Beste-Chetwynde, now Earl Pastmaster, visits Paul as an undergraduate at Oxford. Margot has married Maltravers and become Viscountess Metroland, with Alastair Digby-Vaine-Trumpington as her accepted lover.
---
Decline and Fall – principal characters
| | |
| --- | --- |
| Paul Pennyweather | a young student of theology |
| Dr Augustus Fagan | foppish Llanabba Castle headmaster |
| Captain Grimes | schoolmaster with wooden leg |
| Mr Prendergast | ex-clergyman with a wig and religious doubts |
| Solomon Philbrick | college 'butler' and fraudster |
| Professor Silenus | a modernist architect (with no experience) |
| Margot Beste-Chetwynde | rich and glamorous society woman |
| Peter Beste-Chetwynde | Paul's friend and student |
| Miles Maltravers | marries Margot, and becomes Vicount Metroland |
| Alastair Digby-Vaine-Trumpington | Margot's lover |
© Roy Johnson 2018
---
More on Evelyn Waugh
More on the novella
More on literary studies
More on short stories
---