tutorial, study guide, commentary, and further reading
A Handful of Dust (1934) was Evelyn Waugh's fourth novel. It was very well received on first publication, and he followed it up with similar acerbic satires such as Scoop (1938) and Put Out More Flags (1942). After the war his novels became more serious. Brideshead Revisited (1945) and the Sword of Honour trilogy (1952-1961) explore similar themes in a more sober fashion, though there are still brilliant flashes of humour in all his work.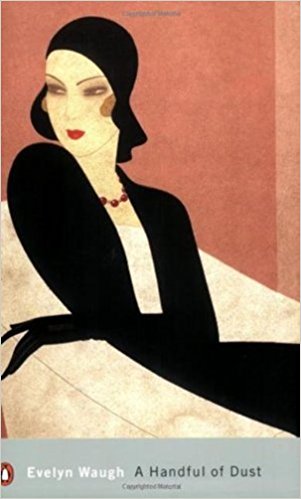 ---
A Handful of Dust – critical commentary
Social decline
Evelyn Waugh's essential subject matter is the study of upper-class decline and its causes. He is powerfully attracted to a nostalgic view of traditional aristocratic life in grand country houses and estates, together with all their culture of inherited wealth and property. This includes the architecture of previous centuries, and the social life of weekend parties, plentiful servants, and an existence divided between London and a house in the country.
But he knew it was a social system that was coming to an end. It was a privileged economy which could not be sustained. And he knew that the principal characters caught up in this decline were conspiring in their own downfall – by over-indulgence, wilful excess, and moral blindness to the changing world in which they lived.
The middle class characters in his novels are largely endeavouring to claw their way into this decadent echelon, and their tastes and habits are generally presented as inferior, awkward, and doomed to failure. The lower orders hardly feature at all, except as occasional servants. Waugh does not have a simplistic hope that any working class people are going to be the saviours of this decline.
Humour
Waugh's early novels were once regarded as the last thing in barbed humour and rib-tickling satire. They don't seem quite so humorously pointed now, but there remain traces of comic characterisation, and he does have the distinction of introducing an element of black comedy into the modern novel.
Mrs Beaver's greed and relentless opportunism are funny because they are linked to the main theme of downward social mobility. She has come from the upper echelons of society but has fallen on hard times as a widow with a socially useless son. She lives in Sussex Gardens – then a downmarket region of Bayswater- but she misses no opportunity to sell people what we would now call fashionable junk or tat from her shop
She has also devised the entrepreneurial scheme of splitting up houses into smaller flats to rent. Her clients are people who have dubious purposes, as does Brenda, and those who are downwardly socially mobile such as 'Princess' Jenny Abdul Akbar. Mrs Beaver simultaneously promotes her services to these people as a so-called interior designer.
She also embodies all that Waugh finds offensive in modernism and a lack of sensitivity to tradition. In the middle of the novel she is converting one of the rooms in Tony Last's old Tudor home Hetton Abbey by lining the walls with chromium plate.
It is interesting that Waugh sees the issue of social decline in architectural terms – from the draughty grandeur of Hetton Abbey to these 'service flats' carved out of the Victorian splendour of London's Belgravia.
Another marvellously comic character is Mr Tendril the local preacher at Hetton. He is a hopelessly indurate creation who goes on preaching sermons he has written years before for troops in British expeditionary wars in India. His speeches contain references to the pitiless sun, threats from tigers, and loved ones back at home – when he is addressing a congregation in what seems to be rural Warwickshire.
How difficult it is for us to realise that this is indeed Chhristmas. Instead of the glowing log fire and widows tight shuttered against the drifting snow, we have only the harsh glare of an alien sun; instead of the happy circle of loved faces, of home and family, we have the uncomprehending stares of the subjugated, though no doubt grateful, heathen. Instead of the placid ox and ass of Bethlehem, we have for companions the ravening tiger and the exotic camel, the furtive jackal and the ponderous elephant.
And of course the most memorable scene in this novel is the black comedy of Mr Todd forcing Tony to read the works of Charles Dickens. The mad settler Todd cannot read himself, but enjoys their entertainment value, and uses that as an excuse to keep Tony prisoner.
The two endings
There is interpretive difficulty and even a possible dilemma concerning the end to A Handful of Dust. This is not surprising, because Waugh wrote the most reprinted version of the conclusion before he wrote the novel. On a visit to South America in 1933, whilst he was stranded in Boa Vista ('Good View') in northern Brazil, Waugh spent his time writing a story called The Man Who Liked Dickens, based on an eccentric character he had met. The story was published in Hearst's International in the United States and reprinted in Nash's Pall Mall Magazine in the UK.
It was ten months later before he began work on what was to become A Handful of Dust – and he did not have any clear plan for how it was to end. This problem of two endings was created because the novel was issued as a serial in America as well as a stand-alone one-volume publication in England. His story The Man Who Liked Dickens had already been published in America, so Waugh produced the alternative ending for serial publication.
The two endings are completely different, and they also create quite different meanings for the novel as a whole. Tony's imprisonment by the quasi-madman Mr Todd is the more dramatic, and the more frequently reprinted. It continues the theme of downward social mobility that Waugh had explored earlier in Decline and Fall (1928) and it takes it to a new extreme.
Tony is the upholder of traditional aristocratic values and he cherishes the house and the country estate he has inherited. But he is betrayed by his adulterous wife, and when he seeks solace in foreign travel, he encounters only misery, discomfort, and finally a sort of living death. Mr Todd's final thwarting of Tony's hopes for rescue is truly black humour at its most grim. Tony's relatives inherit Hetton Abbey, his wife marries one of his friends, and his existence is reduced to a memorial plaque in the chapel.
The problem with this ending is that there is an abrupt shift in tone, mise en scene, subject matter, and geographic location between the first three-quarters of the novel and its conclusion. The principal events and characters have been established at Hetton Abbey and in fashionable London. The sudden switch to an equatorial jungle and deranged explorers such as Doctor Messinger and Mr Todd is too much. It disrupts the coherence of the narrative. Waugh's friend the novelist Henry Yorke wrote to him: "the end is so fantastic that it throws the rest out of proportion".
The serial version of the ending is far more logical and coherent – but it is much shorter, not so dramatic, and it is not funny. In the alternative ending Tony merely returns from what has been a therapeutic cruise, and he ruefully drifts into a reconciliation with Brenda. It is a downbeat, not a catastrophic ending to events.
The setting, the characters, and the subject matter remain the same, as does the tone of the narrative. But there are important ramifications to this version of the novel's conclusion. Tony returns to his estate as its living inheritor. He has also commissioned renovations to Hetton Abbey during his absence on the Caribbean cruise – and these works reverse the absurd 'improvements' Brenda has made at the suggestion of Mrs Beaver (the chromium-plated walls). Moreover, Tony secretly retains ownership of the flat in Belgravia, and he lies to Brenda about having got rid of it.
This alternative ending leaves Tony a little bruised, but intact. He has lost nothing – except his son – and Brenda is pregnant again. Hetton Abbey will have its new bathrooms, and he obviously has plans for a little 'private life' in the Belgravia flat. This is altogether a different ending – which in turn creates a different novel. It forces the reader to regard the preceding events in a more light-hearted manner. What was previously a downhill plunge into disaster and destruction suddenly becomes no more than a series of minor comic setbacks from which the protagonist emerges unscathed.
---
A Handful of Dust – study resources
A Handful of Dust – Penguin – Amazon UK
A Handful of Dust – Penguin – Amazon US
A Handful of Dust – Study Guide – Paperback – Amazon UK
A Handful of Dust – DVD film – Amazon UK
Evelyn Waugh: A Life Revisited – Amazon UK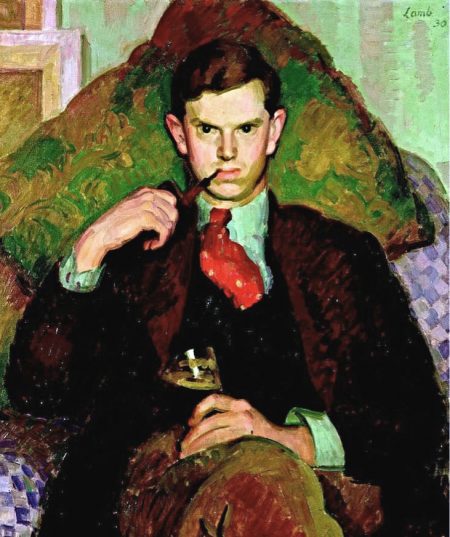 Evelyn Waugh – by Henry Lamb
---
A Handful of Dust – plot summary
Chapter One — John Beaver lives with his mother in the unfashionable district of Bayswater in reduced circumstances. She has an antiques shop: he is twenty-five, unpopular, and has no occupation.
Chapter Two — Tony Last and his wife Brenda live at Hetton Abbey – a cold Gothic country house. John Beaver arrives for the weekend as their largely uninvited guest. Everyone feels uncomfortable, but Brenda tries to be hospitable to Beaver.
Brenda thinks to have a pied-a-terre for her trips into London, and Mrs Beaver can supply rooms in Belgravia. John Beaver takes Brenda to dinner and they make the opening moves of a flirtation.
Their relationship develops into an adulterous affair, and it becomes the subject of social gossip in London, even though people wonder what she sees in him. Brenda moves into the flat then announces to her husband that she is going to take up some sort of study courses.
Chapter Three — Tony and Jock Grant-Menzies get drunk at their club and threaten to call on Brenda, who is at the flat with Beaver. They go to a nightclub instead. Brenda stays at the flat during the week and only goes home at weekends. She hopes to distract her husband with her pushy neighbour 'Princess' Jenny Abdul Akbar, but Tony does not like her. Jock brings to Hetton his 'shameless blonde' friend Mrs Rattery, who arrives by aeroplane.
There is a hunt meeting at which young John Last is killed by a frightened horse. Brenda is brought back from London, but she feels it is all over for her with Tony, and she asks him for a divorce.
Chapter Four — Tony arranges to take a prostitute from the nightclub to Brighton for the weekend to provide evidence for a divorce. Milly the prostitute insists on bringing her awkward young daughter along. Brenda's family reveal that Beaver will not marry her unless she receives a large settlement as alimony. This means Tony would be forced to sell his house, so instead he refuses to proceed with the divorce.
Chapter Five — Tony embarks on an expedition to South America with the very dubious Doctor Messinger in search of a 'lost city'. En route via the West Indies he has a brief on-board flirtation with an eighteen year old girl. When he reaches the jungle he is tormented by insect bites and thinks wistfully of home. Native bearers desert the expedition, so Tony and Messinger are stranded. Messinger is clearly lost and incompetent. Tony catches a fever and becomes delirious. Messinger goes to seek help, but he drowns in river rapids.
Meanwhile back in London John Beaver and Brenda cannot move on because there has been no divorce. His mother, sensing that the marriage might not happen, plans to take him to America. Brenda tries to get money from the family solicitor, but Tony has tied up their finances to restore Hetton – and he has made a new will.
Chapter Six — Tony is rescued and cured by an eccentric settler Mr Todd, who forces him to read aloud the works of Charles Dickens. As the months go by Todd thwarts Tony's attempts to leave the jungle. A previous prisoner tried to escape, but died at the encampment. When a passing traveller calls, Tony secretly gives him a note begging for help. But some time later, when Tony is unconscious for two days from the effects of a local drink, rescuers arrive from Europe. Mr Todd gives them Tony's watch, shows them a cross on a grave, and sends them away.
Chapter Seven — Hetton is inherited and taken over by Tony's cousin Richard Last and his family. Brenda marries Jock Grant-Menzies. A commemorative plaque is unveiled in the Hetton chapel to record Tony's death as an 'explorer'.
The alternative ending — Tony returns from a sea cruise in the West Indies and is met by Brenda, who has been ditched by John Beaver. They re-unite faux de mieux, Tony returns to Hetton Abbey, and he secretly takes over Brenda's flat in Belgravia.
---
A Handful of Dust – principal characters
| | |
| --- | --- |
| Mrs Beaver | an aggressively commercial antique shop owner |
| John Beaver | her lacklustre and talentless son |
| Tony Last | the owner of Hetton Abbey and estate |
| Brenda Last | Tony's adulterous wife |
| John Andrew Last | their young son |
| Marjorie | Brenda's sister |
| Jock Grant-Menzies | Tony's friend |
| 'Princess' Jenny Abdul Akbar | Brenda's next door neighbour in Belgravia |
| Mrs Rafferty | the 'shameless blonde', an aviatrix |
| The Revered Tendril | the eccentric vicar attached to Hetton |
| Mr Todd | a mad explorer and settler |
| Doctor Messinger | an incompetent explorer |
© Roy Johnson 2018
---
More on Evelyn Waugh
More on the novella
More on literary studies
More on short stories
---