Hogarth Press first edition book jacket designs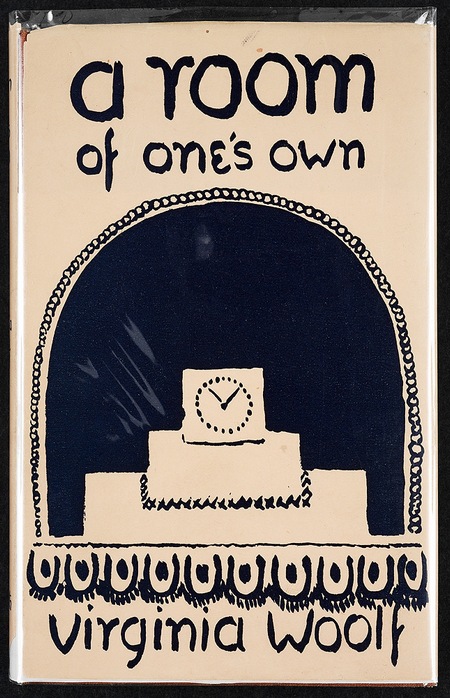 Virginia Woolf, A Room of One's Own (1929) Cover design by Vanessa Bell.
This has become one of the cornerstone's of feminist theory in relation to literature. It's a sparkling, critical, and wide-ranging expose of male privilege and the way in which women have been excluded from cultural life. However, as John Willis argues in his study of the text, Woolf omitted to mention the work of other women writers on the same subject which had appeared prior to her own.
"There was more fiction than fact in Woolf's most famous and beloved feminist polemic. The occasion was an address to the young women of Newham and Girton colleges on the subject of women and fiction, which she subsequently rewrote into the expanded form of the published book. Woolf's form followed function. She created clever and pointed fictions before their eyes, inventing, among others, Shakespeare's thwarted sister Judith and the young modern novelist Mary Carmichael. There were few facts partly because she presumed to dislike them and partly because the works on women containing the facts (all erroneous) had been written by men. Woolf chose not to recognise the existence of useful, accurate, and understanding accounts of women by women. Nor did she mention directly the achievements of women such as [Millicent Garrett] Fawcett, [Ray] Strachey, or [Margaret Llewellyn] Davis. Strachey's The Cause: A Short History of the Women's movement in Great Britain (1928) was a year old when Woolf created her story of her own room and an inheritance of £500 per year, yet there is only a brief quotation from it, identified in a footnote. Facts aside, the wit and irony of her writing, her satirical exposure of patriarchal attitudes, her leaps of intuitive understanding, [and] her subjective experience made the book memorable and influential."
J.H. Willis Jr, Leonard and Virginia Woolf as Publishers: The Hogarth Press 1917-1941
The first one hundred copies of [the first, limited edition] were for sale by the Hogarth Press, and the price was substantial. The Hogarth Press's trade edition, issued at the same time, was priced at 5s; the print run was 3,040 copies. The press published a number of books that come at the same question of women's lives and positions in different ways. One of particular interest is Life As We Have Known It (1931), a collection of autobiographical sketches of guildswomen, for which Woolf wrote an introductory letter.
Elizabeth Willson Gordon, Woolf's-head Publishing: The Highlights and New Lights of the Hogarth Press
---
Hogarth Press studies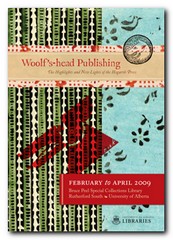 Woolf's-head Publishing is a wonderful collection of cover designs, book jackets, and illustrations – but also a beautiful example of book production in its own right. It was produced as an exhibition catalogue and has quite rightly gone on to enjoy an independent life of its own. This book is a genuine collector's item, and only months after its first publication it started to win awards for its design and production values. Anyone with the slightest interest in book production, graphic design, typography, or Bloomsbury will want to own a copy the minute they clap eyes on it.

Buy the book at Amazon UK


Buy the book at Amazon US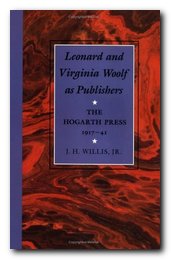 Leonard and Virginia Woolf as Publishers: Hogarth Press, 1917-41 John Willis brings the remarkable story of Leonard and Virginia Woolf's success as publishers to life. He generates interesting thumbnail sketches of all the Hogarth Press authors, which brings both them and the books they wrote into sharp focus. He also follows the development of many of its best-selling titles, and there's a full account of the social and cultural development of the press. This is a scholarly work with extensive footnotes, bibliographies, and suggestions for further reading – but most of all it is a very readable study in cultural history.

Buy the book at Amazon UK


Buy the book at Amazon US
© Roy Johnson 2005
---