essays, letters, diaries, lectures, biography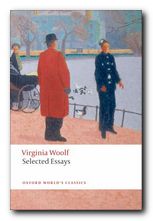 The Essays are a wonderful introduction to the world of belles lettres. Virginia Woolf's non-fiction writing and literary career began in her father's library. She read the classics whilst young, then began to write about her literary experiences, producing reviews for the Manchester Guardian and the Times Literary Supplement – whose contributions were anonymous in those days. Her tastes are humane and well informed. Read her articles on Shakespeare, Charlotte Bronte, and Katherine Mansfield – and you will feel like reading the texts again immediately. She is astonishingly wide-ranging – from the Greek classics via Renaissance drama and Enlightenment journalism, to contemporary fiction. The approach is rather biographical and author-centred, but these are intelligent and gracefully composed essays which speak eloquently on literary and cultural life.

Buy the book at Amazon UK


Buy the book at Amazon US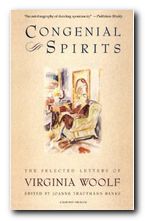 The Letters are for specialists and the ultimate gossip trivia for Woolf fans. There really is everything from laundry bills, to dinner party recipes, and snobbish lists of people who are 'in' or 'out'. Many of them read as if they were written for public consumption, and even in the gossip there is a lot of repetition. It's interesting to note just how much of this listing and gossip-mongering is recycled in one letter after another. But this is not surprising, given the communication technology available at the time. The telephone had only just been introduced, and there were two or even three postal deliveries a day at that period. However, if they are read in conjunction with her biography, it is possible to trace the ebb and flow of her personal relationships at very close quarters. For a richer insight into the workings of her keen intellect and creative spirit, the diaries offer greater rewards.

Buy the book at Amazon UK


Buy the book at Amazon US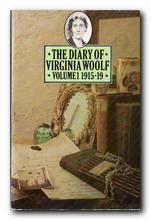 The Diaries are quite simply a marvellous human document. Don't expect lots of intimate personal revelations of the kind we're used to almost a hundred years later, but there's a vivacity about her personal reflections which make them a wonderful reading experience. More importantly, it is here that she reveals the secrets of the creative process. She feels the beginnings of important ideas coming on like a mood or an illness. The topic swells, grows in her imagination, and sometimes takes her over like an intellectual love affair. She suffers; she struggles to express elusive ideas; she writes; and then finally the work emerges and she is exhausted with the effort. This is the nearest to the deeply creative process you are likely to come across. Of course there are lots of observations on contemporary affairs which make this an interesting historical document too. One minute it's creative breakthroughs via metaphors or new techniques, then next it's the Versailles Treaty and her husband Leonard's part in it. But the real benefit (almost a privilege) is to be invited to share the private thoughts of a first class creative mind.

Buy the book at Amazon UK


Buy the book at Amazon US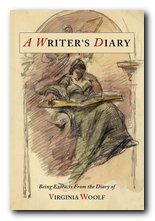 A Writer's Journal It's no wonder that the best parts of her diaries were extracted and published separately by her husband Leonard Woolf. If you don't have time to read the full personal chronicles, this is a very good condensation. It's a much-quoted source in writing manuals and books on creativity. Read it alongside her fiction, and learn how the imaginative mind works. She records the first flashes of inspiration, the development of good ideas, and the links between disparate insights. You might also be surprised to learn how much self-doubt, intellectual anguish, and hard work went into her creative life.

Buy the book at Amazon UK


Buy the book at Amazon US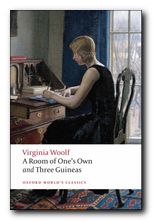 A Room of One's Own and Three Guineas are like the Old and New Testament of the feminist's Bible. The first is a series of lectures she was invited to give on 'Women and Literature'. It is here that she coins the idea of 'Shakespeare's sister' and considers the problems she would have faced if she had decided to become a writer. It's a sparkling, critical, and wide-ranging expose of male privilege and the way in which women have been excluded from cultural life. If you want to start with feminist theory – particularly in its relationship to literature – this is where to begin. Ten years later she extended the feminist critique of patriarchy and privilege to a much greater extent. All parts of the English establishment are subject to an excoriating analysis which leaves them exposed as instruments of ideological dominance and cultural power. In Three Guineas she offers a scathing analysis of the pillars of English society – the Crown, the Church, the Judiciary, the Military, and the Universities. It's a pity this is not as well known or as well read as A Room of One's Own – because it is more searching, more incisive, more critical, and much more radical.

Buy the book at Amazon UK


Buy the book at Amazon US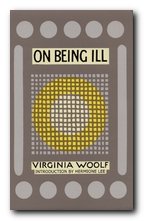 On Being Ill Virginia Woolf knew a lot about illness. She suffered from repeated bouts of both physical and mental debility throughout her life. But how inventive of her to actually write about it. This is one of her lesser-known but amazingly thoughtful pieces of essay writing. It's a philosophic meditation on the experience of illness, including even its pleasures and advantages. She also includes reflections on reading and the benefits of enforced idleness. She discusses the cultural taboos associated with illness and explores how, even though it is a more-or-less universal experience, it has been excluded from a great deal of literature. This edition has an introduction by Hermione Lee, one of her best biographers.

Buy the book at Amazon UK


Buy the book at Amazon US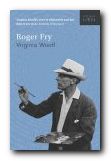 Roger Fry Her biography is both a homage to a family friend and a debate with a fellow artist – particularly on the relationship between aesthetics and realism. It was an official work commissioned by the Fry family- so don't expect any revelations, or even any mention that Fry was once her sister's lover. She emphasises his Quaker background, his scientific training, his amazing energy in organising art events (such as the Omega workshop) and his loyalty. Much of the work is based on letters and diaries, and of course the two artists were close friends – so at least it's authentic.

Buy the book at Amazon UK


Buy the book at Amazon US
---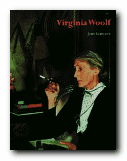 Virginia Woolf is a readable and well illustrated biography by John Lehmann, who at one point worked as her assistant at the Hogarth Press. It is described by the blurb as 'A critical biography of Virginia Woolf containing illustrations that are a record of the Bloomsbury Group and the literary and artistic world that surrounded a writer who is immensely popular today'. An attractive and very accessible introduction to the subject.

Buy the book at Amazon UK


Buy the book at Amazon US
© Roy Johnson 2005
---
Virginia Woolf – web links
Virginia Woolf – greatest works
Virginia Woolf – criticism
Virginia Woolf – life and works
---