Hogarth Press first edition book jacket designs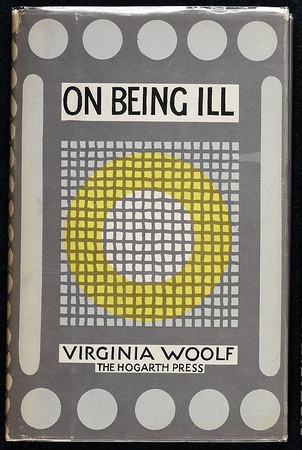 Virginia Woolf, On Being Ill (1930) Cover design by Vanessa Bell.
"Not until 1930 did [Virginia and Leonard Woolf] hand print another of Virginia's works, a small essay On Being Ill. To possible critics of the slightly botched printing of On Being Ill Virginia composed a tongue-in-cheek form letter which she never sent. Such a charming disclaimer could well serve as a summing up of the Woolf's hand printing over the years. Beginning "Dear Madam," Virginia agreed that "the colour is uneven, the letters not always clear, the spacing inaccurate, and the word 'campion' should read 'companion"". Her defense was that she and Leonard were amateur printers without formal training, who fit in their hobby amid busy lives. But, she added, the volume was already worth more than it cost because of over-subscription, so that although "we have not satisfied your taste, we hope that we have not robbed your purse".
J.H. Willis Jr, Leonard and Virginia Woolf as Publishers: The Hogarth Press 1917-1941
One of the last books hand printed by the Woolfs, On Being Ill is a fairly short essay by Woolf that explores not only illness, but also solitude, sympathy, and reading. Woolf writes, for example, that in illness "It is to the poets that we turn. Illness makes us disinclined for the long campaigns that prose exacts" The words of On Being Ill are both written and printed by Woolf. The book shows a greater sophistication than some of the earlier books, though there are still some errors that remind one that humans rather than machines created the book.
Elizabeth Willson Gordon, Woolf's-head Publishing: The Highlights and New Lights of the Hogarth Press
---
Hogarth Press studies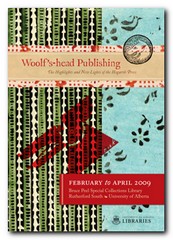 Woolf's-head Publishing is a wonderful collection of cover designs, book jackets, and illustrations – but also a beautiful example of book production in its own right. It was produced as an exhibition catalogue and has quite rightly gone on to enjoy an independent life of its own. This book is a genuine collector's item, and only months after its first publication it started to win awards for its design and production values. Anyone with the slightest interest in book production, graphic design, typography, or Bloomsbury will want to own a copy the minute they clap eyes on it.

Buy the book at Amazon UK


Buy the book at Amazon US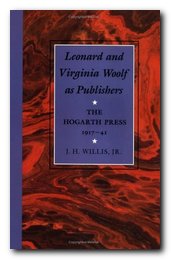 Leonard and Virginia Woolf as Publishers: Hogarth Press, 1917-41 John Willis brings the remarkable story of Leonard and Virginia Woolf's success as publishers to life. He generates interesting thumbnail sketches of all the Hogarth Press authors, which brings both them and the books they wrote into sharp focus. He also follows the development of many of its best-selling titles, and there's a full account of the social and cultural development of the press. This is a scholarly work with extensive footnotes, bibliographies, and suggestions for further reading – but most of all it is a very readable study in cultural history.

Buy the book at Amazon UK


Buy the book at Amazon US
© Roy Johnson 2005
---