non-fiction meditations from a great novelist
Virginia Woolf selected essays is a completely self-contained, and can be read for the pleasure which she thought was the purpose of the essay form. But they also illuminate her larger works of fiction. They are a small proportion of her total output (which runs to five volumes) but they represent some of the most important themes which pervade her work as a whole. They are also amazingly prophetic – on women as writers, on the death of Empire, and on the speed and locomotion of modern life.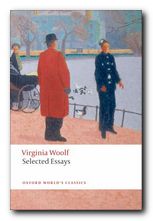 She writes about the Tube, the telephone, the motor car, and aircraft, which were all recent developments at the time. The essays are arranged in chronological order in four groups – reading and writing, biography, feminism, and contemporary culture. She had inherited the skill of writing from her father Leslie Stephen and by the time these essays were written had honed that skill into a high form of art. She believes that the essay is an expression of the individual vision, but it is interesting to note how much of her own expression is couched in generalizations addressed in the first person plural – "We feel .. this and that". I was reminded of George Orwell who whilst railing against generalizations and stereotypes was quite happy to fall into the trap of devising his own – as in 'What is Englishness?'.
It's also true to say that a lot of her argument is conducted in extended similes and metaphors. These give the essays unquestionable elegance, but they also allow her to hide behind these rhetorical flourishes. They often conceal a paucity of concrete examples to back up her arguments.
It's a subtle and seductive method, because it draws any unwary reader into accepting unfounded generalizations without their realising it. Her judgments are sound whilst she is in the safe traditions of earlier centuries, but when it comes to her contemporaries – well. "Ulysses was a memorable catastrophe – immense in daring, terrific in disaster."
But her analysis of reading fiction ('How Should One Read a Book?) is truly inspirational. In it, she argues for a totally sympathetic submersion in the writer's work, followed by an equally severe judgment in which each work is held up for comparison against the finest of its kind.
To read a book well, one should read it as if one were writing it … It is by the means of such readers that masterpieces are helped into the world.
'The New Biography' is her thoughtful response to the subject, prompted by her reading of Harold Nicolson's excellent and much under-rated Some People. She is astute enough to spot that he was onto something quite new (and what a shame it is that he didn't produce some more writing of this kind).
A companion piece to this essay is 'The Art of Biography', a meditation on Lytton Strachey's Eminent Victorians and Elizabeth and Essex, arguing that the former is more successful because Strachey stayed within the confines of known facts, whereas in the latter he invented them, and turned the book into a work of artistic imagination – whereupon it failed by straying outside the 'rules' of biography.
'On Being Ill' is a reflection on the fact that illness, although a common human experience, is hardly present in literature as a subject. It was written before she read Marcel Proust, but it also dances around the subject of what literature we read (and cannot read) when ill.
'Memories of a Working Women's Guild' expresses her ambiguous political notions but her personal sympathy with a movement which her husband Leonard Woolf had enthusiastically supported, along with the Co-Operative movement. She knows perfectly well that she is privileged, a 'lady', but it doesn't stop her entering imaginatively into the lives of Mrs Burrows from Edgebaston and Mrs Philips from Bacup – delegates to a conference she attended.
The collection ends with essays on contemporary life and culture. There's an extraordinarily prescient reflection on the end of Empire prefigured by an account of a thunderstorm at the Wembley Exhibition of 1924; a meditation on the art of the cinema (1926) in which she correctly predicts that its time was yet to come; and a riveting account of flying over London in an aeroplane which perfectly demonstrates her imaginative skill – since she had never done any such thing.
© Roy Johnson 2008
---
David Bradshaw (ed), Virginia Woolf: Selected Essays, Oxford: Oxford University Press, 2008, pp.244, ISBN 0199212813
---
More on Virginia Woolf
Virginia Woolf – web links
Virginia Woolf – greatest works
Virginia Woolf – criticism
More on the Bloomsbury Group
---