best-selling author, horticulturalist, and lesbian
Vita Sackville-West is best known these days as the woman who had an affair with Virginia Woolf, and maybe also as the woman who 'eloped' with Violet Trefusis. She's also famous for being one half of a doubly bisexual relationship with her husband Harold Nicolson – recorded by their son in Portrait of a Marriage. What's not so well known is the fact that she was also a best-selling author, and that in the post-1940 era she made herself a doyenne of writing on the English garden.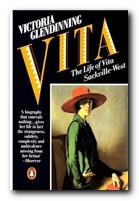 The first part of Victoria Glendenning's account of Vita's life is dominated by her equally unconventional parents, both of whom maintained barely-concealed love affairs. Sackville-West pére moved his lover and her own husband into the family home at Knowle. Mrs Sackville-West seemed to have kept her 25 stone admirer Sir John Scott more at arm's length, but sufficiently close that she inherited from him a large capital sum, houses, and a Paris flat full of antique furniture.
Vita's youth was a mixture of foreign travel (and languages) romantic crushes on the Renaissance, and life at the top of the social ladder. Many readers will be surprised by one thing for sure – her enormous application and productivity where writing was concerned. Youthful novels poured from her, plus poems and plays, some written in languages other than English.
Her Sapphism began early, with both Rosamund Grosvenor and Violet Keppel, though she finally did the expected thing and married Harold Nicolson. They quickly produced two children, who were housed in a separate building at their first home in Long Barn.
When Harold Nicolson announced that he had veneral disease, she switched her attentions back to Violet Keppel. Vita dressed in men's clothing as 'Julian' and they booked into hotels together as man and wife. Wot larks!
But when Violet married Denys Trefusis, things started to go wrong. For a start, Vita was jealous, and forbad Violet to have sex with her new husband. She even intercepted Violet on her honeymoon, took her to a hotel, and had sex with her to make the point. The two women eventually eloped to France and were only brought back home when their husbands flew out in a small plane to stop them, and the affair then gradually fizzled out.
Only to be replaced by one with the architect Geoffrey Scott. She shared these problems with her mother, who was meanwhile having an affair with another archtiect, Edwin Lutyens. There were also trips to Persia to visit husband Harold who was posted there – at the same time as he was also visited by his lover Raymond Mortimer.
Her well-known love affair with Virginia Woolf appears to be a sincere enthusiasm on both their parts, but when Virginia shied away from making their relationship a full-blown adventure (a la Violet Trefusis) Vita turned her attentions to Mary Hutchinson, the wife of South African poet Roy Campbell. Meanwhile, she won the Hawthornden prize for her long poem The Land.
She followed that up with best-selling novels The Edwardians and All Passion Spent, bought a near-ruined castle in Kent, and set up her husband with his own flat in London.
There were many other lovers, but then gradually, following the death of her mother in 1936, she started to become something of a recluse. She poured her creative energy into the development of Sissinghurst and its now-famous gardens.
She and Harold continued to live separately, take holidays separately, and wrote to each other every day saying how much they missed each other. Sissinghurst survived the war, and she continued writing in a number of genres, but gradually, as she got older, she focussed all her attention on horticulture and became quite well known as the gardening correspondent of The Observer.
However, it would be a mistake to imagine that her physically demanding nature was curbed in any way. As Gelendenning observes, a propos one of her later passions:
Vita was never without love or the physical expression of love. Her great adventure was never over.
In all this tale, you need to be able to stomarch enormous amounts of upper-class snobbery, vanity, and pure greed. In her own family, there were two major law suits involving contested wills and claims to inheritance. And you also need to be reasonably tolerant to the biographer.
Because despite its having the appearance of a scholarly piece of work, Gelendenning's method is quite amateurish. Passages from other texts are quoted for their shock value to pad out the drama almost like a stream of consciousness, without giving any indication of their sources. She doesn't stoop to anything as demanding as page references, and she mixes scenes from West's fiction with historical fact as if they both had the same value and status.
Despite these technical shortcomings however, this is something of a page-turner. In addition to sometimes reading like an Evelyn Waugh novel, the quasi-aristocratic-cum-bohemian lifestyle is so astonishing that it's bound to be of interest to us lesser mortals. As Glendenning says of Vita's own mother: "physical fidelity was not greatly valued in the marriages of the British upper classes".
© Roy Johnson 2000
---
Victoria Glendenning, Vita: The Life of Vita Sackville-West, London:Weidenfeld and Nicolson, 1985, pp.430, ISBN 014007161X
---
More on the Bloomsbury Group
More on Vita Sackville-West
More on the novella
More on literary studies
---