tips and tools to help optimise your online business
If you take a serious interest in your web site, once you've got over the obsession with how it looks, you'll want to know how it performs. And if it includes any element of e-commerce, you'll undoubtedly want to know how to improve that performance. Eric Peterson's guide Web Site Measurement Hacks is a technical guide to doing that by measuring what is going on – and that means hard figures, the number of visitors you get, and what they do when they arrive at your site.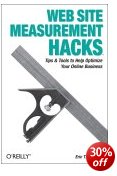 The first and most important thing is to know the definition of terms in this arcane world – to know the difference between 'hits', 'visitors', and 'unique page views' for instance. He explains these issues really well, and emphasises that you need to understand the technical details if you want to increase your site traffic. Although some of his suggestions are aimed at businesses with big money to spend on web site optimisation, I was glad to see that he included the cheap and even free options available for small and start-up entrepreneurs. This includes programs such as Analog, which I have used myself in the past.
He explains how to understand and analyse web logfiles, and how to get a more accurate picture of which human beings are visiting your site by excluding from the results robot searches and other data which has been pulled from cache. For those who are really technologically ambitious, there are instructions on how to build your own web measurement application, along with the necessary core code and the location of free downloadable add-ons.
As the book progresses it becomes more technical. First he deals with JavaScript page tags, then how to use one-pixel hidden graphic 'bugs' to learn more about what visitors do on your site. He also covers learning from errors – that is, understanding (and rectifying) the broken links and the pages which are not delivered on request to your visitors.
After that, he switches to explaining the details of online marketing. This involves a close examination of terms such as 'click through rate' and 'cost per conversion', as well as how to measure the effectiveness of banner advertising.
Most of his recommendations are sound. On the optimization of web page size he mentions the free service offered by Andy King (author of Speed Up Your Site). I ran a few pages from the site you are visiting now through his analyzer and learned a lot about possible improvements.
The later stages of usability become more and more complex. The hacks he discusses here are for people with serious e-commerce ambition who are prepared to spend time and money on making their site(s) more effective. They include features such as measuring the demographics of your site visitors, analysing their behaviour patterns, and gathering data on their engagement with the retail process.
This is a book which deals with both the technical issues of maintaining your Web's infrastructure and the business implications of interpreting the data it generates. It's a technology companion that any serious web entrepreneur will welcome.
© Roy Johnson 2005

  Buy the book at Amazon UK

  Buy the book at Amazon US
---
Eric T. Peterson, Web Site Measurement Hacks, Sebastopol, CA: O'Reilly, 2005, pp.405, ISBN: 0596009887
---
More on eCommerce
More on media
More on publishing
More on technology
---