The Highlights and Newlights of the Hogarth Press
Woolf's-head Publishing was produced to coincide with the exhibition of Hogarth Press publications which ran from February to April 2009 at the library of the University of Alberta, Canada. It's not only a wonderful collection of cover designs, book jackets, and illustrations – but a beautiful example of book production in its own right. It's typeset in Caslon Old Face, which Leonard Woolf and Virginia Woolf used when they first set up the Hogarth Press on a table in their dining room in 1917.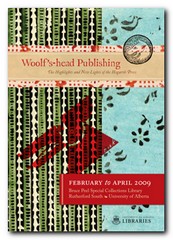 The book's dust jacket is printed on thick, richly textured paper with some of the exuberantly patterned papers originally used by the Press. It also features both of the woolf's-head logos used by the Press, designed by Vanessa Bell and E. McKnight Kauffer. Even the interior pages of the book are coloured, using tints and washes which are a tonal echo of the original designs.
Many of the book jacket illustrations by Vanessa Bell are already quite well known. But there are others by John Banting, Kauffer, and Trekkie Parsons (Leonard Woolf's 'lover' after Virginia's death) which illustrate the wide and imaginative range of visual approaches the Woolfs took for the presentation of their publications.
However, it's difficult for book jackets of this kind not to look rather dated today, almost a hundred years after their first appearance. But what definitely do not look dated are the richly patterned papers Leonard imported from Czechoslovakia and Japan for the volumes of poetry. These look as visually fresh today as they did at the time.
The authors represented stretch from the famous names who made the Press such a commercially successful venture – T.S.Eliot, Freud, Woolf, Vita Sackville-West – to people who have since disappeared into literary obscurity – Ena Limebeer, R.C.Trvelyan, and Virginia's sixteen-year-old discovery Joan Adeney Easdale.
There are also what author and exhibition curator Elizabeth Gordon describes as 'surprises' – books 'less commonly associated with the Hogarth Press'. These include a Canadian poet, a Bengali biography, translations of German poetry, (reflecting Leonard's internationalism) and even a diet book.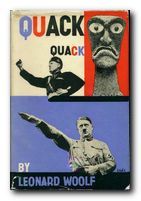 The other Press publications upon which the collection focuses are those by Virginia Woolf herself – all illustrated by her sister Vanessa Bell. There are also examples of the polemical essays published in the 1930s, which included arguments against Imperialism and in favour of feminism (of which Leonard was a champion). A short series of public letters even included 'A Letter to Adolf Hitler' by Louis Golding.
Best-sellers include Vita Sackville-West's The Edwardians (1930) and All Passion Spent (1931), William Plomer's detective thriller The Case is Altered (1932) and Christopher Isherwood's Goodbye to Berlin (1939).
This book is a genuine collector's item, and only months after its first publication it has started to win awards for its design and production values. Anyone with the slightest interest in book production, graphic design, typography, or Bloomsbury will want to own a copy the minute they clap eyes on it.

Buy the book at Amazon UK

Buy the book at Amazon US
© Roy Johnson 2009
---
Elizabeth Willson Gordon, Woolf's-head Publishing: The Highlights and Newlights of the Hogarth Press, Alberta (CA): University of Alberta, 2009, pp.144, ISBN: 9781551952406
---
More on biography
More on the Bloomsbury Group
Twentieth century literature
---