how to write for popular print publications
You don't have to be a journalist to read this book. Anyone with an interest in improving their writing skills and developing a sense of good style will find it useful. Wynford Hicks takes a no-nonsense, sleeves rolled up approach to writing for journalists which has no time for preciousness. It's based on the supposition that you simply have to get down to the task, start writing, and you must be prepared to hack around and edit what you produce. He starts logically enough with how to introduce stories – how to grab a reader's attention. There's lots of advice on the structure of news reporting, plus tips on clarity, consistency, and avoiding cliché.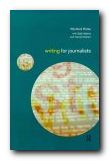 This is followed by a chapter on writing feature articles which shows you how to keep readers interested – how to stay bright and fresh in print. He also emphasises the importance of adapting your style to suit the publication. Almost every point is illustrated with an example drawn from newspapers or popular magazines. This brings the instructions to life, but you have to put up with a lot of the 'celebrity profile' writing that clogs Sunday supplements.
His main focus is on how to write a news story which is informative and interesting for readers. But he also includes tips on feature writing – from agony columns to profiles and product round-ups to obituaries. There's also a chapter on how to research, structure and write reviews. He ends with a cluster of advice tips related to good style – and how to cultivate it. There's also a useful glossary of the jargon of journalism.
This book will be useful to anybody who wants to develop a feel for what is required in popular journalism. It can hold its own alongside Harold Evans' Essential English for Journalists or Keith Waterhouse's Waterhouse on Newspaper Style in this respect. General readers meanwhile can pick up useful tips from the professionals.
© Roy Johnson 2008

  Buy the book at Amazon UK

  Buy the book at Amazon US
---
Wynford Hicks, Writing for Journalists, London: Routledge, 2nd edition 2008, pp.208, ISBN: 0415460212
---
More on journalism
More on creative writing
More on writing skills
More on publishing
---