Tutorial for creative writing
This is a practical writing guide aimed at students of creative writing. It covers poetry, the short story, theatre, and 'persuasive writing' of the kind which appears in essays and reports. Paul Mills starts with the practicalities of sentence construction – which lead immediately into grammatical issues of subjects, verbs, objects, punctuation, and then cliches. The next section of Writing in Action is a stroll through autobiographical writing, where he analyses a number of extracts quoted at length – some from professional writers, others by people learning to master the genre. On poetry he covers form, rhyme pattern and stress, as well as free verse.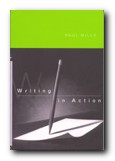 A chapter on prose discusses the subtle differences between anecdote and the short story. This leads to a consideration of point of view and the big differences between first and third person narratives. He also deals with character, suspense, and atmosphere.
Writing for the theatre is divided into what he calls 'personal', 'issues', and 'experimental' theatre. He describes plays by Harold Pinter and Peter Brook, and discusses the issue of physical movement on stage – but this section offers very little in the way of practical advice.
The last section deals with 'persuasive' writing. The academic essay is given very short shrift, but he does slightly better with journalistic articles on issues of current relevance.
This is a largely descriptive guide. It outlines the issues and characteristics of different forms of writing, and makes suggestions for further exercises. I can imagine it being a useful set text for a creative writing class.
© Roy Johnson 2001

  Buy the book at Amazon UK

  Buy the book at Amazon US
---
Paul Mills, Writing in Action, London: Routledge, 1996, pp.224, ISBN: 0415119898
---
More on creative writing
More on writing skills
More on publishing
---