creative theory and practical writing techniques
Can creative writing actually be taught? There is some debate about this question, but the number of university departments devoted to the subject is expanding so rapidly, many people must believe it's possible. And why not? After all, we believe that the skills of painting, music, and architecture can be taught, don't we. Ailsa Cox teaches creative writing, and this book is her version of an academic seminar – analysing the details of stories, then suggesting exercises which students (or readers) might complete to develop their own ability in writing short stories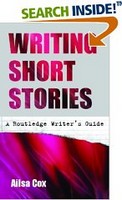 She kicks off with a good shot at defining the short story. How short is short? How long can a story be before it becomes a novella or a short novel? There are no simple answers to these questions. As soon as you think of an answer, you'll realise there are exceptions. But she explains what most stories have in common. She sets out a series of chapters which explore various types of short story: the suspenseful narrative, the fantasy, the comic yarn, and so on. Her approach is to explain the genre, outline its rules so far as they might exist, then look in detail at examples from masters of the short story, from Edgar Allen Poe to contemporary writers such as Stephen King and even her own work.
She deals with the plotless story – the 'epiphany' as deployed by James Joyce in 'The Dead' and Katherine Mansfield in 'Bliss'. Actually, she skids around quite a bit from one genre to another – from the tall tale, to the horror story, and back again via the anecdote – but there are lots of examples enthusiastically presented in such a way that I imagine they will appeal to the aspirant writers at whom the book is aimed.
She's very keen on fantasy and science fiction, so Kafka's 'Metamorphosis' and Jorge Luis Borges' 'Tlon Uqbar, Orbis Tertius' are given close scrutiny, alongside stories by H.G.Wells and William Gibson. Each chapter ends with a series of practical exercises. These are designed to provide ideas and prompts for the would-be writer – to start the imaginative pump working.
She makes a reasonable case for considering the higher journalism as a form of creative writing, and rightly points out that some of the best reportage can be considered as short stories if seen in a different light (or published somewhere other than in newspapers). She's not so convincing on her claims for erotic fiction, but fortunately she redeems herself by a sensitive reading of Chekhov's 'The Lady with the Little Dog'.
The book ends with several useful lists of resources for writers: magazines in print and online which accept short stories; prizes for short story writers; and organisations and databases – though for the ultimate list of resources readers will still need to consult The Writers' and Artists' Yearbook or The Writer's Handbook.
© Roy Johnson 2005

  Buy the book at Amazon UK

  Buy the book at Amazon US
---
Ailsa Cox, Writing Short Stories, London: Routledge, 2005, pp.197, ISBN: 0415303877
---
More on creative writing
More on writing skills
More on publishing
---