philosopher, writer, peace campaigner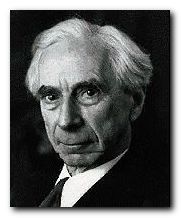 Bertrand Russell (1872-1970) was an unusual mixture of a popular and an academic philosopher. He was the inventor of The Theory of Descriptions. Like many philosophers he made his major contributions whilst quite young with The Principles of Mathematics (1903) and he followed this later with The Analysis of Mind (1921) and An Enquiry into Meaning and Truth (1940).
He was born the grandson of Lord John Russell, who had twice served as Prime Minister under Queen Victoria. Educated at first privately, and later at Trinity College, Cambridge. In 1894 he obtained first class degrees both in mathematics and in the moral sciences. The same year he got married to Alys Pearsall Smith, an American Quaker, who was the first of his four wives.
Like many others of his generation who attended Cambridge he was influenced by G.E. Moore and his Principia Ethica (1903) which propounded the principals of 'the pleasures of human intercourse and the enjoyment of beautiful objects' which inspired many of the Bloomsbury Group.
In 1904 he went to teach at Harvard, where T.S.Eliot became one of his students. Their paths continued to run in close parallel when both became members of the Bloomsbury Group – and closer still when Russell started an affair with Eliot's new wife Vivienne.
He was a regular visitor at Garsington, the country estate of Lady Ottoline Morrell with whom he had a long affair. [Mischievous commentators point out that she only had two baths a year, and he suffered from halitosis.] It was there that he also met D.H.Lawrence with whom he had a fairly virulent falling out. Their spat over existential matters led Russell to contemplating suicide. The same combination of attraction and male rivalry also affected his relationship with one of his star pupils, Ludwig Wittgenstein. In 1921 he divorced and married for the second time to Dora Black, with whom he set up a progressive school.
Later in life he wrote a series of popular books which were essays and reflections on topics such as liberty, freedom, censorship. Most of his popular writing is humane, stylish, and easy to read. Many modern attitudes we now take for granted – tolerance, liberal humanism, questioning of authority – were first articulated in collections such as The Conquest of Happiness, In Praise of Idleness, and Why I Am Not a Christian.
During the late 1920s and early 1930s, as his marriage to Dora broke down and as he lost faith in Beacon Hill, Russell continued to write books intended to emancipate readers from what he saw as the fetters of outmoded religious belief, restrictive marriages, repressed attitudes towards human sexuality, and authoritarian education practices.
In 1936 he married for the third time to Patricia (Peter) Helen Spence. While teaching in the United States in the late 1930s, Russell was offered a teaching appointment at City College, New York. The appointment was revoked following a large number of public protests and a judicial decision which stated that he was morally unfit to teach at the College.
Along with George Orwell, Russell was one of the few Western intellectuals on the Left not to be seduced by the claims of Marxist theory and Bolshevik practice in Russia. He retained his beliefs in non-violent resistance to wars until the aggressive expansionism of Hitler in Poland in 1939 compelled him to abandon his peace advocacy. He spent the Second World War in America where he wrote his most popular work, History of Western Philosophy.
He was awarded the Nobel prize for literature in 1950, divorced Peter Spence in 1952 and married for the fourth time to Edith Finch. In the 1960s he also embraced the cause of nuclear disarmament and was a prominent member of the Campaign for Nuclear Disarmament (CND). He died of influenza at his home in Merioneth, Wales in 1970.
---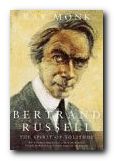 As Ray Monk's excellent biography of Russell makes clear, although he was elected to the Royal Society in 1908, Russell's teaching career at Cambridge appeared to come to an end in 1916 when he was dismissed from Trinity College because of a conviction for anti-war activities. Two years later he was convicted again. This time he spent six months in prison. It was while in prison that he wrote his well-received Introduction to Mathematical Philosophy (1919).
---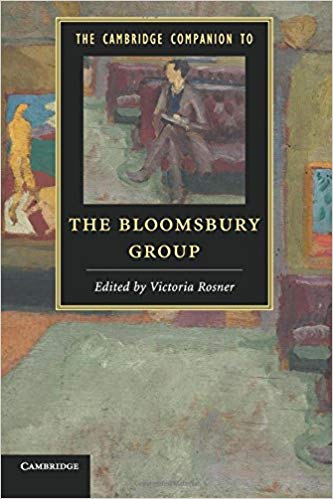 ---
Bloomsbury Group – web links

Hogarth Press first editions
Annotated gallery of original first edition book jacket covers from the Hogarth Press, featuring designs by Vanessa Bell, Roger Fry, and others.

The Omega Workshops
A brief history of Roger Fry's experimental Omega Workshops, which had a lasting influence on interior design in post First World War Britain.

The Bloomsbury Group and War
An essay on the largely pacifist and internationalist stance taken by Bloomsbury Group members towards the First World War.

Tate Gallery Archive Journeys: Bloomsbury
Mini web site featuring photos, paintings, a timeline, sub-sections on the Omega Workshops, Roger Fry, and Duncan Grant, and biographical notes.

Bloomsbury: Books, Art and Design
Exhibition of paintings, designs, and ceramics at Toronto University featuring Hogarth Press, Vanessa Bell, Dora Carrington, Quentin Bell, and Stephen Tomlin.

Blogging Woolf
A rich enthusiast site featuring news of events, exhibitions, new book reviews, relevant links, study resources, and anything related to Bloomsbury and Virginia Woolf

Hyper-Concordance to Virginia Woolf
Search the texts of all Woolf's major works, and track down phrases, quotes, and even individual words in their original context.

A Mrs Dalloway Walk in London
An annotated description of Clarissa Dalloway's walk from Westminster to Regent's Park, with historical updates and a bibliography.

Women's History Walk in Bloomsbury
Annotated tour of literary and political homes in Bloomsbury, including Gordon Square, University College, Bedford Square, Doughty Street, and Tavistock Square.

Virginia Woolf Society of Great Britain
News of events, regular bulletins, study materials, publications, and related links. Largely the work of Virginia Woolf specialist Stuart N. Clarke.

BBC Audio Essay – A Eulogy to Words
A charming sound recording of a BBC radio talk broadcast in 1937 – accompanied by a slideshow of photographs of Virginia Woolf.

A Family Photograph Albumn
Leslie Stephens' collection of family photographs which became known as the Mausoleum Book, collected at Smith College – Massachusetts.

Bloomsbury at Duke University
A collection of book jacket covers, Fry's Twelve Woodcuts, Strachey's 'Elizabeth and Essex'.
© Roy Johnson 2000-2014
---
More on biography
More on the Bloomsbury Group
Twentieth century literature
---