tutorial, study guide, commentary, web links
Brideshead Revisited (1945) was the ninth novel written by Evelyn Waugh. He had established his literary reputation with a series of comic satires in the inter-war years including Decline and Fall (1928), A Handful of Dust (1934), and Scoop (1938). But Brideshead is altogether a more serious work, with only a couple of amusing interludes punctuating a study of aristocratic decline in the 1920s and 1930s. It was written during the Second World War, and along with Waugh's later trilogy Sword of Honour (1952-1961) represents some of the most successful English fiction of that period.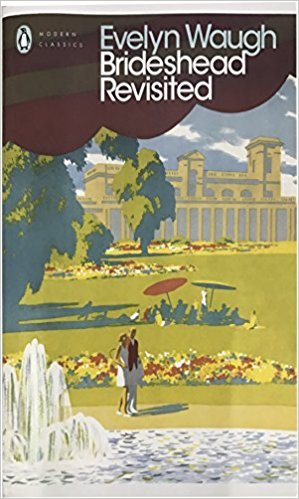 ---
Brideshead Revisited – commentary
The framed narrative – I
A framed narrative is one story enclosed within another. The term is used typically when the principal story is preceded or given its context by some sort of introduction. The 'outer' story might set the scene or supply the provenance for the 'inner' narrative. Then, when the principal story has been related, there may – or may not – be a return to the scene of the first. The outer elements 'frame' the main substance of the narrative. (For more on the framed narrative see below.)
Brideshead provides an excellent example of this framing technique. The novel opens towards the end of the Second World War when Charles Ryder's infantry unit is stationed at Brideshead Castle. The mood and the atmosphere of this Prologue are austere and grim, with an emphasis on wartime food rationing and physical discomfort. But when the protagonist Ryder reaches the country estate and its ancestral house, he recognises it as the background to his earlier life during the previous twenty years.
His recollection of those years form the principal events of the novel – and they are in marked contrast to the prologue. Ryder meets Sebastian Flyte at Oxford University and is introduced to the extravagantly rich and somewhat decadent lifestyle of the English aristocracy. The events of the following years unfold in a privileged, indulgent, and cultivated milieu.
But then in the Epilogue the narrative frame is closed by a return to Ryder's military existence in the 1940s. The beautiful ancestral home of the Flyte family at Brideshead is being vandalised by the billeted troops. The closing frame of the narrative matches that of the opening , and emphasises the contrast between the cultural values of the old and the new regime.
The first person narrative
Evelyn Waugh handles the delivery of the novel via first person narrative very skilfully. This mode is required to perform two important functions simultaneously– to reveal the character of the principal character, Charles Ryder, and to relate the series of events in which he becomes involved.
Charles is a sensitive and honourable chap who for the most part of the novel is operating outside his social depth. He comes from a lower social stratum than the people he befriends. It becomes immediately obvious to the reader that he is in danger of being led astray by his friendship with the recklessly indulgent Sebastian.
Fortunately, Sebastian is honourable too, even though he is on a self-destructive trajectory. But Charles does not fare so well with Sebastian's sister Julia. Despite his attraction to her (which is signalled in the early part of the novel) it is obvious to the reader that she is essentially manipulative and cold-hearted, and in the end she rejects Charles in favour of her religious scruples.
Waugh also uses the device of narrative ellipsis: the reporting of important events are missed out of the story in order to create dramatic tension. For instance, Charles recounts his success as an architectural painter and his trip to Latin-America without at first revealing to the reader that he is married. It gradually emerges that he has discovered his wife's infidelity – and thus has convincing reasons for not foregrounding the information.
He refers to at least one of their offspring as her child, which suggests that he suspects he might not be the father. All the subsequent exchanges between them reveal that Celia has been a cold and manipulative wife – just as Julia will ultimately be as a lover.
The main theme
There are two main themes in the novel – but they are closely linked. The more important theme is the decline of the English aristocracy, and the secondary theme is Charles Ryder's attraction to all that its culture implies. As Evelyn Waugh remarked of his own design: "When I wrote Brideshead Revisited I was consciously writing an obituary of the doomed English upper class."
The country estate of Brideshead Castle is the seat of the Flyte family and its head Lord Marchmain. The castle is gorgeously appointed and serviced by a large retinue of servants. But the titular head has decamped from the family home and is living with his mistress at a separate establishment in Venice. He is unable to regularise this situation socially because his wife refuses to give him a divorce, since she is a Catholic (a secondary or even tertiary theme).
But it gradually emerges that Lord Marchmain is running up debts because of this extravagant life style. And his offspring show every sign of accelerating the family's decline. The family's eldest son, emotionally constipated Bridey, eventually marries the middle-aged widow of a fellow matchbox collector. The daughter Julia marries arriviste Mottram, who cannot be formally recognised by the family because he is a divorcee. Even when Julia forms a relationship with the unhappy Charles Ryder, she cannot marry him because of a sudden resurgence of her Catholic beliefs.
The two younger members of the family are similarly blighted. Sebastian becomes a hopeless dipsomaniac and ends up destitute, attaching himself to a monastery in Tunisia. His younger sister Cordelia is entirely given up to nun-like behaviour and the pursuit of charitable works in war zones.
Yet Charles Ryder is clearly attracted to the world this family represents. He comes from a lower echelon of society. His father is rich enough to send him to Oxford and give him an allowance, but he limits this support – in a very amusing manner. Charles clings to Sebastian's coat tails and accepts his generous hospitality and support.
He also falls in love with Sebastian's sister, with whose good looks hers are frequently compared. There is another tertiary theme to the novel in the quasi-homosexual relationship between the two young men. And Ryder does eventually live at Brideshead with Julia (who inherits the house from her father). But he is denied his ambition to merge with the family because Julia is shocked by her father's death into a resumption of her Catholic beliefs. Ryder's outcome is to become "homeless, childless, middle-aged and loveless".
It is no accident that this nostalgic yearning for an aristocratic heritage (even whilst recognising its decadence) has been the principal mood of two very glamorous and successful film adaptations of the novel. There was an eleven part television series in 1981produced by Granada Television, and an independent feature film in 2008 – both of which put enormous emphasis on this aspect of the narrative.
The novel also seems to have spawned any number of further aristocratic country house television dramas of the Upstairs, Downstairs variety. These depict late Victorian and early Edwardian upper-class life in a manner which simultaneously offers a sympathetic view of toffs with patronising sketches of life 'below stairs'.
But the main purpose of these television and film dramas is to present comforting images of luxury, wealth, and cultivated living which offer a reassuring depiction of an earlier age to the viewer. Evelyn Waugh is partly responsible for dressing Brideshead Revisited in this nostalgic and escapist presentation of life.
But his view is also modified by having the glamour of Brideshead and transatlantic voyages sandwiched between grim scenes of Britain at war in the 1940s. He hopes the social vandals will not prevail, but he is not sure, and that doubt ultimately gives the novel its cutting edge.
The framed narrative – II
A typical and famous example of the framed narrative is Joseph Conrad's Heart of Darkness (1902). His novella begins with an after-dinner conversation between sailors on the Thames. One of the characters (Marlow) relates his experiences sailing up river in the Belgian Congo. When he has finished, the story returns to the group still moored on the Thames. The main story is framed both by the geographic location and the philosophic reflections Marlow offers on historical comparisons between Europe and Africa.
Another famous example demonstrates the incomplete or one-sided frame. Henry James' novella The Turn of the Screw (1898) opens with a similar group of people swapping stories after dinner. One of the party relates a horrifying tale which reveals the experiences of a governess looking after two children in an old house that appears to be haunted. But when the fears of the governess reach their dramatic climax, the novella ends, without returning to the opening scene.
---
Brideshead Revisited – study resources
Brideshead Revisited – Penguin – Amazon UK
Brideshead Revisited – Penguin – Amazon US
Brideshead – Study Guide – Paperback – Amazon UK
Evelyn Waugh: A Life Revisited – Paperback – Amazon UK
Brideshead Revisited – DVD – Amazon UK
The full 1980 Granada television series in 11-parts
Brideshead Revisited – DVD – Amazon UK
The 2008 BBC feature film version.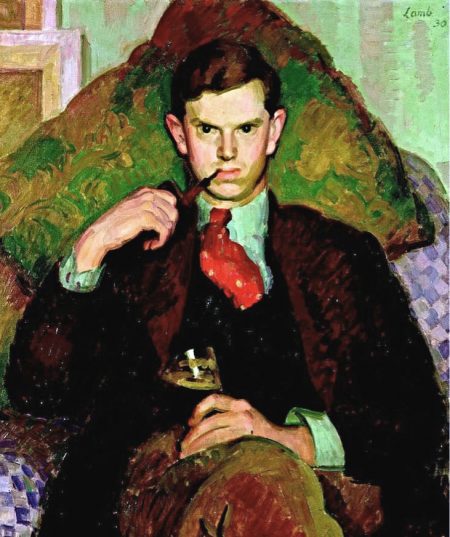 Evelyn Waugh – by Henry Lamb
---
Brideshead Revisited – plot summary
Prologue
During the latter years of the Second World War, Captain Charles Rider and his infantry army unit arrive at their temporary headquarters in the requisitioned country house of Lord Marchmain at Brideshead Castle.
Book One
Ch 1 Ryder recalls his early days at Oxford University twenty years previously and his meeting Sebastian Flyte, who takes him to his family's stately home at Brideshead.
Ch 2 Charles is reproached by his cousin Jasper for mixing with the 'wrong set'. Then aesthete Anthony Blanche reveals a critical account of Lord and Lady Marchmain's troubled marriage.
Ch 3 Ryder returns home for the long vacation. He is in debt, but his father ignores his requests for help, and makes his life a misery behind a facade of loving concern. Sebastian tricks Charles into returning to Brideshead, where he meets his sister Julia Flyte.
Ch 4 Charles spends an idyllic summer at Brideshead with Sebastian. They visit Lord Marchmain in Venice, where Marchmain's mistress Cara gives Charles a vivid account of the Lord's hatred of his wife, who refuses to divorce him.
Ch 5 During a subdued second year at Oxford, Charles meets Rex Mottram. There is an excursion to a party in London where Charles, Sebastian, and Boy Mulcaster get drunk and spend time in jail. Christmas at Brideshead finds the Oxford don Samgrass being pious and boring. Sebastian feels oppressed by his family and starts drinking heavily. Lady Marchmain puts emotional pressure on Charles, and Sebastian is eventually sent down for a term. Charles decides to quit Oxford and take up painting.
Book Two
Ch 1 As a punishment, Sebastian is sent on a tour of Levantine monasteries with Samgrass, and on return to Brideshead is forbidden drink. He reveals to Charles that whilst on holiday he gave Samgrass the slip and is still drinking.
Charles is reproached by Lady Marchmain and he leaves Brideshead. He sets up as a painter in Paris, where he is visited by Rex Mottram, who reveals that the Flyte family are losing money through profligate over-indulgence. Mottram marries Julia later in the year in a very quiet wedding.
Ch 2 Charles recalls Julia's ambitions to marry and its arriviste connotations. She becomes secretly engaged to Rex Mottram only because she is jealous of his affair with a married woman. Rex tries (unsuccessfully) to become a Catholic. It is then revealed that he is divorced after a former youthful marriage in Canada. The family object, and the marriage is low key and disastrous for everyone..
Ch 3 Charles returns from Paris to join National Service during the General Strike of 1926. Lady Marchmain dispatches Charles to bring back Sebastian from Morocco, where he finds him in hospital. Lady Marchmain dies. Charles makes paintings of the Flyte's house in London, which is being sold off to developers to pay Lord Marchmain's debts.
Book Three
Ch 1 Charles eventually becomes a successful architectural painter. He travels alone in Mexico and Central America for nearly two years, then joins his wife Celia in New York. Sailing back to England they meet Julia Flyte with whom Charles is in love. There is desultory socialising on board and a heavy storm. Charles and Julia exchange accounts of their failed marriages, sleep together, and arrange to meet in London.
Ch 2 Charles has an exhibition in London, and he evades going home. Anthony Blanche reappears, reports that Charles' affair with Julia is public knowledge, and criticises his paintings. Charles and Julia travel to Brideshead, where her husband Rex is living.
Ch 3 Two years later Charles and Julia are living at Brideshead. Bridey announces that he is going to be married but cannot present his fiancee because Charles and Julia are 'living in sin'. He plans to move his new family into the house, with his father's consent.
Ch 4 Divorce proceedings are set in motion by Charles and Celia, then Rex and Julia. Cordelia returns from nursing the wounded in the Spanish Civil War with news of Sebastian. He has continued drinking, has become derelict, and attached himself to a monastery in Tunis.
Ch 5 Suddenly Lord Marchmain returns from Italy in a severely enfeebled condition to die in his ancestral home. There is discussion about who will inherit Brideshead. Lord Marchmain disapproves of Bridey's middle-class fiancee Beryl, and leaves the stately home to Julia in his will. Marchmain on his death bed reverts to his original religious belief. Julia then tells Charles that she cannot marry him and they must separate for ever.
Epilogue
Ryder and his men are occupying the ground floor of Brideshead, where troops have been vandalising the building and the grounds. He learns that Julia and Cordelia have gone out to Palestine to help in the war effort.
---
Brideshead Revisited – principal characters
| | |
| --- | --- |
| Charles Ryder | the narrator, a young man who becomes a painter then a soldier |
| Lord Marchmain | head of the Flyte family, living in Venetian exile |
| Lady Teresa Marchmain | his wife, a devout Roman Catholic |
| Earl Brideshead | 'Bridey' the elder son, emotionally bankrupt |
| Sebastian Flyte | the charming, troubled younger son who becomes a derelict and alcoholic |
| Julia Flyte | the attractive but remote elder daughter |
| Cordelia Flyte | the younger daughter who is a selfless and devout Catholic |
| Celia Ryder | Charles' vivacious but unfaithful wife |
| 'Boy' Mulcaster | Celia's brother, a 'Hooray Henry' at Oxford |
| Rex Mottram | a Canadian arriviste who marries Julia then tolerates her affair with Charles |
| Anthony Blanche | an aesthete and homosexual friend of Charles and Sebastian |
© Roy Johnson 2018
---
More on Evelyn Waugh
More on the novella
More on literary studies
More on short stories
---