tutorial, study guide, plot summary, web links
Scoop (1938) was Evelyn Waugh's fifth published novel. It continues the comic themes he had established with Decline and Fall (1928), Vile Bodies (1930), Black Mischief (1932), and A Handful of Dust (1934). A naive and innocent young man is swept up into events which are beyond his control. He is surrounded by villainy and deception on all sides. Farcical misunderstandings abound, and the workings of the press come in for a great deal of satire.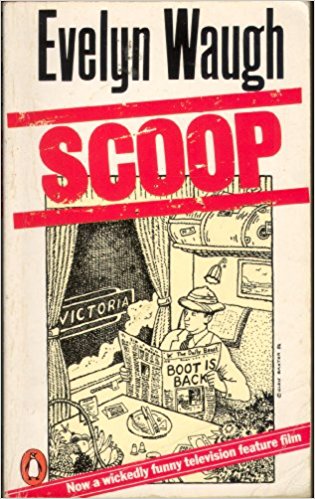 ---
Scoop – commentary
There are three main targets for Evelyn Waugh's satire in Scoop – African government, the English upper class, and the profession of journalism.
Like its predecessor Black Mischief, Scoop is largely set in a fictional African country – Ishmaelia. The government is run entirely on a system of nepotism: every official is a member of the same family. Voting is rigged, and 'the adverse trade balance [is] rectified by an elastic system of bankruptcy law'.
When a quarrel breaks out in the ruling family (leading to civil war) one faction declares that the Ishmaelites are in fact a white race who must 'purge themselves of the Negro taint'. A military coup takes place, the first result of which is a proclamation abolishing Sundays. The coup is overthrown the following day.
And although there is fun made of native incompetence in running the government, the naivety of its original colonisers is not forgotten:
Various courageous Europeans, in the seventies of the last century, came to Ishmaelia, or near it, furnished with suitable equipment of cuckoo clocks, phonographs, opera hats, draft-treaties and flags of the nations which they had been obliged to leave. They came as missionaries, ambassadors, tradesmen, prospectors, natural scientists. None returned. They were eaten, every one of them; some raw, others stewed and seasoned
Evelyn Waugh worked in journalism for Lord Beaverbrook's Daily Express and made journeys to Africa and South America reporting for a number of newspapers. He had satirised the behaviour of journalists in earlier novels, but Scoop mocks the entire profession, from individual reporters to editors and even newspaper owners.
It is the lofty vanity of Lord Copper, owner of the Daily Beast that precipitates the misunderstanding about Boot's identity in the first place. It also provides the toe-curlingly embarrassing finale when Copper is forced to address his celebration banquet with William Boot's uncle Theodore, the aged roue, representing the 'achievements of youth'.
Journalists and the upper class are combined as targets of his satire in a wonderful episode where the foreign editor Mr Salter is forced to visit William Boot at his home in the depths of the West Country. Beyond Taunton he is just as out of his depth as Boot has been in Africa. The family's home at 'Boot Magna' is a parody of upper-class rural existence. It is remote, cold, and unwelcoming, offering superficial consideration with no human warmth. The accommodation is austere, and an extended family of quasi-eccentrics is characterised by each member locked into isolated self-interest.
But the main target for Waugh's satire is journalists – particularly the English. They cluster together at the Hotel Liberty as if it were a gentleman's club. None of them do anything active in the way of news gathering; they hardly ever venture outside the confines of the hotel bar; and their main source of information is each other. Yet they all want to claim the kudos for being the first to report important new events – hence the title of the novel.
William Boot is not unlike his historical counterpart Candide – a simple and naive young man confronted by the villany and absurdity that exists outside his sheltered world. He is living in peaceful rural seclusion, happy to be writing his articles on countryside matters. Because of the incompetence of other people he is pulled out of this simple and untroubled life and plunged into an almost farcical situation. He is surrounded by liars, cheats, and frauds; his gullibility is preyed upon by charlatans; and like many naive innocents he falls in love with an unscrupulous vamp.
Katchen is virtually a prostitute who squeezes money out of him at every possible opportunity. She claims to be married, but isn't. She claims to be German, but is of mongrel Pan-European origin. William is well to be rid of her when she departs in his collapsible canoe.
And at the end of it all, just like Candide, William Boot is happy to simply return home and 'cultivate his garden'. He eventually rejects the lure of Fleet Street and returns to the profound depths of the West Country and resumes his column Lush Places:
the wagons lumber in the lane under their golden glory of harvested sheaves, maternal rodents pilot their furry brood through the stubble
---
Scoop – study resources
Scoop – Penguin – Amazon UK
Scoop – Penguin – Amazon US
Scoop – study guide – Amazon UK
Six novels by Evelyn Waugh – Amazon UK
Evelyn Waugh: A Life Revisited – Amazon UK
Scoop – DVD film – Amazon UK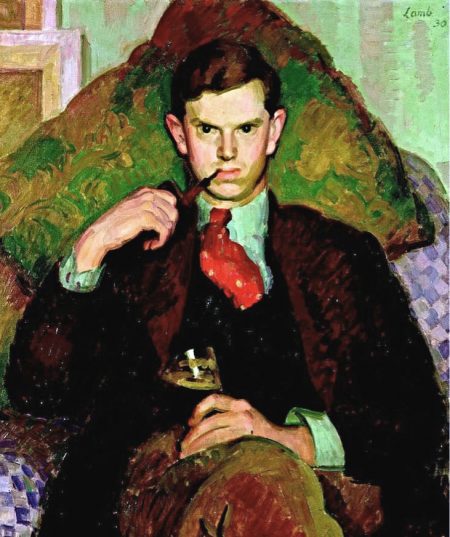 Evelyn Waugh – by Henry Lamb
---
Scoop – plot summary
Book I – The Stitch Service
Socialite Mrs Stitch recommends novelist John Boot to Lord Copper of the Daily Beast to cover a political crisis in Ishmaelia. The newspaper's foreign editor by mistake invites William Boot, who writes a countryside column for the newspaper. William is a naive and hopelessly inexperienced provincial young man.
He is nevertheless engaged and kitted out with ridiculously inappropriate equipment. After obtaining visas from rival consulates he flies to France and catches the train in Paris where he is joined by a dubious and boastful fellow passenger. On a ship from Marseilles he is harrassed by the crude agency journalist Corker who spies on Boot's telegrams from the Beast and collects tourist junk from the bazaars.
Book II – Stones £20
Ishmaelia is a country theoretically organised on rational liberal principles but is actually dominated by a corrupt family and run incompetently. During a period of political turbulence, journalists from several countries are based at the Hotel Liberty.
When William Boot and Corker arrive their luggage has been lost in transit. The journalists desperately seek information from each other. One cables news of a new Bolshevik envoy simply because he has a false beard – but the man turns out to be a railway ticket collector.
Boot is given information by the British vice-consul, but Corker denies its validity. A special train arrives with their lost luggage and lots more journalists. Boot moves into a pension and meets a married German girl who immediately dupes him out of twenty pounds.
The journalists depart en masse into the interior to visit a city which does not exist. William stays in the capital and falls in love with Katchen, who is not married and is not German. He is sacked from the Beast but the same day sends them some gossip he has picked up from Katchen, who is fleecing him mercilessly.
The British envoy reveals to Boot the mining rights to gold mineral deposits that are the cause of political tensions. He relays this information to the Beast and is re-instated. Katchen's 'husband' appears to recover his gold ore and Katchen herself. They escape in William's collapsible canoe.
The mysterious Mr Baldwin arrives by parachute and gives Boot lots of detailed political information. The Soviet Union of Islamaelia is proclaimed. Its first act is to abolish Sundays. A counter-revolution occurrs on the same day.
Book III – Banquet
Lord Copper of the Beast recommends Boot for a knighthood – but it is awarded in error to the novelist John Boot, the author of smutty stories.
William returns to great acclaim but turns down public adulation and goes straight back home. Mr Slater is despatched to Boot Magna to sign William to the paper in fear that he will join the rival Daily Brute. Slater is poorly received and pestered by William's garrulous uncle.
Lord Copper gives a banquet to honour William, but it is his aged uncle Theodore Boot who is mistakenly presented as the hero and commended as the 'triumph of youth'.
---
Scoop – main characters
| | |
| --- | --- |
| William Boot | a young writer on rural matters |
| John Courtney Boot | a remote cousin, writer of 'smutty' novels |
| Theodore Boot | William's elderly uncle, a roue |
| Lord Copper | owner of the Daily Beast |
| Mr Salter | obsequious foreign editor of the Beast |
| Mrs Stitch | well connected society lady |
| Corker | vulgar agency reporter |
| Katchen | a mercenary blonde prostitute |
© Roy Johnson 2018
---
More on Evelyn Waugh
More on the novella
More on literary studies
More on short stories
---