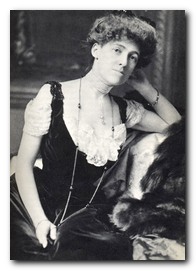 writer, traveller, socialite, gardener, interior designer
1862. Edith Newbold Jones born into wealthy 'old money' family in New York. Her childhood nickname was 'Pussy Jones'.
1866. Following depreciation on the US Dollar after the Civil war, family move to tour and live in Europe for economic reasons. They live in Paris, Rome, Germany, and Spain. Edith learns French, Italian and German. She inherits a strong sense of place and visual memory from her father.
1872. Family returns to live in New York city, spending the summers in Newport. Edith has a difficult, estranged, and rivalrous relationship with her mother, who has no sympathy with Edith's artistic and imaginative interests. Edith relieves her solitude by reading in her father's library, where she becomes acquainted with classics of modern French, Italian, English literature.
1877. First poems published in Atlantic Monthly.
1879. Successful debut into New York society at 17 years old.
1880. The family returns to live in Europe – London, Paris, and Venice. Edith strongly influenced by Ruskin and his concepts of art and architecture.
1882. Death of her father in Cannes. Edith and her mother return to New York.
1885. Edith marries Edward (Teddy) Wharton who does not share her intellectual tastes. It is a marriage for which she is singularly unprepared. They set up home at 'Penridge Cottage' (a lavish house) in Newport, and socialize amongst rich New Yorkers (Van Allens, Astors, Vanderbildts) giving parties, boating, and engaging in fashionable archery contests.
1888. Whartons go on lavish Mediterranean cruise paid for with a legacy.
1889. Edith's stories and poems began to appear in Scribner's Magazine. She begins to suffer from attacks of asthma, nausea, and fatigue
1892. The Whartons acquire their own first home at Land's End in Newport – another large-scale house with views on the Atlantic.
1893. French poet and writer Paul Bourget arrives in Newport with a letter of introduction and becomes lifelong friend. He introduces her to his intellectual friends in Paris. She makes intellectual friendship with Edgerton Wynthrop, who becomes her mentor. Meets architect Ogden Codman and commissions him to re-furbish her house at Land's end.
1897. She co-writes and publishes with Ogden Codman The Decoration of Houses, which is immediately successful and establishes her reputation as an interior designer with a taste for modern style, removing the clutter of the Victorian period from homes. She promotes Codman's reputation and becomes virtually the project manager of his commissions.
1898. Suffers a nervous collapse and is advised to take a rest-cure by the same doctor who treated Charlotte Perkins Gilman.
1899. Publishes The Greater Inclination, a collection of short stories.
1901. Publishes Crucial Instances a second collection of short stories. Death of her mother in Paris. Edith inherits $90,000 and immediately begins building a huge house (forty-two rooms) in Lenox, Massachusetts.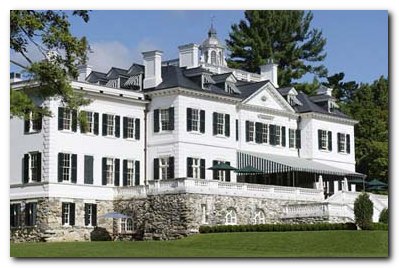 Edith Wharton's house – The Mount
1902. Scribners publish The Valley of Indecision, her first novel, which re-creates eighteenth century Italy.
1903. Travels in Europe, and writes Italian Villas and their Gardens. Meets Vernon Lee (Violet Paget) and painter John Singer Sargeant.
1904. Begins friendship with Henry James. She earns more from her writing than he does. They travel together in motor cars named after George Sand's lovers. The Descent of Man and Other Stories.
1905. The House of Mirth her next novel dealing with modern New York, becomes a best-selling success, following serialization in Scribner's Magazine.
1906. Edith and her husband spend time in England with Henry James.
1907. Whartons travel through France with Henry James, where Edith meets London Times correspondent W. Morton Fullerton. She starts writing her secret 'love diary'.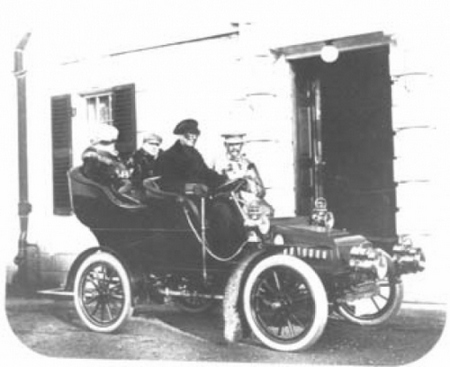 Edith Wharton motoring with Henry James
1908. Edith begins an affair with Fullerton and is passionately moved for the first time in her life. She confides in Henry James, who advises her to 'sit tight'.
1909. Meets art critic Bernard Berenson in Paris, and for first time does not return to spend the summer at her house, The Mount.
1911. The affair with Fullerton comes to an end, but they remain friends. She establishes an American expatriate salon in Paris and mixes with many cosmopolitan artists – Jean Cocteau, Andre Gide, Serge Diaghilev, and Walter Sickert. Close friendships with Comtesse Rosa de Fitz-James and Comtesse Anna de Noailles. Publishes her novella Ethan Frome which she says ends her period of apprenticeship as a writer.
1912. Edith sells her house The Mount and the same year is formally divorced from her husband Teddy. Publishes The Reef.
1913. Publishes The Custom of the Country.
1914. At the outbreak of the first world war, Edith sets up workshops for working-class women whose husbands have been conscripted. Travels around battlefront in her car with Walter Beery, and writes pro-French articles for the American press. Engages in fund-raising efforts amongst her friends
1916. Death of her friend Henry James. She is awarded the Legion of Honour.
1917. Publishes novella Summer.
1918. Purchases eighteenth-century house, Pavilion Colombie, outside Paris. Restores the house and develops its seven acres of formal gardens
1920. Buys and restores Chateau Sainte-Claire and its gardens in Hyeres, southern Provence. Publishes The Age of Innocence. Begins writing 'Beatrice Palmato' – a work about incest.
1921. Awarded the Pulitzer Prize for The Age of Innocence. A great deal of her time is spent developing the extensive gardens on her two estates in Paris and Hyeres.
1923. Makes her final visit to the USA where she is awarded honorary doctorate at Yale university – the first woman to be so honoured. Increasingly reliant on servants – at a time when in the post-war era when working 'in-service' was less popular.
1925. Publishes The Writing of Fiction.
1926. Charters yacht for Mediterranean cruise. Visits Bernard Berenson at I Tatti.
1929. Publishes Hudson River Bracketed.
1930. Collection of short stories, Certain People appears.
1933. Another collection of short fiction, Human Nature appears.
1934. Publishes her reminiscences, A Backward Glance. Begins work on a final novel, The Buccaneers, which is never published.
1937. Dies of heart failure and is buried at Versailles.
© Roy Johnson 2011
---
More on Edith Wharton
More on the novella
More on literary studies
More on short stories
---