tutorial, commentary, study resources, and web links
Flickerbridge first appeared in Scribner's Magazine in February 1902. It's one of a number of stories Henry James wrote around this time concerned with artists and their personal privacy. James was so concerned for his own privacy that he burned all his private papers late on in life – as did his contemporary Thomas Hardy.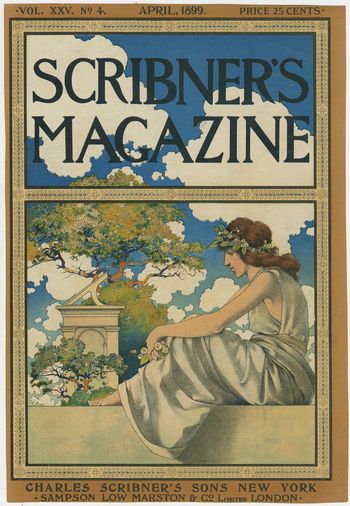 ---
Flickerbridge – critical commentary
This would appear to be another variation on the theme of 'fear of marriage' theme which features repeatedly in James's work around this time (one thinks of Maud-Evelyn, The Beast in the Jungle, and The Altar of the Dead).
At the start of the story Frank Granger feels that Addie is more successful in her career as a journalist and writer of short stories: she 'sailed under more canvas'. And she wants to return to the United States. They were engaged a year previously, but he now feels unsure and thinks of them as 'the best of friends'.
Exposure to Miss Wenham and Flickerbridge forces him to reappraise Addie, and he begins to see her as a voracious publicity machine (the writer with 'a regular correspondence for a "prominent Boston paper"') which will spoil both Miss Wenham by making her self-conscious. He warns her:
We live in an age of prodigious machinery, all organised to a single end. That end is publicity—a publicity as ferocious as the appetite of a cannibal. The thing therefore is not to have any illusions—fondly to flatter yourself … that the cannibal will spare you. He spares nobody He spares nothing … You'll be only just a public character—blown about the world for all you are and proclaimed for all you are from the housetops
This is the same sceptical criticism of modern image manipulation and empty celebrity culture which James attacked in The Papers, which was written in the same year. But that is the superficial significance of the story: the underlying issue for those who wish to trace the recurrent themes in James's work is that of a bachelor, faced with the prospect of marriage, finding some reason plausible to himself to delay, postpone, or cancel the event.
This leads into the realms of psycho-analytic criticism. We know that James wrestled with both the question of matrimony and the nature of his own sexuality, and for reasons perfectly good to himself he decided not to get married.
---
Flickerbridge – study resources

The Complete Works of Henry James – Kindle edition – Amazon UK

The Complete Works of Henry James – Kindle edition – Amazon US

Complete Stories 1898—1910 – Library of America – Amazon UK

Complete Stories 1898—1910 – Library of America – Amazon US

Flickerbridge – Digireads reprint edition – Amazon UK

Flickerbridge – eBook formats at Gutenberg Consortia

Flickerbridge – read the story on line

The Prefaces of Henry James – Introductions to his tales and novels

The Cambridge Companion to Henry James – Amazon UK

Henry James at Wikipedia – biographical notes, links

Henry James at Mantex – tutorials, biography, study resources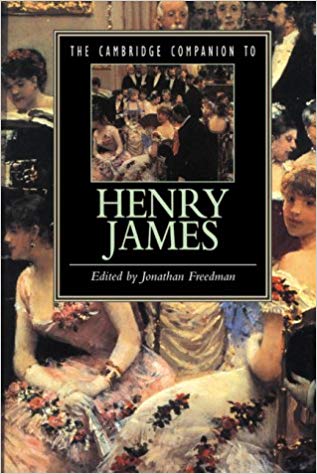 ---
Flickerbridge – plot summary
Part I. Frank Granger is a young American artist living in Paris. He is ambiguously engaged to Addie (Adelaide) an American writer and journalist. When an enthusiast Mrs Bracken commissions a portrait of herself before she returns to America, he travels to London to undertake the work.
Part II. In London he falls ill, but receives a letter from Addie suggesting that he recuperate in the country, where a recently discovered distant relative lives. Letters are exchanged, and a Miss Wenham invites him to Flickerbridge.
Part III. The house where she lives turns out to be a very old and completely unspoiled relic, almost a living museum. And Miss Wenham herself matches the location: She is a quiet and charming old lady, quite untouched by the contemporary world. Granger thinks of her as 'Gothic'. He writes a long and enthusiastic letter to Addie, describing Flickerbridge and her relative. But he does not post it, writing a shorter alternative letter instead.
Part IV. In conversation with Miss Wenham he describes the ambiguous state of his engagement, and he flatters the elderly lady, enthusing about Flickerbridge and her as its presiding genius. They receive a letter from Addie, expressing her wish to visit.
Part V. Miss Wenham is very keen to meet her relative, but Granger develops reservations. He argues that Flickerbridge and Miss Wenham will be spoiled if they are exposed to the outside world. Miss Wenham might enjoy the attention, but all will be changed by it. He points out that Addie will 'publicize' Miss Wenham and that she will be spoiled by its effects.
Part VI. Letters are dispatched in an attempt to dissuade Addie, but finally she announces that she will be arriving in a couple of day's time. Granger decides to leave Flickerbridge and go to Oxford so that he will not be there when she arrives, revealing as he does so that he has broken off the engagement.
---
Principal characters
| | |
| --- | --- |
| Flickerbridge | a small English country town |
| Frank Granger | a young American artist |
| Addie (Adelaide) | a young American writer and journalist |
| Mrs Bracken | an American woman who commissions Granger |
| Miss Adelaide Wenham | Addie's relative in Flickerbridge |
| Miss Banker | a society gossip |
---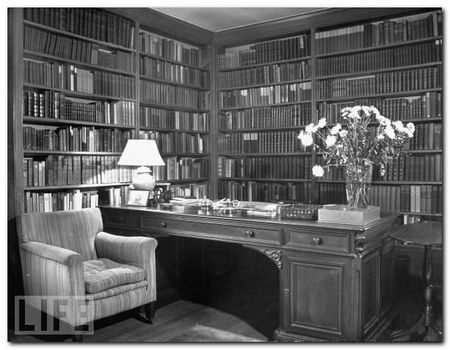 Henry James's study
---
Further reading
Biographical

Theodora Bosanquet, Henry James at Work, University of Michigan Press, 2007.

Leon Edel, Henry James: A Life, HarperCollins, 1985.

Philip Horne (ed), Henry James: A Life in Letters, Viking/Allen Lane, 1999.

Fred Kaplan, Henry James: The Imagination of Genius, Johns Hopkins University Press, 1999

F.O. Matthieson (ed), The Notebooks of Henry James, Oxford University Press, 1988.
Critical commentary

Ian F.A. Bell, Henry James and the Past, London: Palgrave Macmillan, 1993.

Millicent Bell, Meaning in Henry James, Cambridge (MA): Harvard University Press, 1993.

Harold Bloom (ed), Modern Critical Views: Henry James, Chelsea House Publishers, 1991.

Kirstin Boudreau, Henry James's Narrative Technique, Macmillan, 2010.

Daniel Mark Fogel, A Companion to Henry James Studies, Greenwood Press, 1993.

Jonathan Freedman, The Cambridge Companion to Henry James, Cambridge University Press, 1998.

Roger Gard (ed), Henry James: The Critical Heritage, London: Routledge, 1968.

Tessa Hadley, Henry James and the Imagination of Pleasure, Cambridge University Press, 2009.

Barbara Hardy, Henry James: The Later Writing (Writers & Their Work), Northcote House Publishers, 1996.

Richard A. Hocks, Henry James: A study of the short fiction, New York: Twayne Publishers, 1990.

Colin Meissner, Henry James and the Language of Experience, Cambridge University Press, 2009

John Pearson (ed), The Prefaces of Henry James, Pennsylvania State University Press, 1993.

Ruth Yeazell (ed), Henry James: A Collection of Critical Essays, Longmans, 1994.
---
Other works by Henry James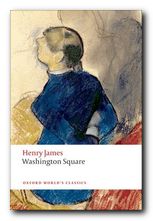 Washington Square (1880) is a superb early short novel, It's the tale of a young girl whose future happiness is being controlled by her strict authoritarian (but rather witty) father. She is rather reserved, but has a handsome young suitor. However, her father disapproves of him, seeing him as an opportunist and a fortune hunter. There is a battle of wills – all conducted within the confines of their elegant New York town house. Who wins out in the end? You will probably be surprised by the outcome. This is a masterpiece of social commentary, offering a sensitive picture of a young woman's life.


Buy the book from Amazon UK


Buy the book from Amazon US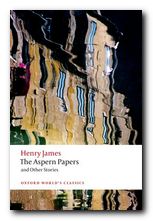 The Aspern Papers (1888) is a psychological drama set in Venice which centres on the tussle for control of a great writer's correspondence. An elderly lady, ex-lover of the writer, seeks a husband for her daughter. But the potential purchaser of the papers is a dedicated bachelor. Money is also at stake – but of course not discussed overtly. There is a refined battle of wills between them. Who will win in the end? As usual, James keeps the reader guessing. The novella is a masterpiece of subtle narration, with an ironic twist in its outcome. This collection of stories also includes three of his accomplished long short stories – The Private Life, The Middle Years, and The Death of the Lion.


Buy the book from Amazon UK


Buy the book from Amazon US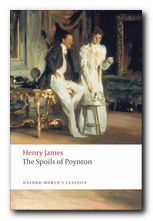 The Spoils of Poynton (1896) is a short novel which centres on the contents of a country house, and the question of who is the most desirable person to inherit it via marriage. The owner Mrs Gereth is being forced to leave her home to make way for her son and his greedy and uncultured fiancee. Mrs Gereth develops a subtle plan to take as many of the house's priceless furnishings with her as possible. But things do not go quite according to plan. There are some very witty social ironies, and a contest of wills which matches nouveau-riche greed against high principles. There's also a spectacular finale in which nobody wins out.


Buy the book from Amazon UK


Buy the book from Amazon US
© Roy Johnson 2012
---
Henry James – web links

Henry James at Mantex
Biographical notes, study guides, tutorials on the Complete Tales, book reviews. bibliographies, and web links.

The Complete Works
Sixty books in one 13.5 MB Kindle eBook download for £1.92 at Amazon.co.uk. The complete novels, stories, travel writing, and prefaces. Also includes his autobiographies, plays, and literary criticism – with illustrations.

The Ladder – a Henry James website
A collection of eTexts of the tales, novels, plays, and prefaces – with links to available free eTexts at Project Gutenberg and elsewhere.

A Hyper-Concordance to the Works
Japanese-based online research tool that locates the use of any word or phrase in context. Find that illusive quotable phrase.

The Henry James Resource Center
A web site with biography, bibliographies, adaptations, archival resources, suggested reading, and recent scholarship.

Online Books Page
A collection of online texts, including novels, stories, travel writing, literary criticism, and letters.

Henry James at Project Gutenberg
A major collection of eTexts, available in a variety of eBook formats.

The Complete Letters
Archive of the complete correspondence (1855-1878) work in progress – published by the University of Nebraska Press.

The Scholar's Guide to Web Sites
An old-fashioned but major jumpstation – a website of websites and resouces.

Henry James – The Complete Tales
Tutorials on the complete collection of over one hundred tales, novellas, and short stories.

Henry James on the Internet Movie Database
Adaptations of James's novels and stories for the cinema and television – in various languages. Full details of directors and actors, production features, film reviews, box office, and even quizzes.
---
More tales by James
More on literature
More on the novella
More on literary studies
More on short stories
---