advice  plus extensive online resources for authors
How can the Internet help authors today? Isn't writing still just a matter of putting pen to paper? There are so many new developments in electronic publishing, free web space, media mergers, and online bookshops: won't these take our attention away from being creative? Well yes, they might. But they also open up exciting new possibilities. That's why Jane Dorner has written The Internet: A Writer's Guide – as a road map through the maze.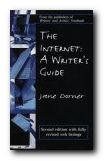 She starts from the most logical point – how to get connected, what equipment you need, and how to operate the essentials. In the discussion of email she begins to consider the special needs of writers – how to send attachments; how to submit work to publishers; even how to conduct email interviews.
On the Web, she explains the techniques of efficient searching, how sites are used for publishing, and what to do when it all goes wrong.
She touches on writing groups which exist in the form of mailing lists, websites, newsletters, chat groups, and conferences. The strength of this approach is that given a little trial and error, most writers will be able to locate the sort of forum which suits them best.
There's an interesting chapter on electronic publishing and what are now becoming known as e-book readers. This is very timely, as the market potential for this type of distribution has just opened up again with the success of products such as the 3″ X 5″ PalmPilot – the latest version of which can download Web pages and e-books off the Net, but still fit in your shirt pocket.
She then explores both the new opportunities for writers created by the Internet and the practicalities of publishing on your own web site. I was glad to see that she didn't waste too much time with coding and page layout, all of which can be picked up easily elsewhere. She concentrates instead on issues of copyright, payments, encryption, plagiarism, and censorship. These topics will be far more live issues for the majority of writers tempted by the possibilities of online publication.
But by far the best part of the book – the 'killer app' so far as most writers will be concerned – is the final chapter listing online resources. She gives annotated lists of all the sources a writer could possibly wish for – from libraries to bookshops, dictionaries to writing circles, newspapers to writing style guides, electronic publishers to free Internet service providers. Just working your way through the list with your browser open would be an education in itself. The list has been enlarged for the second edition – and made available at the book's website.
What I like about this guide is that it combines a lightness of touch with a thoroughness of approach. It gets straight to the point, uses a minimum of technical jargon, and covers a wide range of topics pertinent to aspiring authors. If you are a writer, and you're ready to explore a rich source of suggestions for what to do next with the Net, then buy this book. You will not regret it.
© Roy Johnson 2002

  Buy the book at Amazon UK

  Buy the book at Amazon US
---
Jane Dorner, The Internet : A Writer's Guide, London: A & C Black, second edition 2001, pp.200, ISBN: 0713661267
---
More on creative writing
More on writing skills
More on publishing
---