biography, explication, criticism
It is interesting to note that almost all of the great writers of the modernist movement published their seminal texts within a few years of each other: D.H. Lawrence's Women in Love in 1920, James Joyce's Ulysses in 1922, Virginia Woolf's Mrs Dalloway in 1925, and Franz Kafka's The Trial in the same year. James Joyce A Critical Guide, an introduction to the writer and his work, is split into three sections. The first deals with Joyce's life and the context in which his works were produced.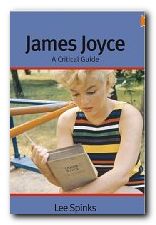 The second is an examination of his major publications, treated in the order that they were written. And the third is an account of the critical responses that his work has evoked over the years. Now that James Joyce is established as part of the canon of modernist literature, it's easy to forget the public difficulties and personal sacrifices he made in order that his version of art be given a fair hearing. As Lee Spinks observes:
His systematic transformation of the nature and scope of the novel and his protracted struggle against the legal censorship and suppression of his work extended the possibilities of modern art and helped to redraw the boundaries between the claims of public morality and the rights of artistic expression for his own and succeeding generations.
Part One is a very enjoyable account of Joyce's life and his artistic development, with occasional excursions into Irish politics and history. Joyce's personal existence was restless, peripatetic, and pan-European, yet in his work he wrote about the same thing all his life – Ireland, the country to which he never returned.
In Part Two Spinks offers a critical account of each of Joyce's major works. This includes their genesis, their themes, and in particular the development of his literary style. This represents an almost continuous line of increasing complexity from 1905 to 1939 with the publication of Finnegans Wake. This is the largest section of the book, and each of its parts is supplemented by suggestions for further reading.
I was glad to note that there was a full account of the very tangled and much-debated status of the text of Ulysses. This was supposed to be settled conclusively with the publication of Hans Walter Gabler's 'corrected edition' of 1986, but despite his supposed rigorous editorial method, it seems to have made matters even worse. Spinks opts to recommend Jeri Johnson's critical edition of Ulysses (1988) published by Oxford University Press.
Part Three deals with the critical reception of Joyce's work. Spinks points to the fact that right from the beginning as Joyce's work began to appear in various little magazines, it tended to divide opinion quite markedly. Many critics at first objected to his frankness and consideration of topics (sex, religion) which we now regard as quite harmless. Others admired the freshness and originality of his style. It was the publication of Ulysses which really galvanized both these tendencies, and we are reminded that the novel was –
a work that was reviled, celebrated, legally examined, banned, pirated and reinterpreted as a modernist 'classic' within twenty years of its publication
He splits his observations into two parts – criticism before and after Joyce's death. The first of these periods sees relatively traditional commentators grappling with the highpoint of literary experimentation and modernism. The second includes all the recently fashionable schools of structuralism, post-modernism, post-structuralism, psychoanalysis, and feminism. You'll need a strong intellectual stomach to cope with some of these critics, many of whom seem more interested in making life difficult rather than throwing instructive light onto somebody else's work.
Finnegans Wake remains a challenge to them all, for like the other major figures of early literary modernism, Joyce was drawn to push the nature of the novel to almost unreadable limits – just as Woolf did with The Waves, Thomas Mann with Joseph and his Brothers, and Herman Broch did with The Death of Virgil.
But despite the difficulties of his later work, Joyce is an approachable and very amusing writer – which is rare amongst the modernists. Anyone seeking assistance with the deeper aspects of his work would do well to consult a guide such as this. It offers clear and readable pathways through the thickets of both the work and commentary upon it.
© Roy Johnson 2009
---
Lee Spinks, James Joyce: A Critical Guide, Edinburgh: Edinburgh University Press, 2009, pp.233, ISBN: 0748638369
---
More on James Joyce
Twentieth century literature
More on study skills
---