film adaptations of Joseph Conrad's novels and stories
Joseph Conrad and Cinema (literature and film) might seem an odd juxtaposition of genres, but in fact almost a hundred adaptations of Conrad's works have been made for cinema and television. His work has also been transposed to works for opera and for television. The following selection was made on the basis of films which are currently available in DVD format.
There seem to be three theories of adaptation from prose narrative to cinema – just as there are three notions of translation from one language to another. The film critic Geoffrey Wagner described these as transposition, commentary, and analogy.
The first (transposition) is used to describe an attempt to make the cinematic adaptation of a literary text as accurate and as close to the original as possible in the language of film. This means that there will be no significant additions, deletions, or changes to the original.
The second (commentary) allows for the raw materials of a narrative to be rearranged or used as the basis for a re-interpretation of the basic story line. In this case the sequence of events in a drama might be given a different chronological arrangement, or its characters given new descriptions or motivations.
In the third (analogy) the source materials are used as the inspiration for a completely new creation which acts as an analogy or a metaphor of the original. In this case a story might be transposed to a different historical period or a different cinematic genre. The original will still be recognised, but it is being used for a different purpose.
---
Victory (novel 1913 – film 1996)
This was the first of Joseph Conrad's works to be turned into a film when an American silent movie version was released in 1919. A second version appeared in 1930 produced by Paramount with the title Dangerous Paradise, which was one of the earliest films with a sound track recorded at sea. There was another Paramount version in 1940 directed by John Cromwell.
Coming from the Hollywood world of popular entertainment, it is not surprising that these three film versions focus their attention on the sentimental romantic link between a heroic protagonist (Heyst) and the threatened heroine (Alma) whom he rescues. The emphasis of the film versions is on exotic locations and a conventional love story. All three adaptations conclude with the very un-Conradian device of a happy ending – which completely destroys the bitter dramatic ironies in the events and personal tragedies of the original text. Later versions such as the 1996 adaptation below remain more faithful to the original plot.
Directed and adapted by Mark Peploe. Starring – Willem Dafoe (Axel Heyst), Sam Neil (Mr Jones), Rufus Sewell (Martin Ricardo), Irene Jacob (Alma), Simon Callow (Zangiacomo), Jean Yanne (Wilhelm Schomberg), and Mark Patterson (Captain Davidson). This version was filmed in Java.

Victory – DVD film adaptation – Amazon UK

Details of the film – at the Internet Movie Database

Victory – a tutorial and study guide

Victory – Oxford Classics- Amazon UK

Victory – Oxford Classics – Amazon US
---
The Secret Agent (novel 1907 – film 1936)
One of the most celebrated adaptations of a Conrad text is Alfred Hitchcock's version of The Secret Agent, which was re-named Sabotage (1936) for cinema release in England. This was to distinguish it from Hitchcock's other film Secret Agent based on the Ashenden stories by Somerset Maugham which was produced in the same year. When Sabotage was released two months later in the United States it was re-named yet again as The Woman Alone. This proved unpopular, so the original title was restored.
Hitchcock takes enormous liberties with the substance of Conrad's deeply ironic political thriller: He invents a positive hero (the police sergeant, Ted); he creates a romantic liaison with the main female character Winnie Verloc; and he even gives the story a happy ending.
Hitchcock plays down the collusion that exists in the novel between government and anarchists, and the upper class society in which representatives of both groups circulate. And in a typical piece of self-reference, he transposes Verloc's seedy newsagent's shop (selling pornography) to a cinema.
Despite these changes, the film captures some of the tone of the original text – largely because Hitchcock, like Conrad, is fond of using irony – in his case visual juxtapositions that create a satirical author's point of view on events – something with which Conrad's text is drenched from start to finish.
Directed by Alfred Hitchcock. Screenplay by Charles Bennett. Starring – Sylvia Sidney (Winnie Verloc), Oscar Homulka (Adolf Verloc), John Loder (Sergeant Ted), and Desmond Tester (Stevie). Filmed at Gainsborough Studios, London.

Sabotage – Hitchcock's 1936 film adaptation – Amazon UK

Details of the film – the Internet Movie Database

The Secret Agent – a tutorial and study guide

The Secret Agent – Oxford Classics – Amazon UK

The Secret Agent – Oxford Classics – Amazon US
---
A 1996 version, written and directed by Christopher Hampton, stays reasonably close to the original story line, but despite an all-star (yet ill-assorted) cast the result is a less than convincing whole – which probably accounts for the film's mediocre rating of 50% at Rotten Tomatoes.
Directed by Christopher Hampton, screenplay by Christopher Hampton, with music by Philip Glass. Starring – Bob Hoskins (Adolf Verloc), Patricia Arquette (Winnie Verloc), Gerard Depardieu (Ossipon), Jim Broadbent (Chief Inspector Heat), Eddie Izzard (Vladimir), Robin Williams (The Professor). Filmed in Ealing Studios and Greenwich, London.

The Secret Agent – 1996 film adaptation on DVD – Amazon UK
---
Heart of Darkness (novella 1902 – film 1979)
Without doubt the best known cinematic adaptation of Conrad's work is
Francis Ford Coppola's Apocalypse Now (1979), his version of Heart of Darkness. It is successful precisely because it is not a faithful reproduction of the original novella, but a very imaginative interpretation of it.
The film realization transforms events from Europe's imperialist exploitation of the Belgian Congo to America's war in Vietnam in the 1960s. Even so, it remains amazingly faithful to the original. The narrator Marlow becomes Captain Willard, who is sent on a mission to terminate ('with extreme prejudice') the command of rogue Colonel Walter E. Kurtz, who has gone over the border into Cambodia with a band of followers.
It is worth noting that the film exists in a number of different versions – because it was edited several times. Minor variations aside, the most significant alternative option is called Apocalypse Now – Redux. This extended version includes a long sequence that was cut from the original where Willard visits an old French colonial plantation. I have watched both versions several times, and in my opinion the inclusion of the French plantation episode slows down the film and retards its dramatic momentum.
The only other point of note is that the film was originally distributed with two separate endings. In one, Willard kills Kurtz then returns to his boat and calls in an air strike which will (presumably) destroy the encampment. In the other he merely switches off the radio that is trying to contact him, and he sails away, back down river.
Director Francis Ford Coppola. Screenplay by Coppola and John Milius. Starring – Marlon Brando (Colonel Kurtz), Robert Duval (Lieutenant Colonel Kilgore), Martin Sheen (Captain Willard), Dennis Hopper (Photo Journalist), Harrison Ford (Colonel Lucas), Sam Bottoms (Lance Johnson). Filmed in the Philippines.

Apocalypse Now – 1979 DVD film – Amazon UK

Details of the film – the Internet Movie Database

Heart of Darkness – a tutorial and study guide

Heart of Darkness – Oxford Classics – Amazon UK

Heart of Darkness – Oxford Classics – Amazon US
---
In 1939 Orson Welles planned to make a film version of Heart of Darkness, but the project ran over budget and ultimately was abandoned. Welles turned the adaptation into a work for radio, and the following year made Citizen Kane instead.
There is also a 1994 version by the English director Nicholas Roeg that stays reasonably close to the original narrative. This stars John Malkovich (Kurtz) and Tim Roth (Marlow), with James Fox in a supporting role. This adaptation was made for Ted Turner's television network. Filmed in Belize and London, UK.

Heart of Darkness – 1994 DVD film – Amazon UK
---
Lord Jim (novel 1900 – film 1965)
This 1965 adaptation of Lord Jim by Richard Brooks turns the dark moral complexities of the original novel into an epic action-adventure story shot in wide-screen Technicolour. It also reduces the fragmented temporal arrangement of events into a simplified linear narrative, as well as blending some of the characters. There is also considerable simplification of the political and racial issues of the original narrative. Moreover, the central figure is transformed and loses all semblance of ambiguity. As the critic Gene M. Moore observes: 'The Jim of the film is a conscious political activist in the style of the sixties, a determined man of action, quite unlike Conrad's 'romantic' protagonist.'
Directed and adapted by Richard Brooks. Starring – Peter O'Toole (Jim), James Mason (Gentleman Brown), Curt Jurgens (Cornelius), Eli Wallach (The General), Jack Hawkins (Marlow), Dalia Lavi (The Girl), and Akim Tamiroff (Schomberg). Filmed in Hong Kong and Cambodia, with additional scenes in Shepperton Studios, London.

Lord Jim – DVD – Amazon UK

Details of the film – at the Internet Movie Database

Lord Jim – a tutorial and study guide

Lord Jim – Oxford Classics – Amazon UK

Lord Jim – Oxford Classics – Amazon US
---
An Outcast of the Islands (novel 1896 – film 1951)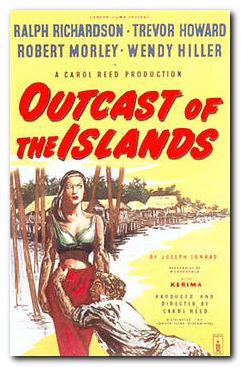 This is highly regarded amongst film critics as an acceptable combination of a faithful account of the original text with a persuasive film in its own right. Director Carol Reed sticks closely to the plot of the original novel, although he completely changes the geographic locations of the action. He also disregards some of the racial details which are an important part of ethnic tensions in the original narrative.
However, the most glaring difference between the novel and its adaptation is that Reed only uses four of the book's five parts. In the original text, the protagonist Willems is killed by his mistress the native girl Alssa when his wife Joanna suddenly arrives, whereas in the film Willems is merely banished to live in isolation. This weaker ending was probably a concession to the Hollywood Production Code which prevailed at the time for films shown in the USA. This was a set of moral guidelines (also known as the Hays Code) which specified what was and was not acceptable for on-screen viewing. These rules included forbidding the depiction of crimes that go unpunished.
Directed by Carol Reed, screenplay by William Fairchild, with music by Brian Easdale. Filmed in Sri Lanka and Shepperton Studios, London. Starring – Ralph Richardson (Captain Lingard), Trevor Howard (Peter Willems), Wendy Hiller (Mrs Almayer), Wilfred Hyde White (Mr Vinck), Kerima (Alssa). Filmed in Sri Lanka and Shepperton Studios, London.

An Outcast of the Islands – DVD film adaptation – Amazon UK

Details of the film – at Internet Movie Database

An Outcast of the Islands – a tutorial and study guide

An Outcast of the Islands – Oxford Classics – Amazon UK

An Outcast of the Islands – Oxford Classics – Amazon US
---
Amy Foster (story 1901 – film 1997)
This is one of Conrad's long short stories – some might call it a novella – which was adapted in 1997 by (Baroness) Beeban Kidron as a feature film (originally re-named Swept from the Sea). It tells the story of a poor economic migrant from Eastern Europe who is the sole survivor of a shipwreck in the English Channel. He has lost everything, is hungry, wretched, and knows no English. The local inhabitants regard him as a madman, shun him, and throw stones at him. He is befriended by Amy Foster and settles down with her to create a family. But what appears to be a tale of positive redemption turns into a grim parable of a pessimistic or even tragic view of the world.
Director: Beeban Kidron. Screenplay: Tim Willocks.. Starring – Vincent Perez (Yanko Gooral), Ian McKellan (Dr James Kennedy), Kathy Bates (Mrs Swaffer), Rachel Weisz (Amy Foster), Joss Ackland (Mr Swaffer), and Zoe Wannamaker (Mary Foster). British/American, Tapson Steel Films and Phoenix Pictures. Filmed in Cornwall, UK.

Amy Foster – DVD film adaptation – Amazon UK

Details of the film – at Internet Movie Database

Amy Foster – a tutorial and study guide

Amy Foster – Oxford Classics – Amazon UK

Amy Foster – Oxford Classics – Amazon US

Amy Foster – Kindle eBook (includes screenplay)
© Roy Johnson 2016
---
More on Joseph Conrad
Twentieth century literature
More on Joseph Conrad tales
---