Hogarth Press first edition book jacket designs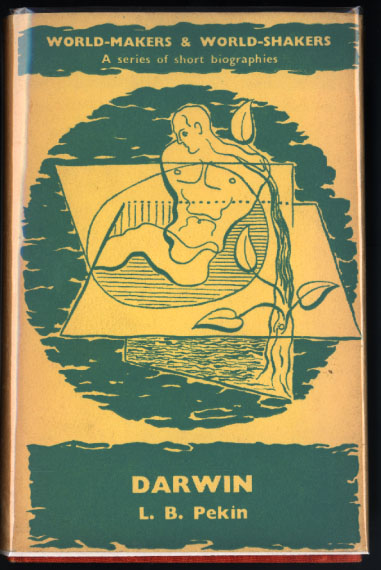 L.B. Pekin, Darwin (1934) World-Makers and World-Shakers: a series of short biographies.
"L.B. Pekin was the pseudonym of Reginald Snell, who wrote "two Hogarth pamphlets expanding on subjects he had introduced in [earlier] books: The Military Training of Youth: An Enquiry into the Aims and Effects of the O.T.C. (1937) and Co-education (1939). As the titles of his books and pamphlets suggest, Pekin was an innovative educator, highly critical of public schools (the British private boarding school) and in favour of progressive educational reform, including the efforts to broaden the curriculum with more science and mathematics and to introduce sex education and manual training. He strongly opposed the Officer Training Corps and supported coeducation enthusiastically.

The newly formed pacifist organization the Peace Pledge Union (with luminaries Canon Dick Sheppard, Julian Huxley, Rose Macaulay, Arthur Ponsonby, Bertrand Russell, and Vera Brittain among the early sponsors) was so impressed by Pekin's OTC pamphlet that it ordered several hundred copies from Leonard Woolf for distribution to its members."
J.H. Willis Jr, Leonard and Virginia Woolf as Publishers: The Hogarth Press 1917-1941
---
Hogarth Press studies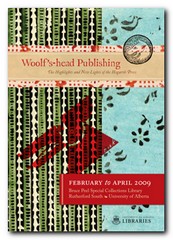 Woolf's-head Publishing is a wonderful collection of cover designs, book jackets, and illustrations – but also a beautiful example of book production in its own right. It was produced as an exhibition catalogue and has quite rightly gone on to enjoy an independent life of its own. This book is a genuine collector's item, and only months after its first publication it started to win awards for its design and production values. Anyone with the slightest interest in book production, graphic design, typography, or Bloomsbury will want to own a copy the minute they clap eyes on it.

Buy the book at Amazon UK


Buy the book at Amazon US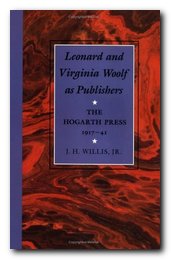 Leonard and Virginia Woolf as Publishers: Hogarth Press, 1917-41 John Willis brings the remarkable story of Leonard and Virginia Woolf's success as publishers to life. He generates interesting thumbnail sketches of all the Hogarth Press authors, which brings both them and the books they wrote into sharp focus. He also follows the development of many of its best-selling titles, and there's a full account of the social and cultural development of the press. This is a scholarly work with extensive footnotes, bibliographies, and suggestions for further reading – but most of all it is a very readable study in cultural history.

Buy the book at Amazon UK


Buy the book at Amazon US
© Roy Johnson 2005
---