tutorial, commentary, study resources, plot, and web links
Lady Barbarina was written in Boston in 1883 and first appeared in Century Magazine in May—July 1884. The original publication of this story has the title as Lady Barberina, but when James came to discuss the story in his famous prefaces for the New York edition of his collected works, it became Lady Barbarina. Its first appearance in book form was in the collection of stories Tales of Three Cities published in Boston by Osgood and in London by Macmillan in 1884.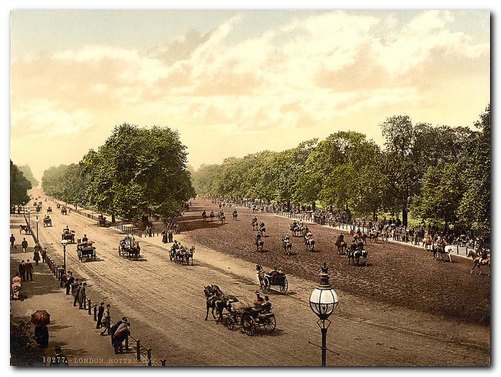 Rotten Row – Hyde Park – 19th century
---
Lady Barbarina – critical commentary
Theme
This is one in a long line of James's 'International' stories – tales which are based on the differences between American and European cultures. In many of them an attractive American woman will arrive in Europe and captivate an Italian prince (The Golden Bowl) or an English gentleman (The Wings of the Dove). But this tale reverses the pattern: a rich and successful American man in London is captivated by the sheer 'Englishness' of an aristocratic woman who has very little to commend her except her good looks and her heritage.
That is Jackson Lemon's tragedy. He is blinded by his own Anglomania, and ends up hopelessly uprooted from his native America, saddled with a bloodless wife who doesn't really love him, and supporting his feckless brother-in-law – a rogue fellow American whose only positive feature is a fine moustache.
Jackson Lemon even has a noble profession. He has trained and practised as a doctor – but he has also inherited his father's wealth (gained via manufacture). The English aristocrats however even look down on this activity – as if it is demeaning to have any profession at all. Yet they are greedy enough for his wealth to insist on a settlement for their daughter – a guaranteed source of income in the event of any problems, which underlines the financial basis of marriage in the upper class as a means of consolidating wealth.
Yet it has to be said that James treats this subject quite lightly. Jackson Lemon's open and slightly naive attitude to the English aristocracy is mildly satirised, and the horrendously snobbish, cold, and imperious attitudes of the Cantervilles are illustrated but in the end prevail. They are the ones short of money, and yet Lemon finishes up subsidising them by maintaining their two daughters and son-in-law.
Structure.
The most striking feature of this tale is its amazingly rushed ending. The story begins at a remarkably leisurely pace – with detailed conversations and atmospheric mise en scenes stretching out page after page. Inconsequential characters such as the Freers occupy much of the dramatic interest, and Lemon's hesitations and advances are tracked minutely as he pays court to Lady Barbarina
There is a hiatus at the centre of the story during which the first six months of Jackson's marriage to Lady Barbarina are omitted from the narrative – but this serves to reinforce the dramatic impact of its disappointing outcome.
The second part of the story begins by documenting Lady Barbarina's dissatisfactions with America, and opens up the sub-plot of Lady Agatha's enthusiastic embracing of American freedoms. But then no sooner has she eloped with Longstraw than the story is wrapped up as if James had lost interest in his characters and story – or maybe reached the number of words required by the publisher.
Literally within the last page of the story the Jackson Lemons return to London, Lady Barbarina has a little girl, Jackson starts travelling across to the continent to escape his unsatisfactory marriage, and Lady Agatha returns from California with her husband who is a great social success. This is all too much narrative weight for the story to bear.
---
Lady Barberina – study resources

The Complete Works of Henry James – Kindle edition – Amazon UK

The Complete Works of Henry James – Kindle edition – Amazon US

Complete Stories 1884—1891 – Library of America – Amazon UK

Complete Stories 1884—1891 – Library of America – Amazon US

Lady Barbarina – CreateSpace edition

Lady Barbarina – Kindle edition

Lady Barbarina – eBook formats at Gutenberg

The Cambridge Companion to Henry James – Amazon UK

Henry James at Wikipedia – biographical notes, links

Henry James at Mantex – tutorials, biography, study resources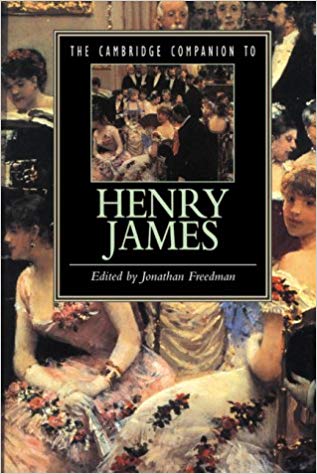 ---
Lady Barbarina – plot summary
Elderly Americans Dexter Freer and his wife sit in Hyde Park, discussing the marriage prospects of their fellow countryman Jackson Lemon with a young doctor Sydney Feeder. Jackson Lemon is a very rich non-practising doctor who has been courting Lady Barbarina, the second eldest daughter of an English Marquis. It is thought that despite Lemon's wealth, his status as a professional will count against him with the aristocracy, even though they themselves are thought not to be particularly wealthy.
Jackson is questioned by Lady Lucretia Beauchemin about his intentions regarding her younger sister Barbarina. She is seeking clarity: he remains non-commital. He realises that English society expects him to reveal his intentions or to desist in his attentions towards Barbarina – but he values his freedom as a democratic American to act as he wishes.
He finds Barbarina physically attractive, but wonders if she will fit in with New York City life. He goes to a late night society dance and discusses American and English marriage customs with Barbarina. He is frustrated by English conventions on social contact, but eventually openly declares his love for her.
Next day he asks her father for permission to marry her, revealing both his wealth and his origins. Lord Canterville asks his wife's opinions on the matter. She is concerned that her daughter would live in America. There is conflict between Jackson's open, independent, and free approach to social conventions, and Lady Canterville's old-fashioned and snobbish conventions.
The Canterville's accept Jackson's proposal, but they demand via solicitors that he make a 'settlement' (an income) on her – a suggestion that offends him. When he refuses they restrict access to his bride-to-be. They also object to the fact that his wealth is new money, and therefore in their eyes unstable.
When he discusses the matter with his American friend Mrs Freer, she advises him to get out of the engagement because Lady Barbarina's aristocratic attitudes will never be compatible with life in New York City. Dexter Freer on the other hand encourages him to defy convention. Following this, Jackson decides to give in to the demands of the Cantervilles, because he thinks that making settlements is beneath his dignity.
Six months later the marriage is already in trouble. Lady Barbarina is bored in New York and wishes she were back in England. Her sister Agatha however, who has been sent to accompany her by the Cantervilles, perceives all the advantages of life in America. She forms an attachment to Mrs Lemon and has an admirer in the Californian Hermann Longstraw – of whom Jackson Lemon disapproves. Mrs Lemon is very concerned about her son's marriage.
Lemon wants his wife to establish a European-style salon in New York, but quite apart from her natural idleness Lady Barbarina thinks that her social rival Mrs Vanderdecken will usurp her. Lady Agatha meanwhile continues to enjoy her newfound freedom and independence. But when Longstraw asks to marry Agatha, Lady Barbarina seizes this as an excuse and insists that she must immediately take her sister back to England.
But Agatha precipitates matters by eloping to California with Longstraw. The scandal of this reckless marriage reaches all the newspapers and the news is relayed to England. At this, Lady Canterville demands that Barbarina return home. Lemon is forced to return to live in England, where he ends up with his cold and unimaginative wife and supporting his improvident brother and sister-in-law.
---
Principal characters
| | |
| --- | --- |
| Dexter Freer | elderly American socialite visiting London |
| Mrs Freer | his wife |
| Marquis of Canterville | an impoverished English aristocrat |
| Lady Barbarina | his younger daughter |
| Lady Agatha | younger sister to Lady Barbarina |
| Lady Lucretia Beauchemin | his eldest daughter |
| Pasterns | 'the seat of the Cantervilles' |
| Dr Sydney Feeder | an American medic from Cincinnati |
| Dr Jackson Lemon | a small, rich, New York non-practising medic who has inherited |
| Lady Marmaduke | social godmother to Jackson Lemon, a friend of Lady Beauchemin |
| Herman Longstraw | a Californian with an impressive moustache |
| Mrs Vanderdecken | a New York social hostess and rival to Lady Barbarina |
| Mrs Chew | a friend of Mrs Vanderdecken |
---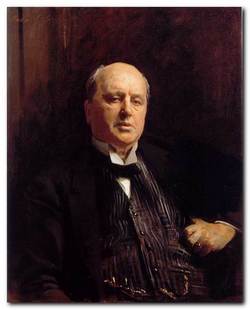 Henry James – portrait by John Singer Sargeant
---
Further reading
Biographical

Theodora Bosanquet, Henry James at Work, University of Michigan Press, 2007.

F.W. Dupee, Henry James: Autobiography, Princeton University Press, 1983.

Leon Edel, Henry James: A Life, HarperCollins, 1985.

Philip Horne (ed), Henry James: A Life in Letters, Viking/Allen Lane, 1999.

Henry James, The Letters of Henry James, Adamant Media Corporation, 2001.

Fred Kaplan, Henry James: The Imagination of Genius, Johns Hopkins University Press, 1999

F.O. Matthieson (ed), The Notebooks of Henry James, Oxford University Press, 1988.
Critical commentary

Elizabeth Allen, A Woman's Place in the Novels of Henry James London: Macmillan Press, 1983.

Ian F.A. Bell, Henry James and the Past, London: Palgrave Macmillan, 1993.

Millicent Bell, Meaning in Henry James, Cambridge (MA): Harvard University Press, 1993.

Harold Bloom (ed), Modern Critical Views: Henry James, Chelsea House Publishers, 1991.

Kirstin Boudreau, Henry James's Narrative Technique, Macmillan, 2010.

J. Donald Crowley and Richard A. Hocks (eds), The Wings of the Dove, New York: W.W. Norton and Company, 1978.

Victoria Coulson, Henry James, Women and Realism, Cambridge University Press, 2009.

Daniel Mark Fogel, A Companion to Henry James Studies, Greenwood Press, 1993.

Virginia C. Fowler, Henry James's American Girl: The Embroidery on the Canvas, Madison (Wis): University of Wisconsin Press, 1984.

Jonathan Freedman, The Cambridge Companion to Henry James, Cambridge University Press, 1998.

Judith Fryer, The Faces of Eve: Women in the Nineteenth Century American Novel, Oxford: Oxford University Press, 1976

Roger Gard (ed), Henry James: The Critical Heritage, London: Routledge, 1968.

Tessa Hadley, Henry James and the Imagination of Pleasure, Cambridge University Press, 2009.

Barbara Hardy, Henry James: The Later Writing (Writers & Their Work), Northcote House Publishers, 1996.

Richard A. Hocks, Henry James: A study of the short fiction, New York: Twayne Publishers, 1990.

Donatella Izzo, Portraying the Lady: Technologies of Gender in the Short Stories of Henry James, University of Nebraska Press, 2002.

Colin Meissner, Henry James and the Language of Experience, Cambridge University Press, 2009

John Pearson (ed), The Prefaces of Henry James, Pennsylvania State University Press, 1993.

Richard Poirer, The Comic Sense of Henry James, Oxford: Oxford University Press, 1967.

Hugh Stevens, Henry James and Sexuality, Cambridge University Press, 1998.

Merle A. Williams, Henry James and the Philosophical Novel, Cambridge University Press, 1993.

Judith Woolf, Henry James: The Major Novels, Cambridge University Press, 1991.

Ruth Yeazell (ed), Henry James: A Collection of Critical Essays, Longmans, 1994.
---
Other works by Henry James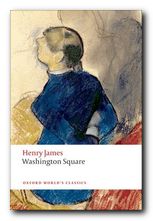 Washington Square (1880) is a superb early short novel, It's the tale of a young girl whose future happiness is being controlled by her strict authoritarian (but rather witty) father. She is rather reserved, but has a handsome young suitor. However, her father disapproves of him, seeing him as an opportunist and a fortune hunter. There is a battle of wills – all conducted within the confines of their elegant New York town house. Who wins out in the end? You will probably be surprised by the outcome. This is a masterpiece of social commentary, offering a sensitive picture of a young woman's life.


Buy the book from Amazon UK


Buy the book from Amazon US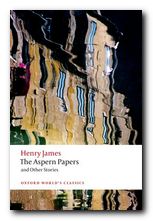 The Aspern Papers (1888) is a psychological drama set in Venice which centres on the tussle for control of a great writer's correspondence. An elderly lady, ex-lover of the writer, seeks a husband for her daughter. But the potential purchaser of the papers is a dedicated bachelor. Money is also at stake – but of course not discussed overtly. There is a refined battle of wills between them. Who will win in the end? As usual, James keeps the reader guessing. The novella is a masterpiece of subtle narration, with an ironic twist in its outcome. This collection of stories also includes three of his accomplished long short stories – The Private Life, The Middle Years, and The Death of the Lion.


Buy the book from Amazon UK


Buy the book from Amazon US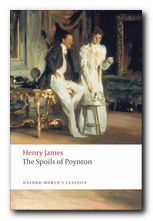 The Spoils of Poynton (1896) is a short novel which centres on the contents of a country house, and the question of who is the most desirable person to inherit it via marriage. The owner Mrs Gereth is being forced to leave her home to make way for her son and his greedy and uncultured fiancee. Mrs Gereth develops a subtle plan to take as many of the house's priceless furnishings with her as possible. But things do not go quite according to plan. There are some very witty social ironies, and a contest of wills which matches nouveau-riche greed against high principles. There's also a spectacular finale in which nobody wins out.


Buy the book from Amazon UK


Buy the book from Amazon US
---
Henry James – web links

Henry James at Mantex
Biographical notes, study guides, tutorials on the Complete Tales, book reviews. bibliographies, and web links.

The Complete Works
Sixty books in one 13.5 MB Kindle eBook download for £1.92 at Amazon.co.uk. The complete novels, stories, travel writing, and prefaces. Also includes his autobiographies, plays, and literary criticism – with illustrations.

The Ladder – a Henry James website
A collection of eTexts of the tales, novels, plays, and prefaces – with links to available free eTexts at Project Gutenberg and elsewhere.

A Hyper-Concordance to the Works
Japanese-based online research tool that locates the use of any word or phrase in context. Find that illusive quotable phrase.

The Henry James Resource Center
A web site with biography, bibliographies, adaptations, archival resources, suggested reading, and recent scholarship.

Online Books Page
A collection of online texts, including novels, stories, travel writing, literary criticism, and letters.

Henry James at Project Gutenberg
A major collection of eTexts, available in a variety of eBook formats.

The Complete Letters
Archive of the complete correspondence (1855-1878) work in progress – published by the University of Nebraska Press.

The Scholar's Guide to Web Sites
An old-fashioned but major jumpstation – a website of websites and resouces.

Henry James – The Complete Tales
Tutorials on the complete collection of over one hundred tales, novellas, and short stories.

Henry James on the Internet Movie Database
Adaptations of James's novels and stories for the cinema and television – in various languages. Full details of directors and actors, production features, film reviews, box office, and even quizzes.
© Roy Johnson 2013
---
More tales by James
More on literature
More on the novella
More on literary studies
More on short stories
---