mystery, weirdness, supernatural, and horror
For reasons much debated amongst literary historians, there was a revival of the Gothic horror story at the end of the nineteenth century. Within the space of just a few years we have Robert Louis Stevenson's Dr Jekyll and Mr Hyde (1886), Oscar Wilde's The Picture of Dorian Gray (1891), H.G.Wells's The Island of Doctor Moreau (1896), and Bram Stoker's Dracula (1897). The horror story was also a popular ingredient of the popular mass-circulation magazines which were launched around this time. Robert Luckhurst's collection Late Victorian Gothic Tales is drawn from these sources, and it aims to show the range of stories by mixing examples from well-established authors with no less chilling takes from lesser-known writers.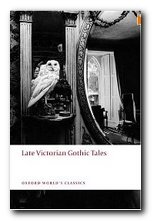 Henry James believed that a horror story should not rely on the traditional trappings of midnight spookiness in ruined abbeys and graveyards for its effect. He thought that the mysterious and the macabre we all the more effective for taking place in the full light of day. His story here – Sir Edmund Orme – has a ghost who appears on the Parade at Brighton on a sunny afternoon. And true to James's ever-inventive spirit, even though the ghost is of somebody long ago dead (as a result of a gruesome suicide) it turns out to be a force for good. It is a ghost of 'retributive justice' which appears to check that an injustice is not repeated.
Oscar Wilde performs the miraculous feat of making a horror story funny. His Lord Arthur Savile's Crime offers an amusing critique of palm-reading (Cheiromancy as it was known then) which was in vogue at the turn of the century. Lord Arthur singularly fails to act out his destiny, which is to commit murder, despite sending a poisoned bon-bon to Lady Clementina and an exploding clock to the dean of Chichester.
In what he himself described as an 'unpleasant story', Rudyard Kipling manages to combine drunkenness, torture, and a contemporary case of a man turning into a rabid animal under the curse of a leper. This was one of his earliest Plain Tales from the Hills which made him famous as an author of Empire.
Arthur Conan Doyle follows a similar pattern in both stories that represent his contribution to the supernatural – his personal belief in which actually contributed to a decline in his literary reputation He has one story of an oblique form of sexual mutilation, and another in which an Egyptian mummy attempts to murder a series of Oxford undergraduates.
What's clear from this collection is that Gothic horror is a formula sufficiently adaptable to work effectively in any circumstances. Ruined castles, vampires, and coffins in subterranean vaults are not the real essentials. They might help create atmospheric effects, but the basics elements of horror remain existential anxieties – such as predestination, the burden of inheritance, fighting uncontrollable forces , and the threat of death.

Buy the book at Amazon UK

Buy the book at Amazon US
© Roy Johnson 2011
---
Roger Luckhurst (ed), Late Victorian Gothic Tales, Oxford: Oxford University Press, 2009, pp.326, ISBN: 0199538875
---
More on literature
More on the novella
More on literary studies
More on short stories
---