Hogarth Press first edition book jacket designs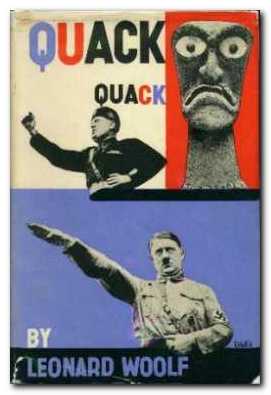 Leonard Woolf, Quack, Quack! (May, 1935) 2,000 copies, Printed by R & R Clark, 7s.6d.
"In his next two Hogarth Press books after the disappointment of After the Deluge (1931), Leonard Woolf published what he thought about Mussolini and his Fascist ambitions in Quack, Quack! (1935) and The League and Abyssinia (1936). The title of Quack, Quack! suggests the barnyard sounds of the orating Hitler and MUssolini. With devastating effect, Woolf matched photographs of the eye-bulging Hawaiian war god Kukailimoku to those of the gesticulating bellicose dictators. Woolf's two-hundred page attack on fascism concentrated on the savage quackery of modern totalitarianism but also discussed the intellectual sources he found in Carlyle, Nietzsche, and Spengler. Woolf's list of heroes who battled against the totalitarians for the light of civilization began with Erasmus and Montaigne and included Thomas More, Giordano Bruno, Spinoza, Descartes, Voltaire, Rousseau, Kant, and Goethe."
J.H. Willis Jr, Leonard and Virginia Woolf as Publishers: The Hogarth Press 1917-1941
The striking, boldly-coloured dust jacket for this book was designed by E.McKnight Kauffer. A cheap edition of the book was published in 1936, priced at 2s.6d; it was reprinted again in 1937.
Elizabeth Willson Gordon, Woolf's-head Publishing: The Highlights and New Lights of the Hogarth Press
---
Hogarth Press studies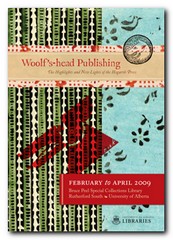 Woolf's-head Publishing is a wonderful collection of cover designs, book jackets, and illustrations – but also a beautiful example of book production in its own right. It was produced as an exhibition catalogue and has quite rightly gone on to enjoy an independent life of its own. This book is a genuine collector's item, and only months after its first publication it started to win awards for its design and production values. Anyone with the slightest interest in book production, graphic design, typography, or Bloomsbury will want to own a copy the minute they clap eyes on it.

Buy the book at Amazon UK


Buy the book at Amazon US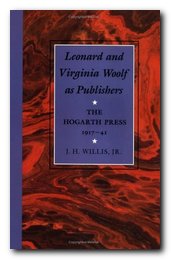 Leonard and Virginia Woolf as Publishers: Hogarth Press, 1917-41 John Willis brings the remarkable story of Leonard and Virginia Woolf's success as publishers to life. He generates interesting thumbnail sketches of all the Hogarth Press authors, which brings both them and the books they wrote into sharp focus. He also follows the development of many of its best-selling titles, and there's a full account of the social and cultural development of the press. This is a scholarly work with extensive footnotes, bibliographies, and suggestions for further reading – but most of all it is a very readable study in cultural history.

Buy the book at Amazon UK


Buy the book at Amazon US
© Roy Johnson 2005
---